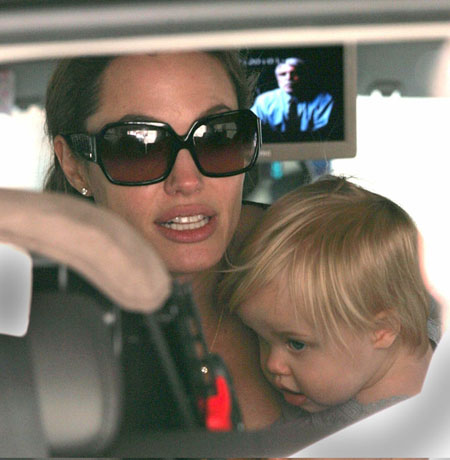 An older image of Angelina and Shiloh, thanks to Splash
This week's US Weekly has more information that might explain why Angelina and Brad named their latest addition "Shiloh." Angelina used to make hotel and restaurant reservations using the alias "Shiloh Baptist." After Shiloh was born she stopped using the name, probably because everyone would have figured out it was her at that point:
Turns out Angelina Jolie has always liked the name Shiloh. Hot Stuff has learned that the actress, 32, used to make hotel and restaurant reservations under the alias "Shiloh Baptist." However, a source notes that Jolie retired the false moniker after her daughter's May 2006 birth.
[From US Weekly, print edition, April 28, 2008]
Angelina's brother James Haven has said that his parents first wanted to give him the middle name Shiloh, but picked the name Haven instead. He is quoted as claiming that Brad and Angelina asked him if it would be ok if they used the name for their daughter, and that he gave them his blessing and called it an honor.
Last summer James was spotted driving an SUV with the California license plate Shhiloh, as if someone was whispering his niece's name. The vanity plate was in a holder for the Saddleback Church from Lake Forest, California. It's a huge Baptist church known for progressive values. Maybe James Haven really is a parishioner or he could be paying tribute to his niece along with making an in joke with his sister, considering that she supposedly called herself "Shiloh Baptist" at some point. "Shiloh" means "Messiah" or "Peaceful One" in Hebrew, along with being the site of one of the bloodiest battles of the US Civil War.
Along with the "brother's nickname" theory, there's also a story that Shiloh is named after her place of conception. It's a pretty name no matter how Angelina and Brad came up with it. They manage to pick unique but not weird names for their kids, and they'll soon have to come up with another one – or two, for their expected arrival.