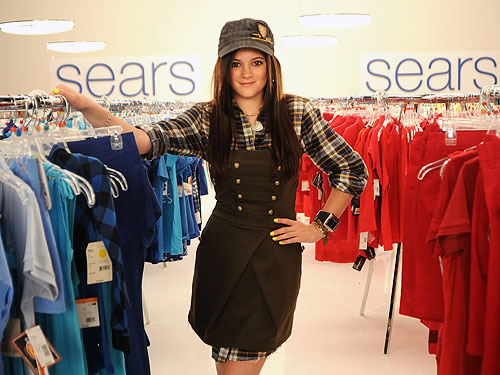 A couple of weeks ago, we saw some controversial bikini photos of Kenner Jenner, 14, the second youngest in stagemom Kris Kardashian's klassy klan. Kendall is Kris' daughter with second husband, former Olympian Bruce Jenner. Kris and Bruce also have daughter Kylie, 12, and Kris of course has three older daughters and a son from her marriage to attorney Robert Kardashian who passed away in 2003.
Now the youngest daughter in the Kardashian-Jenner family is joining her family in their pursuit of infamy and cash. Kylie, who you might remember as the pole dancing then-9 year-old on the premiere of her family's reality show, is also pursuing a modeling career. Kylie is modeling for Sears, and her attire is much more appropriate and less revealing than we've seen from any of her older sisters. She looks cute, actually. Her older sister Khloe posted a photo and some praise on her blog:
I just posted Kylie's Crush Your Style ad the other day, now here is her modeling debut!!!! How fab does she look?? My little baby sisters are all grown up! This has been such an amazing few weeks for both Kendall and Kylie and I'm beyond proud of both of them! They are such good girls! They are such hard workers and so professional! I couldn't be happier with them 🙂 I'm a proud mama!
[From Khloe Kardsahian's blog via Huffington Post]
Kim was the one telling us about Kendall's bikini photo shoot, so I guess it's Khloe's turn to pimp out Kylie. She also posted a link to her ad for sears, which you can view on crushyourstyle.com (site has automatic music). Kylie is really cute and comes across as a natural on camera, but again she's only 12. She's wearing makeup and looking like a much older teen. It just seems like the Jenner girls should be given a little more time to be kids. Kids don't make money just going to school and hanging out with their friends, though.