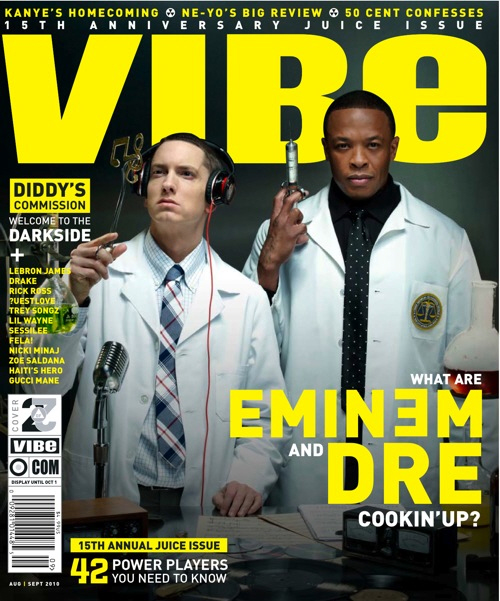 Back in June, I covered an interview Eminem did with the New York Times. The interview was really good, and really interesting, mostly because Eminem sounded sober, grounded, mature and… well, grown-up. Since I read that piece, I've caught bits and pieces of his interviews, and he does seem consistently nicer now. Not like he's lost his edge – just that he doesn't really care about how he comes across at this point, and he's just focused on being honest with himself and with his fans. Anyway, Em and Dre are the cover boys for the August/September issue of Vibe, and Em gives some more interesting quotes. He even talks about his 8 Mile costar Brittany Murphy:
Do you think about your own death?
Yeah, I do. A lot. I think about it a lot. I try not to think about it but I do and it creeps me the f-ck out. It creeps me out because they say that if I got to the hospital two hours later then I would be gone. I think about that a lot. When I lay in bed at night is when I think about it the most. It creeps me out man.

THE BEST EMINEM DISS TRACK ACCORDING TO EM/ What was the best thing someone said about you? Was there ever a hot Eminem diss?
Um, no. [Laughs.] Nah, I'm kidding. Sh-t, there was a couple of lines Everlast said like, "You ain't running up on me with no empty gun." I know that there is a lot of sh-t that I would have said about me.

ON BRITTANY MURPHY'S PASSING: What were your thoughts when you heard that your 8 Mile co-star Brittany Murphy had passed?
It was crazy. It's crazy. It's crazy because at one point we were very close and she was a really good person. It's crazy when you see things not just with her but just all these things that are happening in Hollywood with people in music, with people in acting . . .

. . . famous people.
Famous people. Famous people are overdosing at alarming rates and—that almost sounded like a commercial. Wow.

It sounded like a Sally Struthers commercial. "Please give to this charity."
Right. But they are. And it's one of those things man where you're famous, doctors will kiss your ass because they love the celebrity. "Oh, I can call up Eminem and get him on the phone right now. Oh, hi Marshall, how are you doing? Do you need that [prescription]?" There are doctors that will give you certain things just because of who you are.
[From Vibe]
That's sad what he says about doctors. Who wants to bet that Em probably has some hardcore thoughts about what Lindsay Lohan is going through? I bet they're not all nasty either, I bet he really relates to her. But the difference between what Lindsay went through and what Em went through… well, there are a lot of differences, but I think one of the main things is that Em got straight for his kids, and for his fans. He wanted to be better for other people. Lindsay just uses other people's well-wishes to enable her habit. Plus, who is she going to get sober for? Ali? Ali worships her, sober or cracked-out.
Vibe cover courtesy of Vibe online.