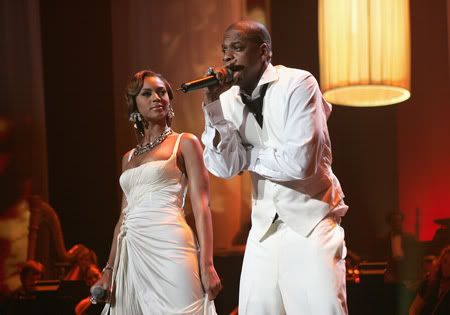 Jay-Z performed his whole first album, "Reasonable Doubt," at Radio City Music Hall last night to celebrate the tenth anniversary of its release. Other artists joining him on stage included Sauce Money, Foxy Brown and Memphis Bleek. The Roots' Amir Questlove, The Illadelphonics, and The Hustler's Symphony Orchestra made up his band.
Jay-Z's girlfriend, Beyonce, joined him for the last song, "Can't Knock The Hustle," which was originally a duet with Mary J. Blige.
Jay-Z announced his international tour, which will kick off this fall. He also hasn't ruled out another album after declaring his retirement in 2003:
In an interview with The Associated Press on Friday between rehearsals for Sunday night's commemorative show,
Jay-Z announced that he would be going on tour this fall in a jaunt around the globe — Seoul, Beirut, Dubai, Johannesburg and Sydney, to name a few stops.
"There's a lot of places I haven't been," explained Jay-Z. "They've heard my music but they've never really seen me perform live. … This really makes me wanna go out and perform. I'm looking forward to going overseas."
While fans stateside won't likely see another Jay-Z performance for a while, they may get a chance to her some new music in the future. Though Jay-Z vowed 2003's "The Black Album" would be his goodbye to the recorded rap game, his recent concert appearances (he staged a major show last year and has made cameos with performers like The Roots) and his guest appearances on tracks like girlfriend Beyonce's new song have industry insiders rumbling that a new Hova album may be on the horizon.
Jay-Z does have a new album coming out. Starch blabbed that he's working with Jigga on a new release:
Jay-Z is reportedly recording a new album with a host of his high profile Hip Hop friends
.
According to the Rolling Stone the rap legend has returned to the studio even though he announced his retirement three years ago.
The new album will feature appearances from Kanye West, Scott Starch and Dr Dre who've all been recording tracks with him.
Starch said of the new material: "I'm working with Jay-Z on his new album. (It's) the first time we ever really worked together. We got some fire."
It looks like Jay-Z is recording an album after all. It also seems like he's still going strong with Beyonce despite the breakup rumors. They had a public fight at a basketball game as reported by Page Six and Beyonce was said to be jealous of Jay-Z's relationship with singer Rhianna. A story last week had the two breaking up due to hectic schedules and Jay-Z's inability to commit.
Pictures [via]