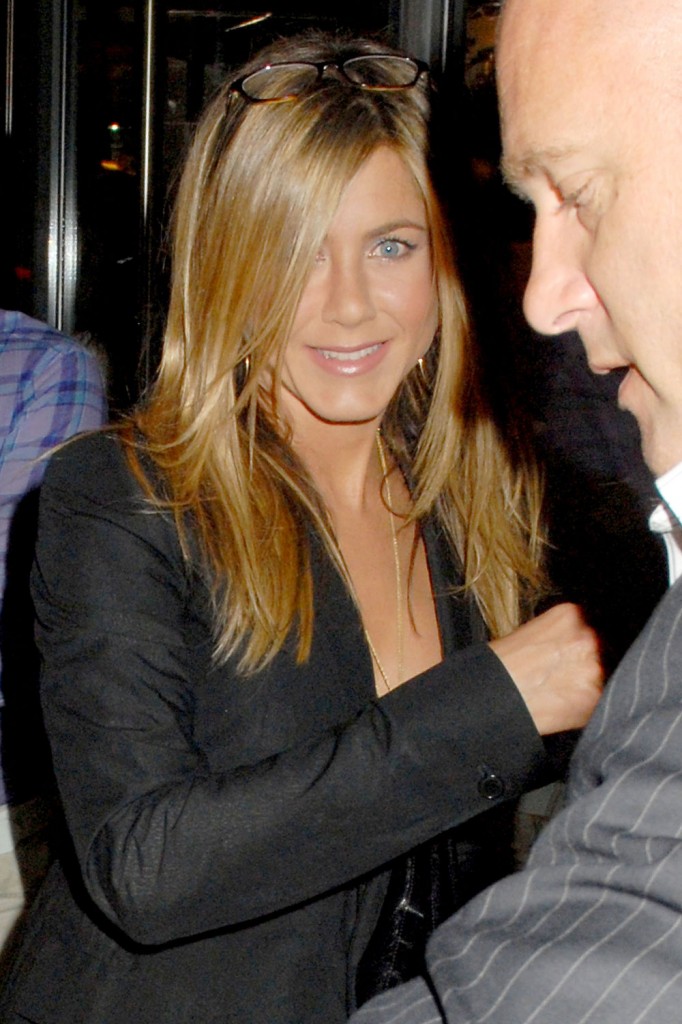 Jennifer Aniston's invitro comedy co-starring Justin Bateman, The Switch, is coming out in the US next Friday. A press conference was held to promote the film and of course Aniston was asked how and if her character's situation might parallel her own life. (I remember Aniston joking about this while she was promoting Marley and Me, and telling Letterman that journalists often asked her awkward questions about it, like "In this movie, you are a mother of three, and the wife of a man. Does this, you know, inspire you to want to have three children and be the wife of a man?") Aniston, 41, repeated her claim that she does want children one day, but said she probably won't go about it through artificial insemination like her character. She also had some nice things to say about what constitutes a family, and it made me smile the way she explained it. Here's more:
On how women don't need a man to have a child
"Women are realizing it more and more knowing that they don't have to settle with a man just to have that child. Times have changed and that is also what is amazing is that we do have so many options these days, as opposed to our parents' days when you can't have children because you have waited too long."

On how family are the people 'in your sphere'
"The point of the movie is what is it that defines family? It isn't necessarily the traditional mother, father, two children and a dog named Spot. Love is love and family is what is around you and who is in your immediate sphere. That is what I love about this movie. It is saying it is not the traditional sort of stereotype of what we have been taught as a society of what family is."

On if she wants to be a mom
"Yeah, I have said it years before and I still say it today."

On if she's going to get invitro like her character
"I don't have plans on that, no."

On what she learned from her character
"I've learned something from Kassie and every character I've played. Especially, in this case, the women in my life I've known who have gone through the struggles and heartbreak frustrations of fertility, adoption, and all of that.

"I think that's why this jumped out for me, so immediately. Because I thought it was so timely and progressive and hadnt been previously discussed. And to have a love story woven through it, was just sorta beautiful. And it's hysterical."

On if if it's possible to remain friends after a breakup
"Yes, it is."

On if it's possible to be friends with someone of the opposite sex without being attracted to them
"Yeah, I have [been]. I think it's hard. I think women have an easier time of it than men do."
Aniston is close friends with Sheryl Crow, who is single at 48 and recently adopted her second child. I can see how she would consider adoption as a single mom, if she's so inclined. (And there's been plenty of speculation on that in the media.) One thing that strikes me about Aniston, though, is that she really doesn't enjoy doing press for her films. She needs to feel comfortable in order to give a good interview and you can tell from these brief responses that she's totally over answering all these personal questions about her life.
On another note, The Baster looks pretty funny just judging from the trailer and I hope it's a success. We'll see how it does when it comes out next week, but I imagine it will hang in there at the box office. We recently heard that Aniston was the fourth highest paid actress last year despite the fact that her films weren't high performers at the box office. Having a hit on her resume will only increase her massive income.
Jennifer Aniston is shown out in London on 7/21/10. Credit: WENN.com