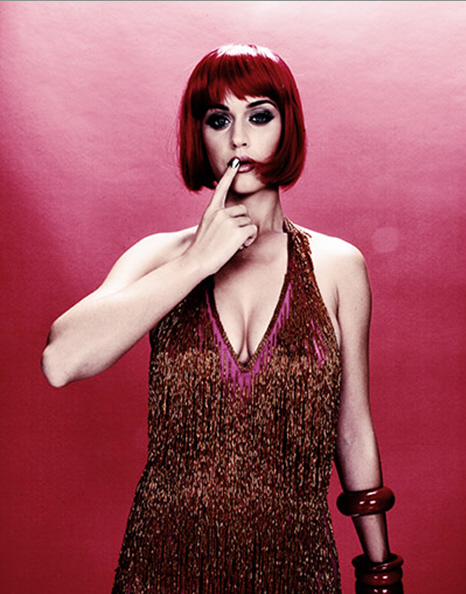 These are photos from Katy Perry's wig-tastic photo shoot for The Guardian. My favorites are the red wig and the green wig. Does anyone else think that Katy should be going red now? This Budget Betty Page look is tired, and it doesn't help her image at all. Revamp it with a short, red bob! Please, Katy. The interview is meh – but I may be saying that because I don't care for her. The full piece is here, and here are some of the better quotes:
On not being cool: "I don't feel like I'm very pop-star lame, but I'm definitely not hipster-cool," she says. "I'm somewhere right in the middle of it all. Because, for me, I want to sell out, but just not in the 'I've sold out' kind of way. I want to sell out arenas and sell millions of records."

On Russell Brand: "One of the things that attracted me to him is his brain," Perry says. "He's one of the smartest men I've met. I feel smarter just standing next to him."

On "taming" Brand: "He knows that I'm young and have friends and a social life, and he was attracted to me. Not, 'Oh let's find a version of myself in a female.' Every once in a while I need to remind him of that and he listens. It's all about communication. It's not about taming, because that won't last. Everyone gets saggy t-ts. Not everything stays perfect. We all start to slow down. I think he was ready for change. I mean, you just don't have the stamina to be in bed with 80 different women a week when you're 35 and trying to do good work."

On the hustle: "You have to bust your ass at this," she says, "which is why you don't find me getting sh-tfaced in bars that much. It's so intense, it's like you catch a rocket and you're hanging on for dear life and you're like, 'Gooooooo!' The second record I'm more buckled in because, God, how many times do you see people slump on their sophomore record? Nine out of 10. But I'm still working, like, 13-hour days, five, six days a week and singing on top of it. And knowing that there's someone right behind me, ready to go, ready to push me down the stairs, just like in Showgirls."
[From The Guardian]
She also goes on to talk more about her parents and how supportive they are of her – I guess they're her biggest cheerleaders when they're not speaking in tongues. And apparently both of her parents adore Russell. Which… of course. Why wouldn't two "freelance" ministers love Brand, right?
Katy also discussed her new single, "Teenage Dream". This song has been playing on the radio forever, and I hate it. Katy describes it as, "It's about that feeling that I think so many people relate to… when they get to their 20s and 30s and remember being a teenager and putting all or nothing into a relationship, and usually getting hurt, but it was such an amazing feeling – so pure and lovely and raw." Eh. Sure. I know that feeling. But I'm not sure the song really says that to me. Anyway, Katy finally released the video for "Teenage Dream" and surprisingly, I don't hate it:
I like the dude, I'll admit it. He's hot. His name is Josh Kloss, he's from Oregon, and more than half of his Google Images are shirtless. Quality! I also appreciate that Katy didn't match her bra and panties. A small detail, but I appreciate the stab at realism. Other than that… meh.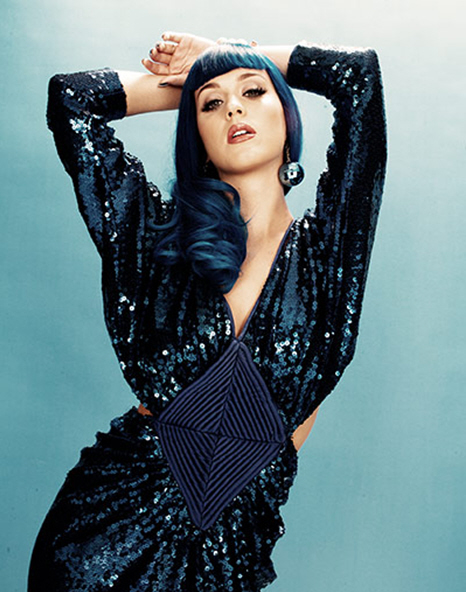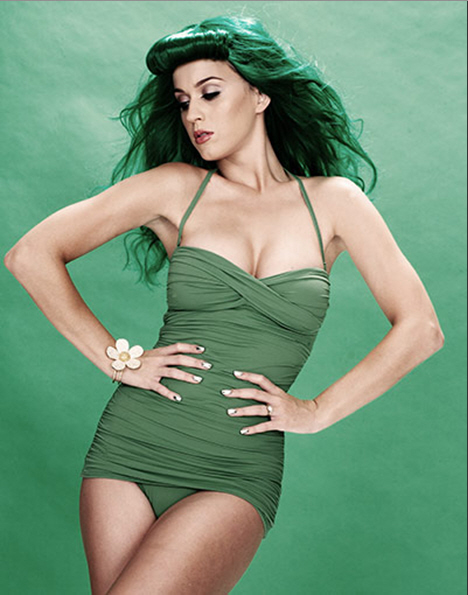 Photos courtesy of The Guardian.