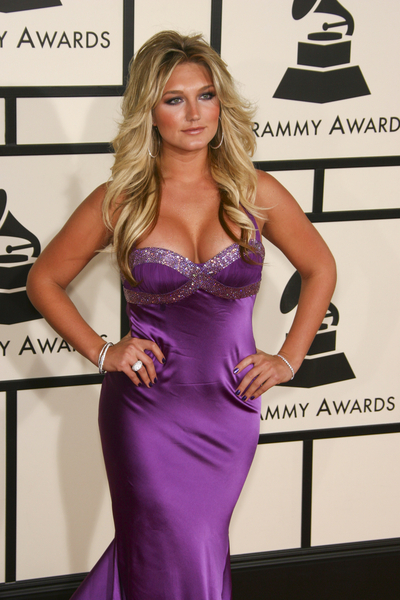 A lot of people would probably like to ban Brooke Hogan from being within 100 yards of them. I sure would. Imagine if the whole world could get a restraining order against her. How glorious that would be. Well three Florida universities have managed to ban her – or at least deny her admission to their fine academic halls. I know, I'm jealous too. I wish I could not just ban Brooke from places but also banish her to places – several volcanic, deserted islands come to mind.
Brooke, 19, wants to film her family's crap-ass reality show Hogan Knows Best on campus – and in the classroom – thus totally disrupting the lives of the thousands of other students for her benefit. Luckily the first three schools she applied to were smart enough to say no.
Hoping to film the VH1 reality show Hogan Knows Best with a nine-camera-wielding production team, the young member of the wrestler's family was denied admission at those institutions [the University of South Florida, Florida State University and the University of Central Florida] out of concerns that she and her crew might disrupt the others students' academic lives, the Palm Beach Post reports.

The upshot was, on Tuesday and Wednesday, Hogan (real name: Brooke Ellen Bollea) went to the southeast coast of the Sunshine State and toured the campus of Florida Atlantic University – where she met with Student Government president Tony Teixeira and sorority and fraternity members, as well as tooled around the grounds on two golf carts hired by the show.

No decision has been made regarding Hogan's permission to film on campus – or even if she'll be admitted as a student, says the newspaper, which does quote FAU spokeswoman Kristine McGrath as saying, "The university would not agree to an arrangement that would be disruptive to the academic setting."
[From People]
All three of the universities that declined to accept Brooke said they declined to accept her because they don't want a show filmed on their campus and in their classrooms. But here's what confuses me: if Brooke applied to these schools and had grades good enough to get in, wouldn't she have been accepted – but just told that she couldn't film there? Something makes me think this is just some PR on the part of the Hogan family to cover up for Brooke not getting accepted into all three schools that she's been blabbing about.
Here's Brooke Hogan about to bust out of her top in a super classy dress at the Grammys on February 10th. Does she really look 19 to you? Images thanks to PR Photos.