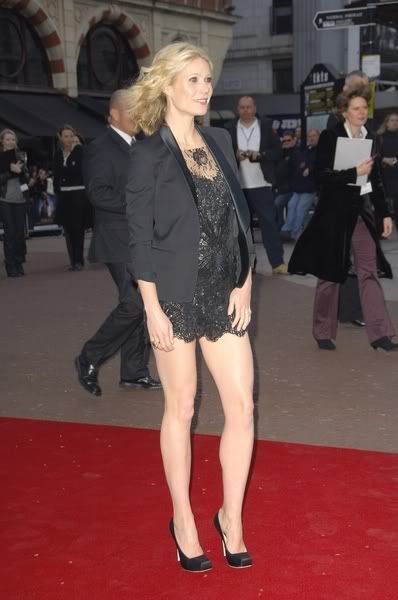 Gwyneth Paltrow has denied that she snubbed a party held in her honor – but it seems that's exactly what she did. Producers of her most recent film Iron Man had planned a big bash costing over $120,000 in Gwyneth's honor – to thank her for her hard work on the film's "grueling" promotion schedule. It was held after the film's premiere in London.
Thirty of Gwyneth's closest friends and family came to attend the swanky dinner at Cocoon restaurant – but Gwyneth never showed up. They had even arranged for a special entrance for Paltrow and husband Chris Martin, so that they wouldn't be photographed together – one of Gwyneth's many strict rules.
Hollywood moguls spared no expense when they threw an extravagant party in honour of their hard-working star Gwyneth Paltrow last week. They lavished about £60,000 on the private celebration at an exclusive London restaurant, inviting 30 of her closest friends and family and providing the finest champagne and cocktails, just as she'd requested.

But the studio chiefs were left disappointed when the actress failed to turn up – choosing at the last minute to go for dinner elsewhere. Instead they went for an impromptu meal with Robert Downey Jnr, Paltrow's co-star in the new Iron Man blockbuster, and his producer wife, Susan Levin. The decision left some of Paramount Pictures' most powerful executives making small-talk with fellow guests, including 31-year-old Mr Martin's parents, without Miss Paltrow.

"A lot of thought and money had gone into the party. Gwyneth had specifically asked for chilled bottles of Perrier Jouet champagne and some vodka cocktails to get the party going. Everything was in place and had been arranged around her.
[From the Daily Mail]
Gwyneth's excuse is even lovelier – she's claiming she never agreed to attend. Yet you would think she'd inform her friends and in-laws of that fact well ahead of time. Which makes you think that she really did stand them up. The Daily Mail says she called just minutes before she was supposed to show up and canceled instead – leaving director, Jon Favreau trying to entertain Chris Martin's parents and siblings, along with a host of other people all there just for Gwyneth.
Miss Paltrow's spokesman said last night: "Gwyneth was never meant to attend the after party. She was at the taping of the Jonathan Ross show which ran late and then she went home to be with her children. Everyone was told weeks ago that she would not be attending. She has said many times that she deliberately does not make public appearances with her husband."
[From the Daily Mail]
Well that sure sounds like an all-out lie. One would assume that if Gwyneth said she wasn't coming to the party weeks ago, the studio wouldn't have thrown the bash in her honor. And her in-laws and friends wouldn't have made the trek from the all over England to come and celebrate with her. It seems likely that the mistake (and poor manners ) was probably Paltrow's – not the thirty people who still came to congratulate her.
Here's Gwyneth at the Iron Man premiere in London on what appears to be a very windy April 24th. Images thanks to PR Photos.