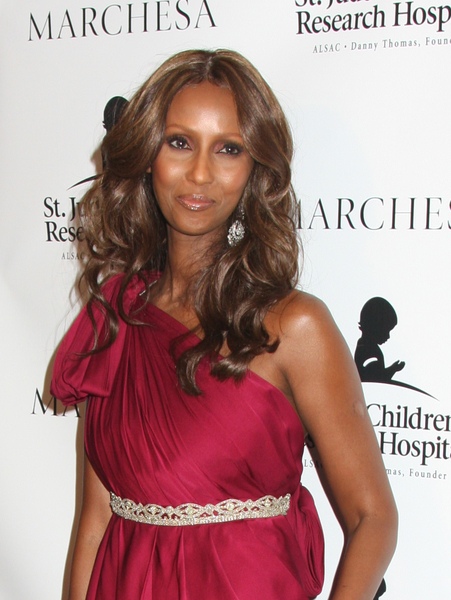 52 year-old Somali-born former supermodel Iman currently hosts Project Runway Canada, and she's not shy about touting her qualifications for the job. Iman says she's much more qualified to host the fashion-judging contest than Heidi Klum, the host of the US version. Iman starts by saying "Not to belittle Heidi Klum…" and then goes on to sort-of do just that, saying that she has so much fashion experience while we're supposed to come to conclusion that Klum is less knowledgeable about the industry:
She says, "Definitely Heidi and I come from two different places. I'm not belittling Heidi Klum, but I have been in fashion much more than she has. Not to toot my own horn, but I have been one of the best runway girls.

"I know clothes, and I know about working hand in hand with designers, I mean, I've worked with Calvin Klein, Marc Jacobs, John Galliano. Yves St Laurent – he created a whole collection for me. Tom Ford, Valentino. Versace. Jean Paul Gaultier. Thierry Mugler… I could go on and on."
[From Starpulse via Gossip Rocks]
Iman has been married to rock legend David Bowie for over 15 years, and they have a daughter together, Lexi, 7. Iman also has a 28 year-old daughter from her first marriage to basketball player Spencer Haywood, and is the stepmother to Bowie's 37 year-old son from his first marriage. Iman says she's a "total domestic diva" and that she cooks every night at home. She has her own cosmetic company and published a book in 2005 called The Beauty of Color: The Ultimate Beauty Guide for Skin of Color
.
When I read this story I was surprised that Iman would say this as I remember seeing her on Oprah and she didn't seem full of herself to me. I also watched another interview with her on YouTube and again she didn't give the impression that she was stuck up. Maybe that goes along with the territory when you've been a supermodel though, and it's possible this quote was taken out of context and someone asked her specifically about the differences between herself and the US host of the show. Heidi Klum isn't exactly famous for her high fashion experience and is best known as a swimsuit and Victoria's Secret model, although she certainly has catwalk experience.
Iman is shown at "A Night of a Thousand Lights" Benefiting Saint Jude's Children's Research Hospital on 4/23/08, thanks to PRPhotos. She looks amazing.