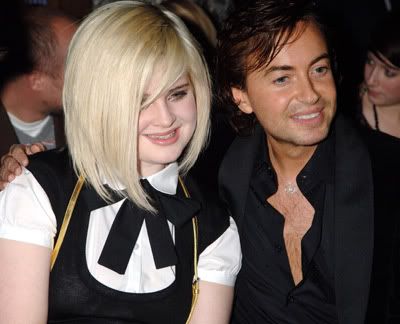 Kelly Osbourne attended the Denis Simachev fashion show in London yesterday. She hit a sour note with a chunky asymmetrical hairpiece and a fussy white cap sleeve blouse with a silly black neck tie.
Kelly has been lauded for her recent weight loss, which she says is getting her more attention from boys:
"Lots of posh boys are keen… The good-looking boys only look at me now because I've lost so much weight — they would never have touched me before."
But she thinks her bad girl image is still part of the attraction: "They all just want to take me home to upset their mums because I have tattoos. They want to piss them off."
She's quite partial to bad boys herself though and has been linked to several rockstars and Sadie Frost's ex, Jackson Scott: "I like bad boys. Mum goes mad."
Osbourne was pictured with a "guest" at the fashion show, the man in a striped shirt shown below, but he may be just a guest at the show and not a guest of hers. They don't seem to be looking at each other and it's possible they were just sitting near each other.
Here is Osbourne at the fashion show. She is pictured with Julien MacDonald above.