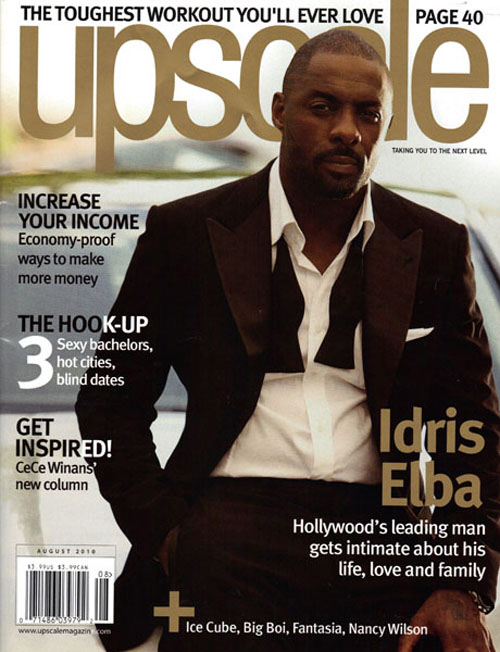 I think it was Season 5 of Sex and the City when Blair Underwood came on as a love interest for Miranda/Cynthia Nixon. I actually adored their relationship, even though I was happy when she got back with Steve. But I digress – when Miranda and Blair's character were first seeing each other, he comes over and they end up watching Miranda's favorite British soap opera on BBC America, in which a handsome black dude and a white lady are getting it on. Blair quips, "I love a brother with an accent." That is one of my favorite lines, EVER. Because it is different, isn't it? The love I have for an American dude like Blair is substantial – but when you're talking about a brother with an accent, like Idris Elba, well… I think my panties just exploded. And I love it.
So, yeah… this fine piece of man-candy is on the cover of Upscale, looking f-cking gorgeous. He has some sh-t to say too, about the evolving image of black men in the world, on whether he's a sex symbol, and wanting to do a film about the real violence he's seen on the streets of London:
On being a sex symbol:
"Black men have never been sexy. We're 'sportsmen.' We're 'intimidating.' We're not 'good fathers.' So we need that. I think we should celebrate that. But am I a sex symbol? I don't know. Not everybody likes one thing."

On who he's dating:
"I'm sure people are curious, but do they really care? No. Jesus Christ, does it make a difference in their lives? No, not at all. …I don't hide my girlfriend in a box or anything like that. I keep a very real existence in my real life. I go shopping for food myself. I have kids. I love my children and I love my kids. But they are not part of that world."

On His music:
"When you listen to hip-hop right now, a lot of it is so aspirational: I wanna get this, I wanna be that. For me, it's a matter of celebrating who we are and where we are. Being thankful and trying to be content with what you have, as opposed to what you can get. My music, especially the rap stuff, is a bit more observational."

On wanting to do a film about what London is really like:
"The streets of London are becoming ridiculously violent and I want to do a story that sort of depicts that. I wanted to tell a story that I can relate to so I can be fully engaged by it. I think I'd be able to capture it in its essence."

On the fame game:
"When you're promoting a film, you become a property. That is actually one of the harder pills to swallow, as far as success is concerned. You have to be accessible all the time. As I climb the ladder, I realize that I'm becoming more and more of a recluse. One can water down their worth if they're over exposed… I like it [the moderate super-stardom] for personal reasons. For my work reasons, it's important that my name is recognizable, to make my films profitable. That's sort of my push-pull dilemma. I don't want it to be at the expense of my personal life to the point where I just can't go anywhere."
[From Upscale Magazine via Bossip and Necole Bitchie]
I honestly didn't know that he rapped too. Ooh… I just found his stuff – he raps under the name "Driss" or "King Driss". Meh. I think he's a stronger actor, honestly. And part of the reason he gets so much work is because he can lose his British accent so completely that everyone thinks he's an American actor. 'Tis a shame, because in my fantasies, he's always got an English accent.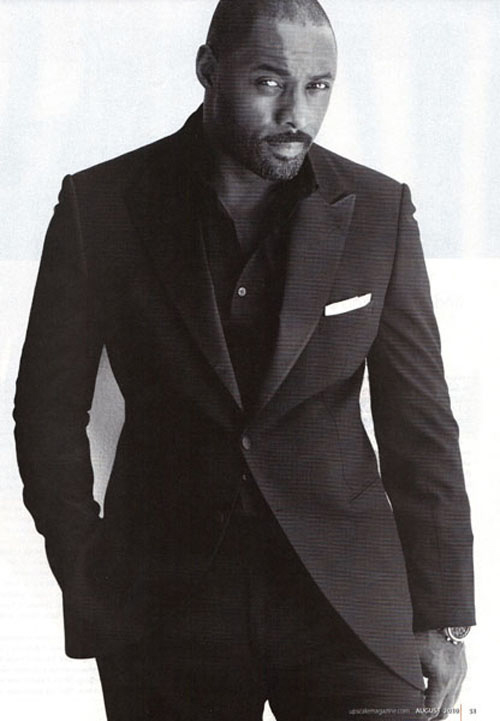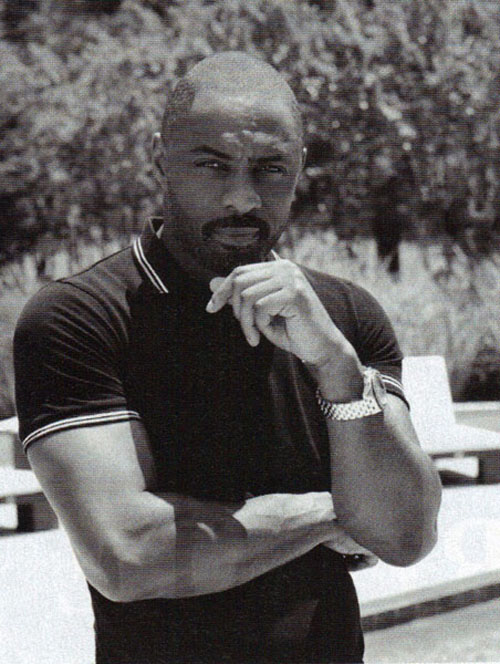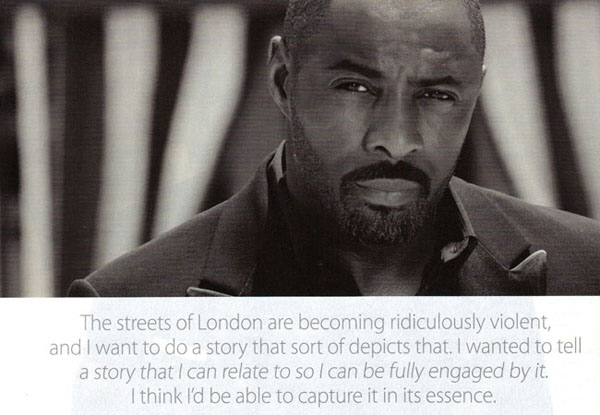 Photos from Upscale Magazine, courtesy of Bossip.