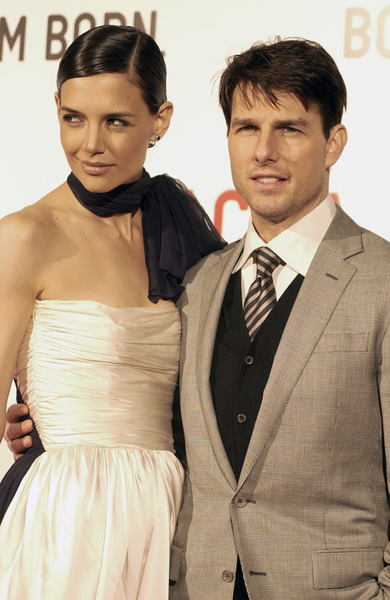 I don't know how it happened, but it seems that someone's gotten to Tom Cruise – and I'm going to guess it's someone in PR. Though it boggles my mind, Tom actually gave a reasonably normal and rational (at least for him) interview with Oprah – and from Us Weekly's excerpts, it seems that the two got along well, though Oprah admitted to being a little hesitant at first.
Tom explains that he jumped on Oprah's couch because he was just "so in love" with Katie Holmes, and he didn't know how else to express it. As delusional as he can be, he seems to at least be able to understand that the results weren't a great thing for his career.
Cruise tells Winfrey, "I just felt that way, and I feel that way about her. I can't even articulate it, to be honest," he adds. "That feeling, that connection. Just who she is and what she means to me."

Of the negative response to his couch jumping, Cruise says, "It just kind of kept going. Those things I kind of go, 'You just have to take in stride.' It just kind of became a confluence of things."
[From Us Magazine]
Tom even goes on to say that he's relaxed his views about psychiatric medication a little bit. He had freaked out on Matt Lauer about the issue a few weeks following the Oprah couch jumping. Tom obviously still doesn't support it, but is at least smart enough to say that it should be a parent's decision.
Tom also says that he regretted criticizing Brooke Shields, who admitted to taking Paxil for post-partum depression. He doesn't say he thinks she made a good decision, but says he regrets mentioning her in any way.
"I was feeling pressed in the interview with Matt Lauer," Cruise says. "For me, my issue was really about child drugging. It's not like it is today, like people are really kind of openly talking about this."

(Cruise now says of medicating children, "I think the parent should be able to and should make that decision.")
[From Us Magazine]
Tom glosses over some issues, like whether he thinks he's targeted more for being a Scientologist, the reasons he and Katie waited so long to "debut" Suri, and the insinuation that his marriage to Katie Holmes is fake. But he actually does admit that he's made some mistakes and could have done some things better.
It's hard to tell if he really means it, but at least he's got some better PR advice and knows to say it. In the past Tom has been so egocentric that he couldn't seem to even understand how poorly he was coming across. It'll be really interesting to see the interview in its entirety, which airs this afternoon.
Header photo of Tom and Katie at the LACMA's Opening Celebration of the Broad Contemporary Art Museum in Los Angeles on February 2nd. Images thanks to PR Photos.