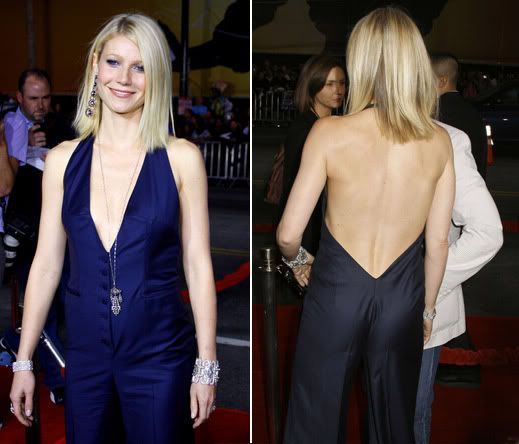 Gwyneth Paltrow wore a bizarre 70s purple vest suit with bell bottoms to the premiere of Ironman in LA. It looked like something Heather Mills would wear to divorce court. It's the second time Paltrow has worn a low cut vest recently. She donned a similar vest for her appearance on The Late Show earlier this week. At least she's not wearing another micro miniskirt, but the super wide bell bottoms leave something to be desired. It's a one piece outfit and is cut almost to the top of her butt in back. Can't she dress sexy without showing so much skin?
A lot of you called my post critiquing her her super short dress ageist because a younger woman might have been able to get away with it, but the issue was with her fashion not her age. She's got a gorgeous body, but she doesn't need to wear a skirt that barely covers her crotch to show off her legs.
As it is, she's slowing growing on me. She gave a great interview to David Letterman earlier in the week and I found her both likable and surprisingly down to earth. I'm baffled by her outfit choices, but at least she cut her hair and is taking chances again. People are talking about her, and that's undoubtedly what she's going for with her wild shoes and outfits while promoting Ironman. It's not like she's done much recently and she may as well get as much publicity as possible.
Also shown at the premiere are Robert Downey, Jr., Vince Vaughn, Jeff Bridges and his family, Jon Favreau, Jack Black, Terrence Howard, Beau Bridges, Diddy, Pete Wentz surprisingly without Ashlee, and Jenna Dewan.