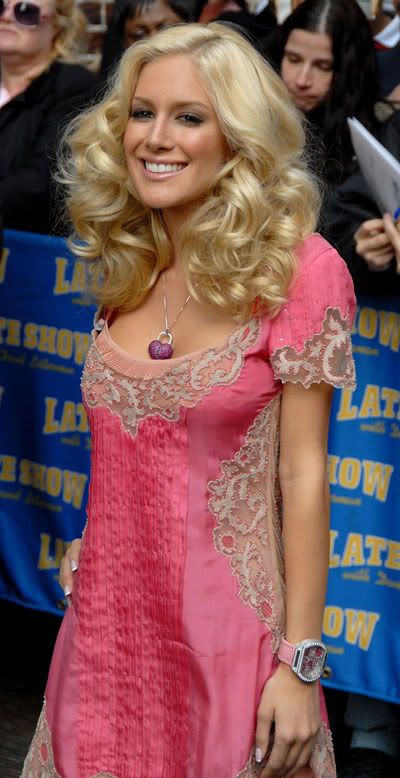 Heidi Montag and her giant teeth were on the Late Show last night. She wore a pink slip dress that looked like lingerie and explained the plot of her faux reality show, The Hills. She talked about her feud with Lauren Conrad and about Lauren's sex tape with Jason Wahler, which she says exists even though Lauren tried to make it seem like she made it up.
Dave asked "How much of this is actual and how much is professional wrestling?"
Heidi answered "I wish it was professional wrestling because then we'd be the smartest cast ever"
Dave showed the Rolling Stone cover featuring all The Hills women, and Heidi said that they weren't Photoshopped together and that "unfortunately we were all there." She said that everyone else had a good time and that she just wanted to get out of there.
As for when she's going to marry Spencer, Heidi said she's young now and seemed to suggest that it will be a while.
The thing that bothered me about the interview is that Dave took the whole thing so seriously while Heidi blathered on about her feud with Lauren and about how Lauren shouldn't tell her who to date. He made a few good natured jokes but he really didn't challenge her or put her down like I would have liked to have seen. Heidi has those awful songs out and a new trashy clothing line and Dave didn't mention either of those things, probably because her handlers told him they were off limits.
Can you guys please explain to me why these Hills characters are everywhere all of a sudden? I know this is a popular show for MTV but from what I've seen it's just a poorly acted soap opera with reality elements. I've really been trying to ignore these people, and I don't cover their petty little fights because it all seems like high school bullshit to me. It's almost impossible to avoid them, though, and they seem to have weasled their way into popular culture. I just hope this trend fades as quickly as it seems to have begun.
Heidi Montag on David Letterman, 4/30/08, part 1:

Heidi Montag on David Letterman, 4/30/08, part 2:

Heidi Montag is shown outside The Late Show yesterday, thanks to WENN.