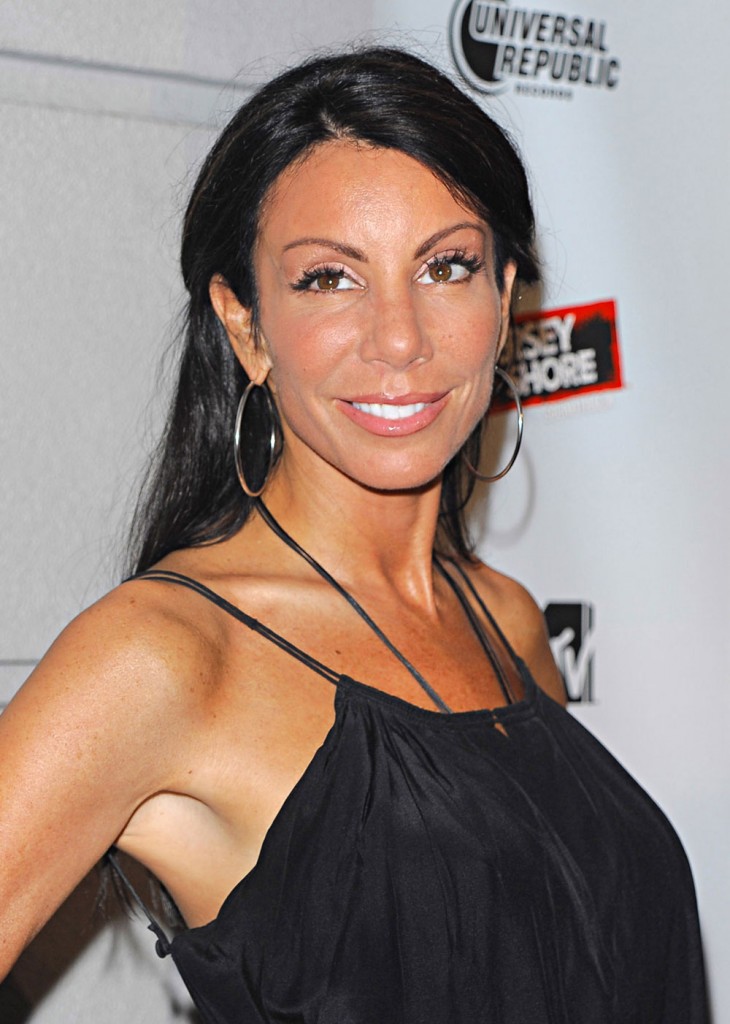 Spoilers for old RHONJ, if you care
Part of the reason I'm reporting this is that I actually watched a whole episode and a half of this show over the weekend. I have to admit it wasn't bad, although I prefer a good Cake Boss marathon. In the full episode I saw, which was from last week I think, most of the ladies went to Italy to visit Teresa and Joe Giudice's family. (If you're not familiar with them, they're the couple that filed for bankruptcy but denies all responsibility for their $11 million in debt, and have spent $60k in two months post-bankruptcy.) There were some touching scenes where they met up with Joe's Italian relatives, including Joe's 83 year-old grandmother. Those nice moments were pretty much overshadowed by evidence of how trashy Joe and Teresa are. Joe complained loudly about how much money everything cost and Teresa paraded her four daughters around in matching custom made dresses more suited for a pageant than a casual family reunion. Those two really stole the show with their overbearing personalities and out of control lifestyle. (Also, neither Teresa nor Joe knew what a bidet was. Here's The Soup's coverage of that.)
Meanwhile Danielle Staub, the proud sex tape star and Teresa's nemesis, was back in New Jersey. She was looking for her birth mother, who gave her up for adoption as a baby. She made some really narcissistic comments to the private investigator she hired, saying "I'm not interested in finding [my mom] if she's addicted to any drugs or alcohol or is homeless. I'm not finding her to make her better, I'm finding her to make me better." I was also really surprised to learn that Staub had two teenage daughters. You wouldn't expect that from someone who released her own sex tape, but go figure. Staub is not going to be on the show if it's renewed for another season and while there are rumors of a spin off show other sources say it's just wishful thinking on her part.
Staub and Giudice are in a long term feud, and had two big fights shown on the show. In their first and most famous, Teresa flipped over a table and screamed at Danielle that she was a "prostitution whore." In another, Danielle taunted Teresa with the fact that her house was in foreclosure. (you can watch both of those on this post.)
Radar Online has details of yet another fight between Teresa and Danielle, a fist fight they say happened at the show's reunion. Here's their report:
"A fight broke out between Danielle and Teresa. It got so crazy that the producers had to get involved and break it up," a source told RadarOnline.com. The whole cast has been tight-lipped about what happened, but everyone is still talking about it amongst themselves.

"It got a little crazy," another source said. "Did anyone walk away with a black eye, no… But it definitely got to the point where I think everyone was more than holding on to their seats or being held back."

Adds the source: "I have seen episodes of different Housewives shows and some reunion shows and this is one that should NOT be missed."
[From Radar Online]
The fist fight part is just in the title and not the text of their story, which reads "New Jersey Housewives Come to Blows on Reunion Show." We'll see, and I'm sure if it's bad enough the clips will be online. Meanwhile all the New Jersey housewives have been banned from a country club after a fight there in which Jacqueline's 19 year-old daughter, Ashley, pulled out some of Danielle's hair extensions. Ashley is facing a lawsuit from Danielle over the incident. All the Real Housewives have been banned from that country club, with the general manager writing an apologetic – and scathing – letter to members explaining the incident and promising it would never happen again. You can read the letter here, and highlights include "We clearly made a mistake in not fully understanding the potential risk of this event… these women do not represent the people and families of our many neighboring towns or the population of the great state of New Jersey." You would really hope they don't, or our society is in deep trouble. I kind of like Caroline, though I probably just didn't watch the show long enough to see her major character flaws.
Danielle is shown in the header on 7/10/10. Teresa is shown below on 3/10 and also with Caroline, Jacqueline and Dina. Credit: Fame Pictures