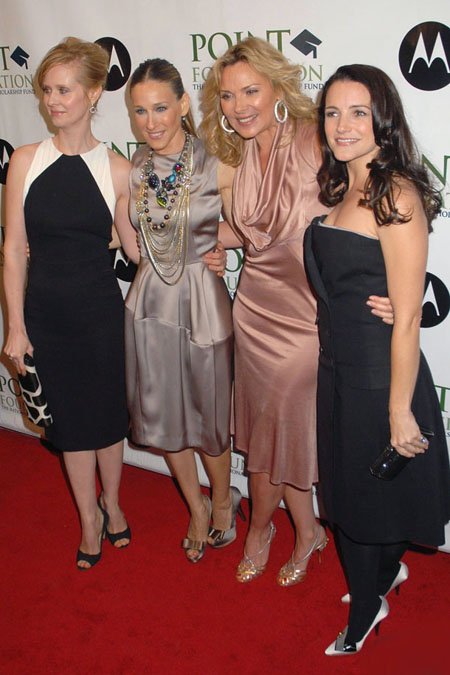 The Sex and The City stars were on Oprah yesterday in front of an audience that had screened the film the day before. There was a lot of screaming and enthusiasm for the cast and Oprah raved about how great the movie is. It's out in the US on May 30. The studio audience had seen most of the film but were not allowed to see the end because they didn't want all of the plot to get out. The women answered questions about their lives and their work and Mr. Big Chris Noth even came on and talked about his new baby son. Oprah didn't ask them the standard question about whether they fought at all, and Kristin Davis wasn't asked about her nude photos that were leaked earlier this year.
On fans surrounding them as they filmed in NY City, and the "dream sequence" story
Kim Cattrall: "I felt like a Beatle"
SJP: "You can't be anything other than thrilled that people still care."
Kristin Davis: "There were people writing down the dialog."
SJP: "We kept going around saying 'This is some crazy dream sequence we're filming.' We kept repeating this mantra to try and gaslight people a little."
Oprah: "When you showed up in a wedding gown…"
SJP: "That crazy dream sequence"
Cynthia Nixon on her breast cancer scare and same sex partner
Cynthia Nixon talked about discovering breast cancer, and said "I did not cry."
She talked in a matter of fact way about how she did radiation and had a lumpectomy and a lymph node taken out.
As for how Nixon fell in love with a woman and told her friends, she said "Kristin knew about it first" and Davis said "I know her. I know Christine," and Nixon said "and then I think other people were left to fend for themselves when it all erupted and these ladies did great and so did Mr. Noth who I know is coming out later [crowd screams]
They were great the things they said to the press."
SJP: "I think we all know Cynthia so well. She's such a capable smart thinking person and our greatest concern was that Cynthia be happy… her happiness is everything."
Oprah: "I heard you just sort of met Christine, fell in love and it didn't matter to you whether she was male or female or what… how does that work?"
Nixon: "You haven't met my girlfriend, she's fantastic." [others agree]
Davis: "What is love? I think that's the important thing. There's something real and intangible and solid about it, and that's how I feel when I'm around them. It's just undeniable."
Kim Cattrall on her younger chef boyfriend
Oprah – to Kim Cattrall: "I hear you're with a younger guy now."
Catrall laughs. Oprah: "Did you have a limit to how young? Or is love is love."
Cattrall: "As long as he has his driver's license.
"He is 23 years younger than me and I wondered 'what could we possibly talk about?' but we talk about a lot of things, and he's a professional chef, so it's not just good in some areas of the house it's good in all areas of the house. And he's very sophisticated, he's very zen."
Oprah asked if it was true that they like cooking in the nude together. Kim said that wasn't true.
Kristin Davis on feeling great in her 40s
Kristin Davis said she wasn't happy in her 20s and didn't know who she was. SJP said the 20s are about exploration.
Davis said that when she hit 40 the show ended and she wondered what she would do at that point, and she said it made her realize that she wanted to take more pleasure in small things in life. She said "Oh life is so fantastic, but it's so charged up… you want to be able to feel like you're connected to the earth."
Davis said she was tired after all the frenzy at the end of the show, and Kim Cattrall said she went into a funk when the show ended. Cynthia Nixon said she was in love so she didn't get depressed at that point.
Chris Noth says his girlfriend was told that she would miscarry their baby
Chris Noth came on to a lot of screaming. Oprah first asked if he gained insight about women from working on the show and he answered "Never interrupt makeup sessions."
Noth said coming back for the movie was a no-brainer and that it's the best job in the world.
As for how much he's like Big, he says "He's a lot more self edited than me."
Davis said "Chris is very very male… like a Alpha male thing."
They were joking about how Chris was doing Law and Order at the same time and how he had to do prison scenes and how much of a contrast it was to Sex and The City.
They showed pictures of Chris with his baby son Orion, who is three and a half months old. He explained that the constellation Orion was the first one he would see in the sky when he was in college. He introduced his girlfriend Tara in the audience, and said "I'm so lucky."
Noth told a heart wrenching story about how doctors told Tara after she first found out she was pregnant that they couldn't find a heartbeat and that she would have a miscarriage. He said she talked to the baby all night and that the next day a heartbeat was found. He called Orion a fighter.
SJP talked about her five and a half year old son and said he asks a million questions. She said it helps her realize how much you know and how little you know.
They showed the amazing shoes, dresses and purses used for the costumes and all the women said that it was a lot of fun getting dressed for the show. SJP had 81 outfit changes.
They had the director Michael Patrick King on via Skype and he joked that he's "cutting out all the imaginary dream sequences."
The dream sequence explanation sounds like a ruse
From the comments that SJP gave you can kind of tell that the dream sequence story was one they made up on the spot to try and keep the paparazzi and fans from guessing plot points after scenes were photographed in NY. But given all the well-deserved hype surrounding this film, I think it's safe to say that whatever details were leaked won't deter people from seeing it.
Here are links to the videos of the show, including clips from the Sex and The City movie. There are commercials but you can easily skip them.
Sex and The City cast on Oprah: Part 1
Sex and The City cast on Oprah: Part 2
Sex and The City cast on Oprah: Part 3
Sex and The City cast on Oprah: Part 4
Sex and The City cast on Oprah: Part 5
Sex and The City cast on Oprah: Part 6