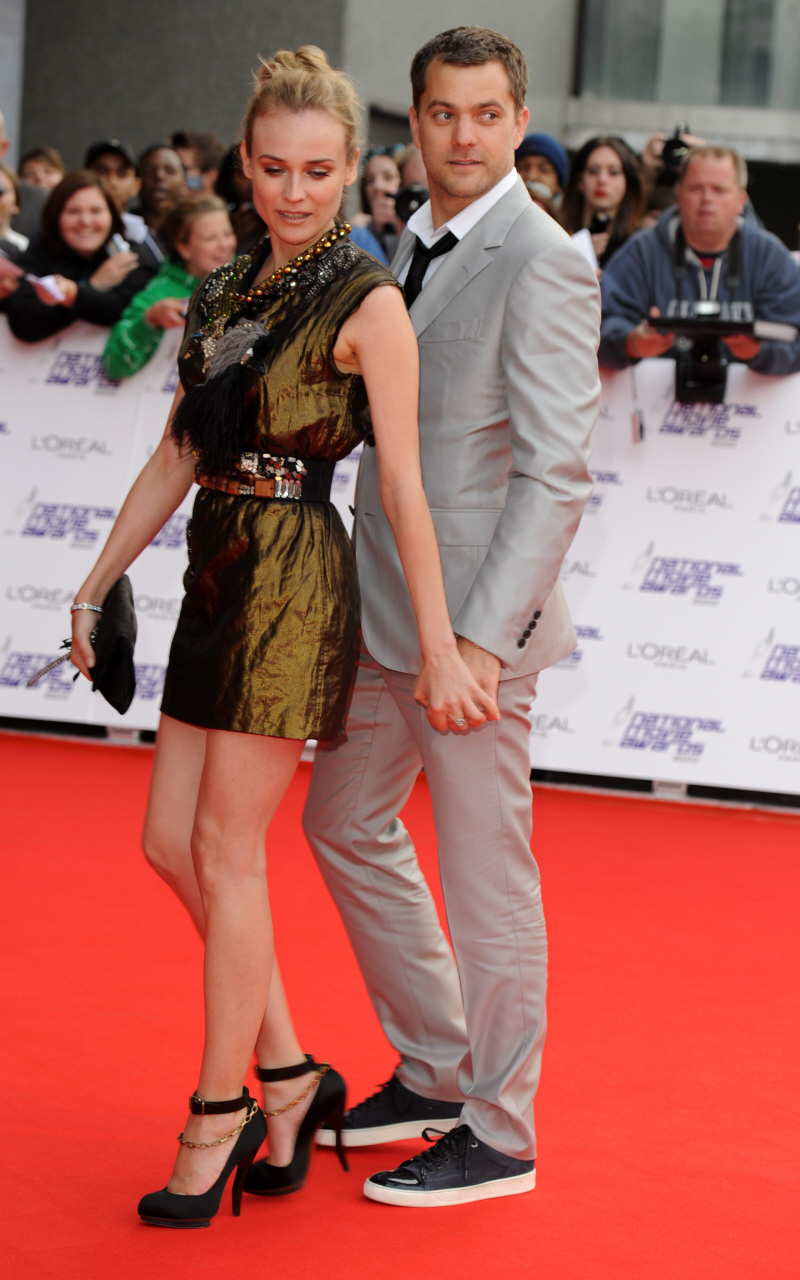 Generally speaking, Diane Kruger is pretty boring. She's made a few good movies, and many not-so-great movies. She's not really a world-class actress, but she's serviceable and pretty, and she seems reasonably down-to-earth. The only times I've ever been excited by Diane were: 1) when she was rumored to be maybe-boning Brad Pitt when they worked on Inglourious Basterds, 2) when she wears something totally gorgeous or totally funky on the red carpet, as she is one of the "fashion girls" and 3) when she's gushing about her boyfriend of many years, Joshua Jackson. Joshua and Diane aren't really a big A-list couple, but they are solid B-list, maybe even B+. And I've always wondered about them – do they get really hot for each other? What's their home life like? Does her accent ever piss him off? Well, as it turns out, Diane has no problem talking about Josh and their future plans (hint: babies!). She was interviewed in The Daily Mail over the weekend, and her quotes are very interesting (full Mail piece here):
[In] a celebrity-obsessed world that loves two for the price of one, it cannot be denied that her relationship with Joshua Jackson has done much to raise her profile. We meet at the beginning of Josh's annual three-month break from Fringe – which is filmed in Vancouver – and the couple are about to take off on a 'European tour' that is clearly preoccupying Diane. The couple, who met in 2006, rarely have the opportunity to spend much time together. They live, she says, like 'gypsies' between a rented flat in Vancouver, her home in Paris and an apartment in LA.

'He is in Vancouver nine months of the year, and then I am away making movies, so there are long periods when we don't see each other and it's hard. I am taking time off work because we promised each other this period together.'

'[The paparazzi] do take pictures of us when we are in New York or LA, but it doesn't bother us because we don't have super-interesting lives for them. We don't go out a lot and I certainly don't go to clubs without any underwear on. We love the outdoors, we love cycling and hiking and we are both very green – not pursuits that the paparazzi tend to be interested in.'

Paris remains her favourite city and the place she thinks of as 'home' (she has an apartment close to her mentor Karl Lagerfeld). Indeed, for all her transatlantic gloss, she still considers herself to be European.

'I see myself raising my children in Europe, probably in Paris. Josh loves Paris and he is cool with that, but we will see what happens when we get there – or if we get there.'

However close they are, there will not, she says, be a wedding. Diane's marriage in 2001 – to actor/director Guillaume Canet, which ended in 2006 (he is now with Marion Cotillard) – has left her disillusioned about what she believes is 'just a piece of paper'.

'Because I was married I know that, no matter what paper you sign, if you want out, you get out. But that doesn't mean I don't believe in commitment. I think commitment is very important, particularly for me. I am a better person when I let myself have the time for romance and for love. I think for too many years I actually let that slide,' she says, a little pensively.

She's highly domestic (she regards ironing as therapy), loves to cook and has a vast library of cookbooks, counting Jamie Oliver as one of her favourite chefs.

'Two weeks ago I did an eight-hour lamb. We were in LA and we had friends over on a Sunday and the lamb was in the oven and we could smell it all day – it was great. I love food.'

Diane doesn't exactly look as if she loves food – with her slender 5ft 7in frame elongated by those shoes, she appears pretty close to a size zero, but vehemently denies it. 'I am not size zero – I wish! I am a 2 [British size 6] or sometimes a 4 [8] – it depends. If I spend too long in Germany and eat too many cakes and schnitzel my weight goes up. But I don't obsess about it any more. I just know I've got to watch it when my pants feel too tight.'
Aw… she sounds nice. Surprisingly normal. She also talks about her obsession with gigantic heels, and how Josh always ends up half-carrying her through events because she can't walk. I'd venture a guess in saying that Josh and Diane are for real, and they're totally in love. Of course, I thought that about Taye Diggs and Idina Menzel, and now everyone is yelling at me, saying that he's a big cheater. So maybe I'm bad at reading relationships today. Whatever.
Header: Josh and Diane on May 26, 2010. Credit: WENN