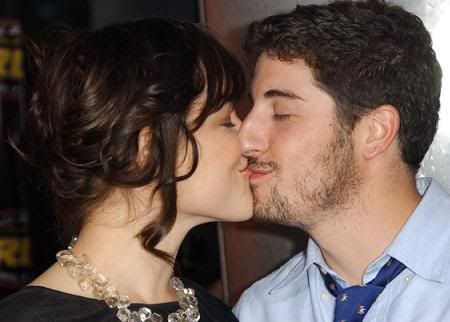 American Pie star Jason Biggs eloped on April 23rd with his girlfriend Jenny Mollen. The two met while filming the movie My Best Friend's Girl, and apparently fell madly in love pretty quickly. According to OK! Magazine, this past October Biggs, 29, said in an interview, "I am in love for the first time. I wanna put a baby in her belly." That's quite the statement to make, especially so publicly. So far, nothing's been said indicating Biggs has already put a baby in Mollen's belly – but I'm sure that, given his proclamation, rumors will start swirling pretty soon.
American Pie star Jason Biggs can now call Jenny Mollen his wife. A rep for the actor tells OK!, "The two eloped in a private, intimate ceremony on Wednesday, April 23, in Los Angeles."

Though Jason and Jenny still plan on having a proper wedding ceremony with family and friends in July in Napa, Calif., the couple chose this path to keep the distractions out. "It is the real deal," a friend of the newlyweds tells OK! "I have never known two people more in love."

And right from the beginning of their relationship, Jason, 29, didn't hesitate to let the world know his feelings about his sweetheart. In an Oct. 2007 interview, he announced, "I am in love for the first time. I wanna put a baby in her belly."

The couple met on the set of their movie My Best Friend's Girl and became engaged shortly after. For the sake of their marriage, let's hope there was a wedding cake at the reception — and not an apple pie!
[From OK! Magazine]
My Best Friend's Girl is set to be released on September 20th. Given that, it doesn't seem as though Biggs and Mollen have known each other all that long – but it's certainly no Mariah Carey/Nick Cannon situation.
Whenever I imagine a couple eloping, I picture them jetting off to some exotic locale, or at least somewhere that involves taking a trip. Considering the couple lives in Los Angeles and got married there, it sounds less like an elopement and more like a quickie wedding. Either way, congratulations to the happy couple.
Here are Jenny Mollen and Jason Biggs at the "Harold & Kumar Escape From Guantanamo Bay" Los Angeles premiere on April 17th. Images thanks to PR Photos.