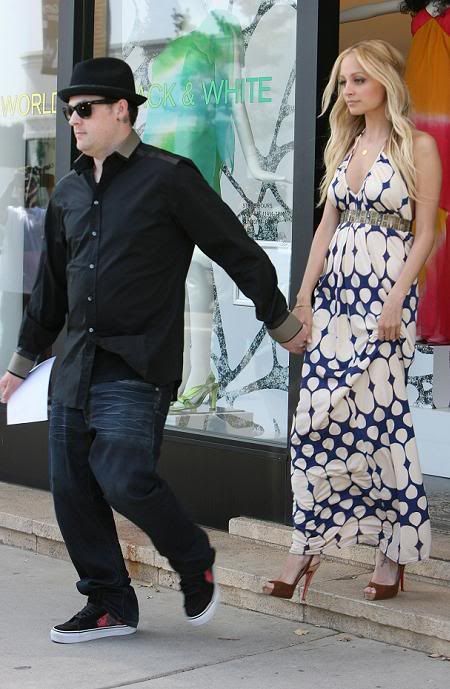 According to Star magazine, Nicole Richie's life is getting REALLY hard to balance. Before daughter Harlow was born, all Nicole had to balance was shopping and partying. I'm not being sarcastic, according to the mag, that really was about all she did. I guess she occasionally dodged Paris Hilton and randomly recorded a terrible pop song here and there, but that was about it. Now Nicole has a baby – but she still wants to have her old life too. And no matter where she is or what she's doing, she feels like she should be doing something else. The life of a socialite is sooooooo hard.
Though she says life's been "beyond amazing" since giving birth to her daughter in January, the diaper-duty demands of motherhood leave Nicole Richie pining for her old party days, according to Star magazine.

"Nicole is torn between being a mommy and being a party girl," an insider told the publication. "She wants to go out and have fun, but when she does, she's like, 'Uh-oh, Harlow needs me.'"

The dramatic lifestyle change is catching to the new mom, said another source. "Nicole really misses her carefree life. Before Harlow came along, Nicole never had to worry about anything. All she did was party with her friends and go shopping. Now she's totally overwhelmed by her new responsibility, even though she adores her daughter. Nicole still can't figure out if she's happier when she's home with the baby or hitting the town with her friends!"
[From MSNBC]
Okay sarcasm aside, being a new mom is obviously incredibly overwhelming. I doubt anyone thinks, "Wow, I am really kicking ass at this." But complaining because you have to stay home with your kid instead of going shopping and partying makes it pretty hard to be sympathetic. It doesn't matter if Nicole can't "figure out if she's happier when she's home with the baby or hitting the town with her friends!" (by the way, that quote makes me ill). When you're debating over spending every night club hopping or staying home and taking care of your new baby now and then, there's no debate. It isn't about figuring out which one is more fun.
Every parent needs some time away, and deserves to go out and have some fun. But it needs to be a rational amount. Nicole is "totally overwhelmed by her new responsibility" because she's never had any responsibilities before. So of course she doesn't know how to handle it. If you haven't learned how to juggle the different commitments in your life, it's going to be hard to figure out how to prioritize. Now would be a great to figure that out.
Here's Nicole Richie and Joel Madden outside their shop DCMA on Melrose Avenue on April 29th. Images thanks to WENN.