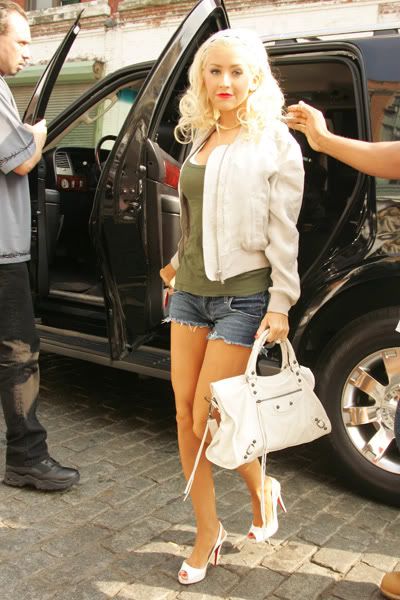 Christina Aguilera is such a diva. Not only does she arrive hours late for most every scheduled interview, she also refuses to look interviewers in the eye. She insists that the room is darkly lit and sits facing the other way while she answers questions:
Christina Aguilera has always had a diva attitude – arriving hours late for everything, big demands, feuds with everyone from Mariah to Kelly Osbourne.
Now with the release of her new album she's learned a new trick. During promo interviews she's refused to look at any journalist. Instead, the diva insists that the interview, for which she's usually two to four hours late, takes place in a dimly lit room, where she sits and stares in the other direction completely to the journalists while they ask, and she answers, questions.
(From the popbitch e-mail newsletter)
If this is true it's ridiculous and Aguilera deserves a serious career slump for being so arrogant. Maybe she'll learn when she's older that she's no better than anyone else and that you have to be kind to people – especially the press – if you want a good reputation.
Maybe kids will soften Aguilera's outlook – although she predictably doesn't seem to want any because they would interfere with the amount of time she has available to apply makeup. She's vague on the issue of children and gives a diplomatic answer to make it seem like not completely uninterested in them:
"Maybe after the next couple of years we'll start venturing into the mindframe of starting our family." she told In Touch… "I do have goals and a set game plan for myself."
(From In Touch print edition.)
Notice that she doesn't say she'll start thinking of having a family, she gives an answer that's even more removed from that – "we'll start venturing into the mindframe of starting" a family. That means no way does she want kids at this point.
She has also called her new album "Back to Basics" her "child" and that it's like having twins:
She said: "Everyone's asking when I'm going to have children.
I just tell them my new album, 'Back To Basics', is my child. I'm having twins! It's so exciting."
It is not the first time Christina has compared her new record to having a baby.
Earlier this year, the pop beauty said making her new album was the same as being pregnant – twice.
WTF would she know about having kids or being pregnant? That's so snotty. Once Aguilera realizes she wants kids – when she's over 35 and her clock is ticking – she won't be able to get pregnant because she couldn't be bothered when she was fertile.
Here she is leaving her New York City hotel on 6/22 [via] and outside of MTV's Total Request Live on 6/21.