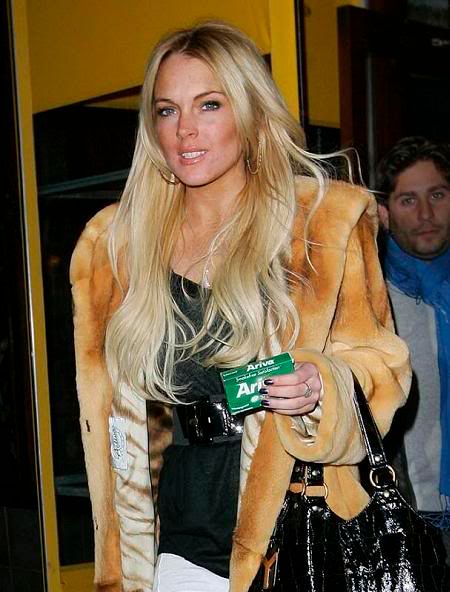 Lindsay Lohan is a grade-A bitch. I realize that's been her status for a while now, but I'm making it official. I went down to the Bitch Patent Office and filed an application on her behalf – and they sent me through the emergency "speedy" line. Who says bureaucracy can't work when you need it to?
Lindsay's ridiculous sense of entitlement has long involved breaking the law. When she's angry at someone, she steals a car and races through the streets of Los Angeles terrorizing them. When she gets into a fight with a former friend, she steals $10,000 worth of their clothing – and then texts messages the girl to tell her she's fat. And when she just flat-out wants a stranger's $11,000 blond mink coat that your grandma gave you – she'll steal it from the coat check. Because Lindsay's entitled to any and everything she wants, right?
A Columbia co-ed wants to know how Lindsay Lohan ended up wearing her $11,000 blond mink coat – and is demanding the "Mean Girl" pay for the impromptu rental. Masha Markova, 22, believed she had forever lost the prized jacket – a gift from her grandmother – while attending a private birthday party at 1Oak in the Meatpacking District in the early-morning hours of Jan. 26. The club was closed for a friend of jet-setting playboy Stavros Niarchos, Markova said.

She added that at one point, she was seated next to Lohan, and recalled putting the mink in a common bin with other jackets. It was gone when she prepared to leave 1Oak after an hour, Markova said. Two weeks later, Markova flipped through the Feb. 11 edition of OK! Magazine and couldn't believe her eyes – Lohan was photographed the night of Jan. 26 wearing the very same fur coat. "I was actually talking on the phone to my grandmother about something else, and then I flipped through the magazine, saw the picture said, 'I need to call you back,' " Markova told The Post yesterday.

"It was my coat. It was no doubt!" The pretty co-ed said that in the ensuing days, she surfed the Internet and found several paparazzi photos of Lohan wearing the distinctive blond coat hours after the birthday party they had both attended. Also, celebrity blogs posted pictures of the actress party-hopping that night – wearing a black coat before she arrived at 1Oak, Markova said.
[From the New York Post]
Markova contacted the owners of 1Oak, who promised her they'd "get to the bottom of it." Of course she never heard back from them, so Markova had to get a lawyer, who called Lindsay's lawyer and threatened to sue if the coat wasn't returned. Miraculously, several hours later the people from 10ak called Markova back, saying, "'We're going to bring you something.'"
Markova noted that they were very discreet and didn't mention any names or even say the word "coat." Two days later, the coat arrived at her apartment – reeking of Lohan stank. That's right, cigarettes and booze. Though if you ask me what Lohan stank probably actually smells like, I'd have to add in there something about the smell of bodily fluids or something. I'm sure the girl doesn't limit her sleaziness to cigarettes.
Now Masha Markova wants Lohan to pay at least $10,000 for the unauthorized "rental." I still think she should pursue some kind of legal action, but I'm guessing it'd likely be a case of "she said/stank said." It's pretty clear that Lohan saw something she wanted and just took it. I'm guessing 10ak was involved in some way, since they actually returned the jacket. But it's obviously Lindsay knew she was taking someone else's very expensive possession. And while I'm rabidly anti-fur, I will admit that's a beautiful jacket, as wearing the carcasses of innocent animals goes.
I keep wondering when Lindsay Lohan is going to learn her lesson? I'm sure maturity and intelligence will never grace her with their presence – but maybe some sort of incarceration or some such thing will.
Here's Lohan wearing the coat in question in New York on January 26th. Images thanks to Splash.