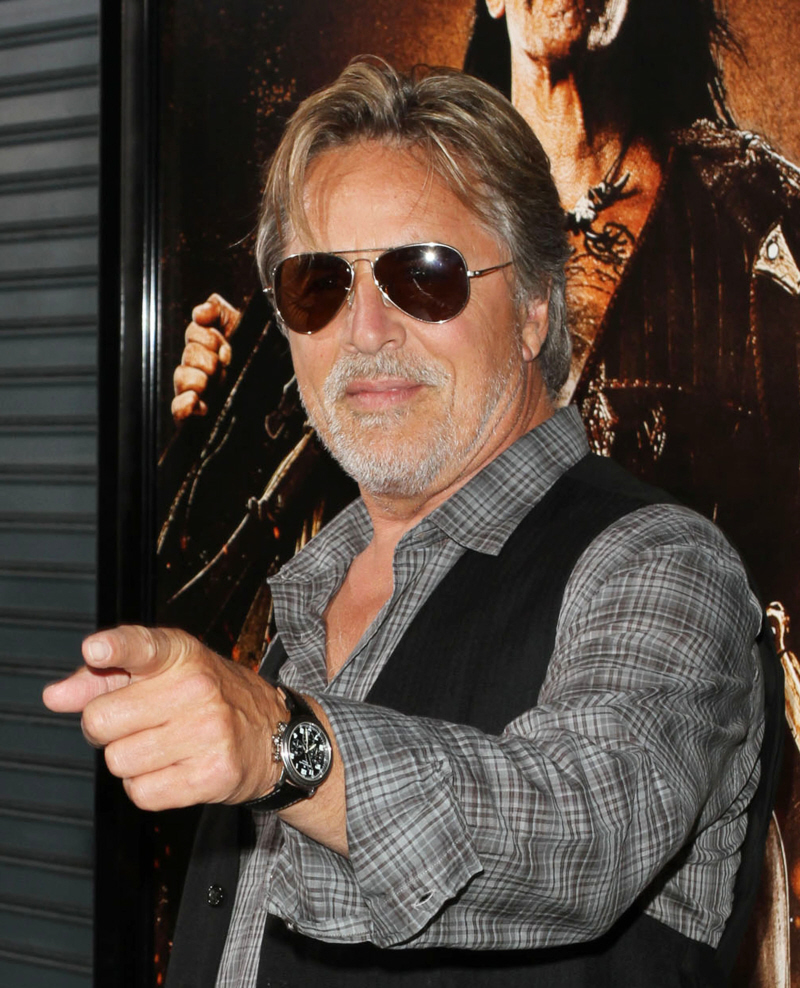 Last night was the big LA premiere of Machete, the Robert Rodriguez-directed action film starring Danny Trejo, Jessica Alba, Don Johnson and others. Notably absent? Lindsay Lohan, who has a supporting part as a gun-wielding nun or something. She's also absent from the trailer… so it's not like her presence was really desired, in my opinion. Anyway, everybody else from the film showed up, including this lovely, tragic-yet-cool Don Johnson. Has Don aged like a fine wine or what? I'm angling towards "or what" personally. I think it's weird that he would take the time to highlight his hair but then he wouldn't shave his grey beard. He would have looked really nice if he shaved! But with this getup, he just seems like he's trying too hard, right?
While on the red carpet, Don was asked about Lohan. Don said: "God bless her. I care about her as a person." Which is a great reply, in my opinion. That's what you say when you're a real pro. You don't get all Oprah and say "That girl needs our help, we have to carry her with our angel wings!" And you don't get all judgy and say, "My costar is a crackhead, I have no idea where she is, my guess is Tijuana, with her boyfriend, the donkey." Instead, you basically leave it up to God: "That crackhead is in God's hands, bless her heart."
Unfortunately, Danny Trejo went a more (White) Oprah route when he was asked about Lindsay. He said: "She's in control, she is professional, and she can really bring it. She is going to be all right." Here are some photos from the red carpet, of Danny, Jessica Alba (I hate her dress), Michelle Rodriguez (who looks smoking hot, and I would totally hit that), Quentin Tarantino and director Robert Rodriguez (who I find sexy too).
header: Don Johnson at the Machete premiere on August 25, 2010. Credit: WENN.