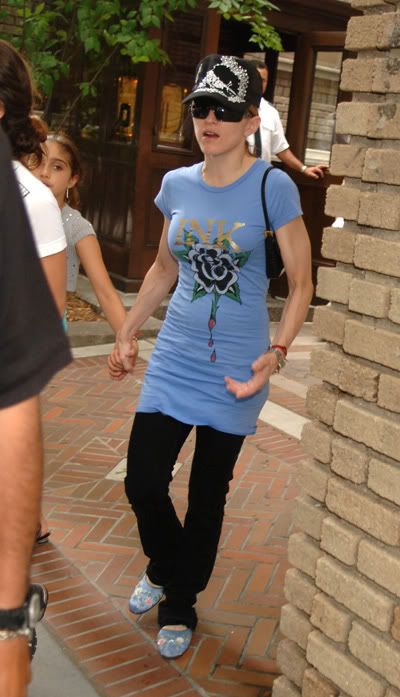 Having failed to convert Britney Spears to Kabbalah, Madonna is trying to bring Lindsay Lohan into the fold. Lohan is in need of some spiritual guidance in between all of her exhausting bed hopping, and
admitted to being interested in the cult back in March:
"Yes, I am looking into kabbalah. I guess why is because all of us need something. You just have to grab onto whatever can get you through. Maybe it's this business, but it seems everything around can be so tough, so hard. I think you have to have somewhere to turn for a little softness and understanding. I know I'm really trying."
Now that Lohan has stuck her little toe into the expensive Kabbalah tap water, Madonna has renamed her in an attempt to prime her for full-on indoctrination:
The world knows her as Lindsay Lohan, but Madonna now calls her Rose! According to an insider, when dealing with others who share her spiritual belief in Kabbalah, Madonna goes by her Hebrew name, Esther, and now that Lindsay has taken up the religion, she will go by Rose. "Madonna helped Lindsay come up with the new name, partly based on her birth date and place of birth," the insider says. "Lindsay adores her new name."
(From In Touch print edition, July 10, 2006.)
People who stay in cults are so gullible. (There's no shame in getting caught up in a cult or being born into one. Staying active in one for years by your own will and trying to convert other people is another thing.) Madonna may think she's the queen of pop music, but she's giving all her cash to some shysters in exchange for their bubble-gum insight and a sense of superiority. It may feed her smug attitude, but maybe she'll realize at some point what's going on and feel like the fool she is.
If you don't think Kabbalah is a cult, read cult expert Rick Ross' articles on it. Kabbalah and its founder, Philip Berg, have ruined lives and ripped off thousands of people. Lohan is about to be next. She loves spending money, and she's about to get a chance to throw some down the dark hole of manufactured spiritual enlightenment.
Here's a link to a good overview of the characteristics and techniques of cults. It's not just about losing money. A lot of families, friends, and personal identities get washed out too.
Here is Madonna with her daughter, Lourdes, in NY on 6/27, [via] and Lindsay Lohan at the opening of club Social Hollywood also on 6/27. [via]
Madonna is wearing blue slippers in these pics, and she's not wearing her wedding ring.