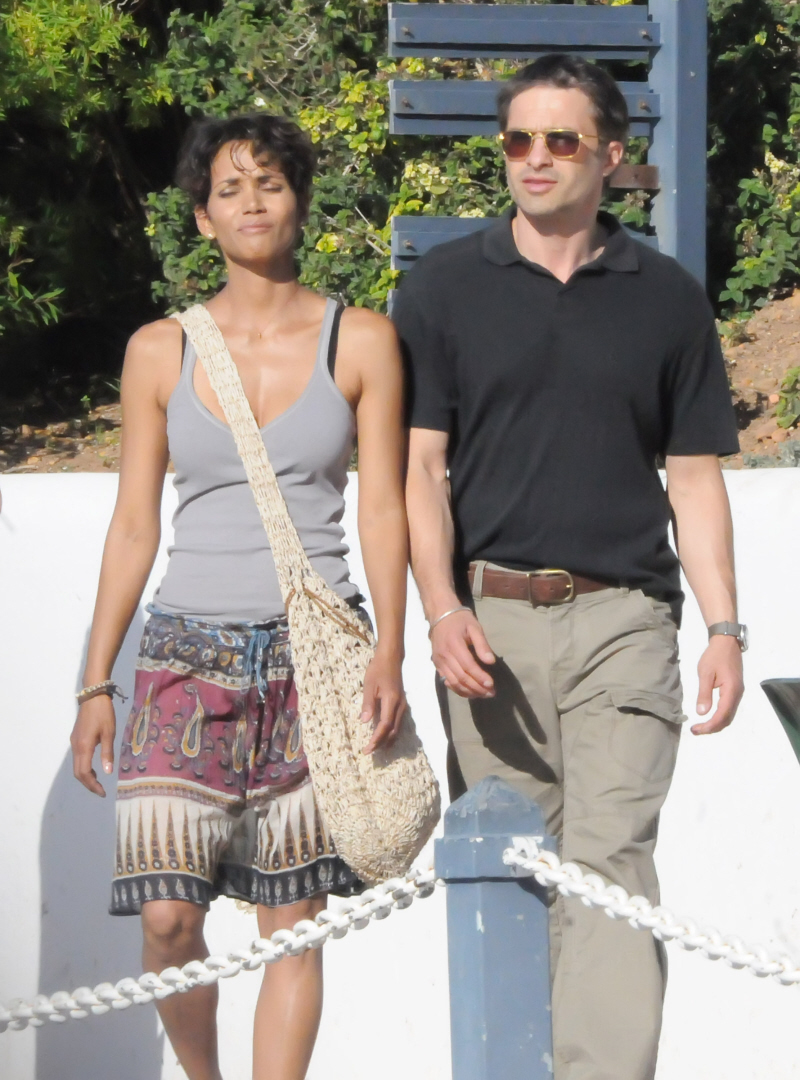 Have you heard the one about Halle Berry being pregnant again? That rumor is going around because there are some recent photos of Halle looking a little roundish in her midsection, and now some sources are claiming that she and Gabriel Aubry are getting back together, because of course the baby is his right? I mean, it's not like they broke up months before we actually heard about their split and it's not like Halle wasn't already getting some action post-split, right? Oh, wait. And beyond that, Halle just has a little belly – seriously, people are always calling Bump Watch on her, and it never pans out.
Next up: the alleged Gabriel Aubry reunion, and Halle being "torn" between two lovers. That's right, The National Enquirer is trying to create a love triangle based on photo evidence from Halle's new movie, which is filming in South Africa and Europe. The other player in the love triangle? Halle's costar, Olivier Martinez. Now, I've always thought that Olivier is the kind of dude who would f-ck you and then go hit on your mom. So I'll buy that he was trying to get with Halle, and I wouldn't blame her for breaking off a piece, just for fun. But I doubt this whole scenario:
Halle Berry is grappling with a love dilemma – and she's being pursued by Olivier Martinez and Gabriel Aubry.

"Olivier is desperately trying to work his way into her heart," an insider told the Enquirer. But Halle had already invited Gabriel on location with her during filming, so he could care for their daughter.

"Halle really likes Olivier, and he's been coming on to her big-time," confided the source. "But Gabriel has sensed something is up, and he's often on the set, trying to keep Halle and Olivier apart."

"Halle doesn't know whether to keep trying with Gabriel or give it up for Olivier because he's sexy, smart and mature." Her dashing costar has "poured on the charm and compliments and told Halle she is the sexiest woman he's ever met. They've been spotted hugging and holding hands in between takes. And they're been hanging out off set, too."

Meanwhile, Gabriel is "steaming with jealousy," according to the source. "He can see that she is falling for Olivier."
[From The National Enquirer, print edition]
Of course it's awkward when your ex is spending all day with your kid and then you get home from work and you're like, "Is the baby asleep?" and he's like "Yeah, I just put her down, and I was about to open a bottle a wine-" and you interrupt him to say, "Good for you, hope you don't get too drunk, because I'm about to go out and GET LAID." I buy that Olivier is laying on the charm too – he probably wants Halle as another notch on his proverbial bedpost. Plus, she's gorgeous and why not? Survey says: Olivier and Halle are boning.
Halle & Olivier on August 12, 2010. Credit: WENN.