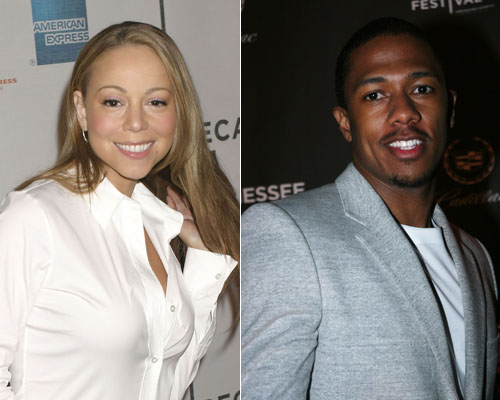 Everyone assumed that music superstar Mariah Carey didn't have the wherewithal to protect her assets before she married 9 years' younger rapper/actor Nick Cannon in a super secret ceremony in the Bahamas last week. Carey and Cannon knew each other as acquaintances in the music business for years, but only started dating after Cannon worked with Mariah on a music video less than three months ago.
Since Mariah and Nick got married so fast, everyone was kind of chuckling and wondering how much of her fortune the lucky guy would walk away with when they inevitably split. It turns out that Mariah did get a prenup, according to sources quoted by Fox News.
The happy couple is also said to be planning a larger reception and perhaps another ceremony when they get back to NY from their honeymoon:
Mariah Carey — yes, she's married, it's confirmed, it really happened down there in the Bahamas. She is now Mrs. Nick Cannon. You always thought you'd marry Mariah? Well, you're too late now!

More importantly: Miss Mariah and Mr. Cannon have a very nice prenuptial agreement.
Mariah apparently told a mutual pal of ours: "Anyone who thinks we didn't have a prenup is smoking something!!!"

This is not the Mariah Carey of old. She is a smart, smart business woman. Just for example: post Tommy Mottola, Carey nabbed $50 million from her short lived deal with Virgin Records. After "Glitter," they just paid her all that to walk away!

She's had three hit albums since then: "Charmbracelet," "Emancipation of Mimi," and the current "E=MC2." She has her own perfume line, as well. Mariah also has substantial real estate holdings. And let's not forget the publishing royalties. Her name is on every song. This is not Whitney. She has a small fortune, and she's not about to lose it, even in love.

As for the wedding, I know this much: Mariah's cousin, Shawn McDonald, walked her down the aisle. And the Bahamas ceremony will not be the only one. When Mariah and Nick return from their honeymoon, expect a big party and maybe even a second ceremony, something not so secret, for all the singer's New York pals.
[From FoxNews.com via Gossip Rocks]
I hope these two have several huge parties in NY to celebrate their wedding, because nothing says lasting love like having multiple parties as showy demonstrations of your newly-wedded bliss. Just ask Pamela Anderson and Kid Rock.
Whatever happens with Mariah and Nick, she's not about to get fleeced and she's not stupid. She is vain, though, so look for photos of Mariah wearing a gown and flanked by attendants in OK! or People Magazine in a month or two.
Nick Cannon is shown at the Tribeca Film Festival on 4/26/08. Nick Carey is also shown there on the same date, and they took pains not to be photographed together.