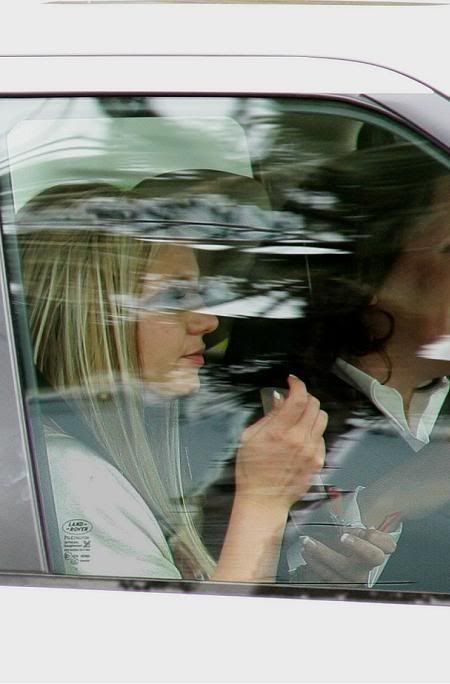 Britney Spears showed up to court today, didn't freak out, looked relatively normal and healthy, and managed to stay for all of the court proceedings. She was accompanied by her lawyer Blair Berk and both of her parents. Though the details are a little vague, it appears that Britney has won some "expanded" visitation rights with her sons. According to Us Weekly, she will have three days of supervised visitation each week. The Huffington Post picked up an article from the Associated Press that's headlined, "Britney Spears Granted Overnight Visits With Her Kids," – however the article itself never mentions any overnights, so we're not sure if that's accurate.
Britney Spears' visitation rights to sons Sean Preston and Jayden James were expanded Tuesday following a custody hearing with ex-husband Kevin Federline. There was no change in custody, Federline's attorney Mark Vincent Kaplan said at a press conference, but he said her time with her boys will be "more than it has been." He would not elaborate. Spears will get three days supervised visitation a week and visitation on Mother's Day, TMZ.com reported.

"The court made orders today, they were orders that the parties were able to mostly agree to," Kaplan said. "It represent a cautious step moving forward." Kaplan said the court was "pleased with the progress that seems to be occurring" with Spears daily. He called the court's ruling "a step in the right direction. The children are doing great — that's the key," Kaplan said. "That's what all of this is about."

Court spokesman Allan Parachini also read a statement from Britney's parents, Jamie and Lynne. "We are so pleased with Britney's progress, and we are very appreciative of the court's recognition of this progress," they said in their statement.
[From Us Weekly]
All the media outlets reported that Britney, her parents, K-Fed, and all the lawyers smiled and gave positive reactions upon leaving the courthouse. Some noted that Britney seemed upset during a break in the court proceedings halfway through the day, and was seen holding her mother's hand. Say whatever you want about her parents' behavior raising her – they have definitely been there for her in the past few months. It's scary to think where Britney might be right now if her father hadn't stepped up as her conservator. It would have been nice if they'd done a better job earlier on, but at least they're here now, and it seems like she really appreciates that.
It sounds as if everything is going well for Britney, and the court recognized all the positive changes she's made. According to TMZ, her goal is to have a 50/50 custody split by August. If Britney keeps up the good work, that seems very attainable.
Here's Britney arriving to court today. Images thanks to Splash.