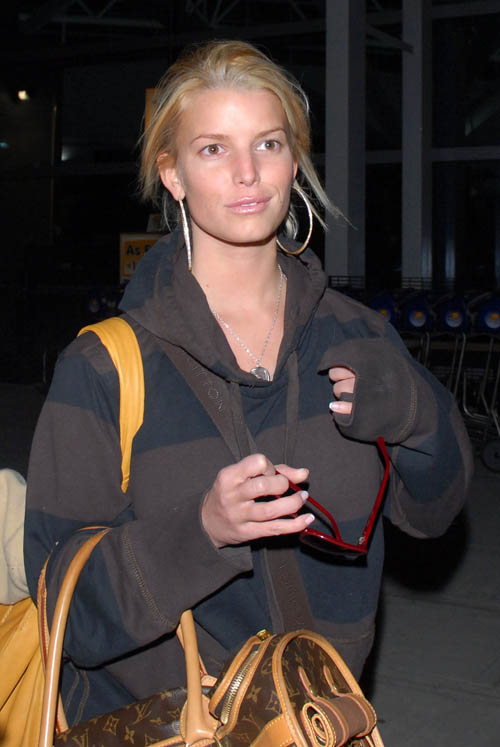 Just when you thought Jessica Simpson might be smartenin' up, she says something like this.
Simpson says, "I'm not going to lie and say that I don't want to see Tony (Romo) and me in the (tabloid) pictures. It is a good airplane reading if you throw it away when you get off. I'm good at that.

"I am not the type of person who believes everything she reads, but I like to look at photos and see what people are wearing. That's interesting to me. Do I read the stories? Not really. I try not to read blogs. The comments are extremely harsh."
What really gets me is that while Jessica loves these pictures, the rest of us are just mildly disturbed. Do you remember those pictures of her, Tony Romo and the blue icing at his birthday celebration? Yeah, I'm going into therapy as a result, too.
Jessica and Tony are also rumored to be getting engaged, although this is strictly not official. While these rumors have circulated for a few weeks, do you kind of suspect that Jess might be putting them out herself to draw attention away from her sister Ashlee?
Jessica Simpson and her boyfriend Tony Romo have reported confirmed that they are engaged. Sources say friends of the couple were heard toasting their news at a party thrown by P. Diddy last Friday.

"I have never felt better," Simpson was overheard telling friends. "I am really excited."

Insiders allege that the singer is determined to get married before her younger sister Ashlee Simpson. Ashlee recently announced her engagement to 'Fall Out Boy' rocker Pete Wentz.

"Jessica would love nothing more than to get married before Ashlee. It upsets her that her little sister will be married and she won't. She gets jealous when Ash gets more attention," claims the insider.
I'm sure that all siblings have issues, but getting married out of competition is not going to make for a happy union – if this story is true.
The way for Jess to go is to get married about two weeks after Ashlee's wedding. Sure, Ashlee will get married first (sort of, Jessica was married to Nick Lachey before), but Jessica will be able to see what she does and outdo her. Ashlee wears a white dress with 3 foot train? Jess will get a dress that requires nine bridesmaids to assist her walking. Ashlee arrives at the reception in a Cinderella-style horse drawn carriage? Jess arrives in the same carriage, but leaves after midnight in a giant pumpkin pulled by genetically modified mice. You could see her thinking there are mice big enough to pull a carriage.
Picture note by Celebitchy: Jessica Simpson is shown at the airport on 2/27/08, thanks to WENN. There aren't a lot of paparazzi photos of her.