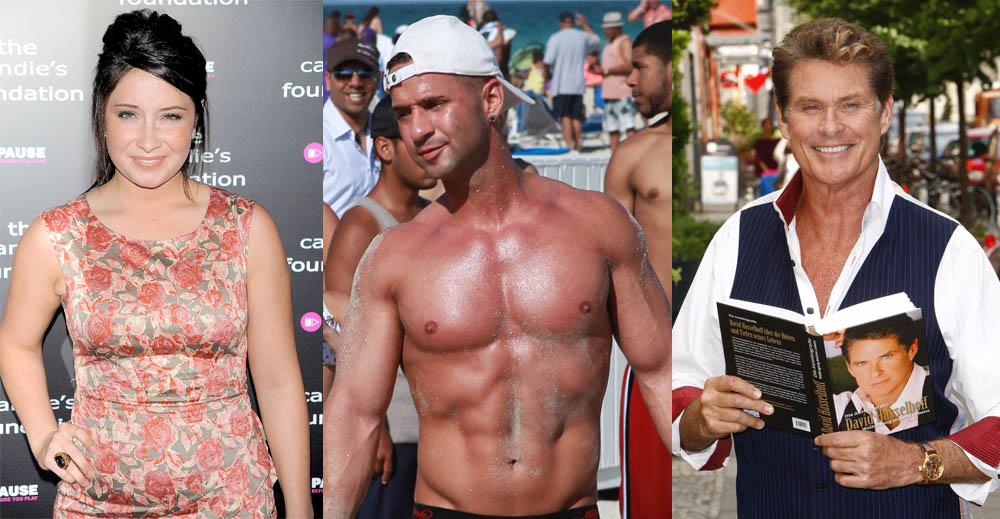 The Dancing With The Stars cast was announced last night and it's a veritable bunch of flash-in-the-pans, has beens and wannabes. In other words, what we've come to expect from the show. In the wannabe category we have Bristol Palin, the daughter of former Vice Presidential candidate and all-around rabble rouser, Sarah Palin. Flash in the pans include Jersey Shore star The Situation, and Audrina Patridge from The Hills. Patridge is teetering close to the has been group, which includes David Hasselhof, Michael Bolton and Jennifer Grey. At least we're not going to be subjected to Kirstie Alley or any of those bachelor people that have been shoved down our throats the past few months. There's also a couple of sports stars along with an actor I've never heard of, comedian Margaret Cho, and singer Brandy.
The ladies hitting the dance floor: Brandy; Dirty Dancing star Jennifer Grey; Margaret Cho; The Hills alum Audrina Patridge; Florence Henderson; Bristol Palin.

"She's excited for me … she knows this will be hard work," Palin said when asked how her mom Sarah felt about her new gig. Will she be in the ballroom? "Hopefully!" she told DWTS host Tom Bergeron.

The men: Michael Bolton; Jersey Shore's Mike "The Situation" Sorrentino; David Hasselhoff; NBA champ Rick Fox; NFL quarterback Kurt Warner; rapper Kyle Massey.

Hasselhoff said, "I think it's going to be harder than the Comedy Central roast .. but I am happy to be here. My two daughters love this show and convinced me to do it."

So, who can dance? Find out when the new DWTS season kicks off Sept. 20 on ABC.
[From US Weekly]
I wonder if Jennifer Grey still has any of her Dirty Dancing moves to draw on. Apart from her I don't think any of these competitors have the kind of experience coming into the show that Nicole Scherzinger and Evan Lysacek had last year. Brandy might have some dancing practice as a singer.
My mom watches Dancing With The Stars but it's been a few years since I've tuned in with any regularity. The drama with Kate Gosselin was fun last season and I did follow that. Who will bring it with this latest crop? I'm thinking Bristol Palin will be boring, The Situation will be dumb narcissistic fun but won't last past the second week, and that The Hof will pleasantly surprise us with his ability. You never know, though, and that's what makes this show moderately interesting.
Photo credit: Fame Pictures