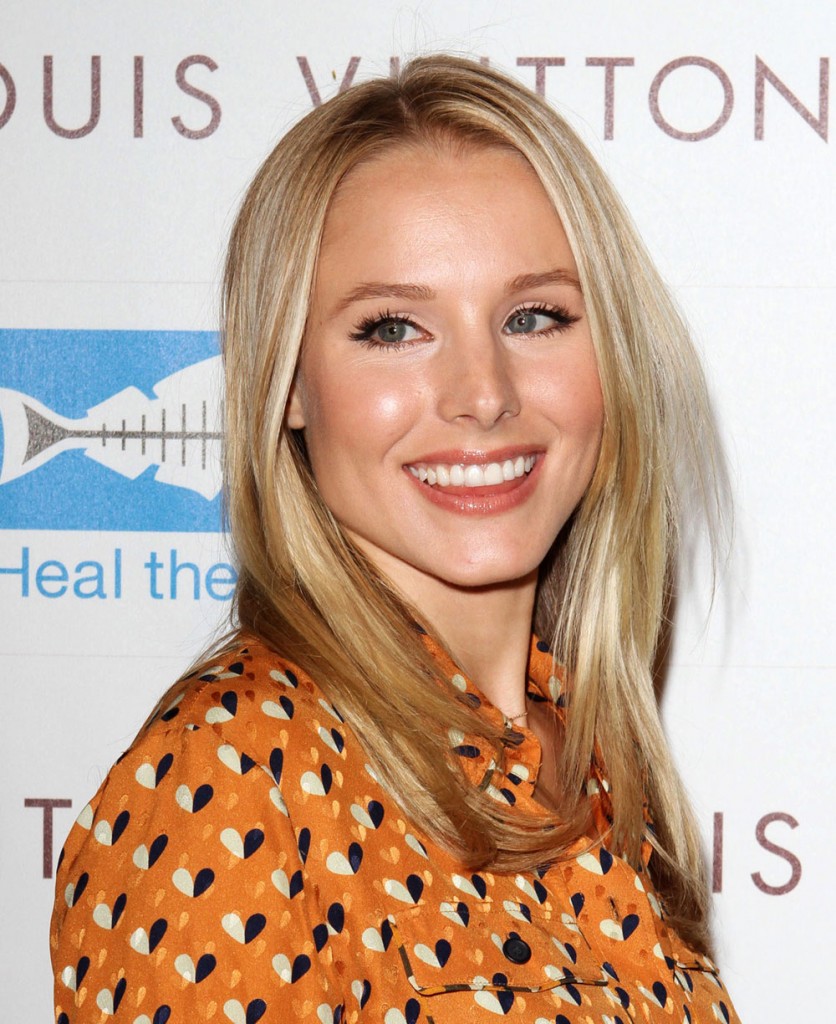 I don't know much about actress Kristen Bell, 30, but after reading this recent interview with her in Parade I have to say I like her! She seems really normal and like she's just grateful to be a working actress. There's not a lot of artifice from her, and maybe the reason we haven't heard much about her is because she doesn't go to every event or have much tabloid drama to speak of. Bell has been engaged to actor Dax Shephard, 35, since early this year. In Parade she gushes about Shephard and talks about how she feels more comfortable in her own skin now that she's 30. Yes, it's a common interview theme from actresses, but I like her take on it and how she admits that she's been too hard on herself in the past.
Bell is promoting her new film You Again, co-starring such Hollywood luminaries as (poop goddess) Jamie Lee Curtis, Sigourney Weaver and Betty White. It's out in the US on September 24. Here's part of Bell's interview, with more at the source:
Remembering her high-school days.
"I think I was somewhere in between popular and nerdy. I went to a very small school where the consequences of bullying were a lot more dramatic than they were at a big school. You couldn't just walk down the hall and shove a nameless face because we all knew each other's families. There wasn't a stereotypical bully. But in high school, I was just very insecure because I was always so concerned that everybody liked me so I was just very sweet, a little meeker than I am now, but I was really just so hopeful that I wouldn't fight with anybody."

Why she's keeping it real.
"I have no desire to put on this face of perfection. I'm constantly striving to better myself, but that's also maybe out of intense insecurities. Feeling like I went right from high school to Hollywood, it's essentially the same dynamic. But I can admit, I don't always have the best style. I trip a lot, I go to therapy because I make mistakes, I just try to be as real and as well-rounded as possible because there's nothing really that interesting about perfection. It's been done so many times before."

On recently turning 30.
"I love 30 more than I've ever loved anything. I feel like I was born on my 30th birthday. It's finally the time where I've fully accepted and loved myself, which I'm realizing more and more each day — it is so important to love yourself. Because if you don't love yourself than nothing really matters. For a long time, I went through life kind of beating myself up and trying to be a perfectionist and do everything right and I just thought, 'What's the point?' I have faults, that's fine. I can still strive to be better, but I'm not going to be as rough on myself as I used to and it's just kind of alleviating all of this stress and kind of taken a weight off my shoulders and I think now I'm just happy."

Finding comfort in her engagement to Dax Shepard.
"I never loved dating. I think it's very uncomfortable to put yourself out there and be vulnerable. I'm much more comfortable in a relationship and I'm very happy."

They're not your typical Hollywood couple.
"I'm definitely a homebody. I don't know if I've been to a club in the last seven years, at least not one that I was forced to go to because it was for a friends' birthday party. I'm not much for the club atmosphere, but I don't drink so that may have something to do with it! I love to cook and I have a garden at home and I'm much more like a 1950s housewife, I think."

The shows she's hooked on.
"I like Damages, I like Mad Men. I love 30 Rock. I really like Friday Night Lights and was over the moon when they were finally acknowledged on the Emmys this year because I think they've been one of the better shows on television for a while now."

Her one guilty pleasure.
"I'm always DVR'ing Jersey Shore, but I've never been ashamed to admit that. I probably should be ashamed to admit that, but I'm not. I think that it's one of the greatest disasters to ever come to television and I just love the lessons they learn each week and the trouble they get into."
[From Parade]
See – she seems nice and normal and I like how she admits that she has trouble with her style. I'm getting mild Reese Witherspoon "type A" vibes from her, but I kind of have that personality too and appreciate it when I see it. (Bell seems a little less cutthroat than Reese, although it's hard to tell.) I don't know much about her fiance, Dax Shephard, but I watched him on Parenthood this season and think he's a great actor. He's also in a new film called The Freebie that's getting a lot of positive buzz.
Here's the trailer for You Again, it looks funny as hell and Kristen Chenoweth is even in it! I'll be seeing this one.

And here's a spoof video from Funny or Die in which Bell gets into a faux diva argument with some of her co-stars. Doesn't Odette Yustman seem like a drama-less plastic surgery free Megan Fox? LMAO at Betty White "You might be a quarter of my age, but I'll take you down." That never gets old.

Here are a bunch of event pictures of Kristen from this year. Her style is hit or miss although sometimes she looks spot on. The header photo is from 8/19/10. Credit: WENN.com. Photo of Kristen and Dax together is from 7/08 credit: Ghost/Fame Pictures