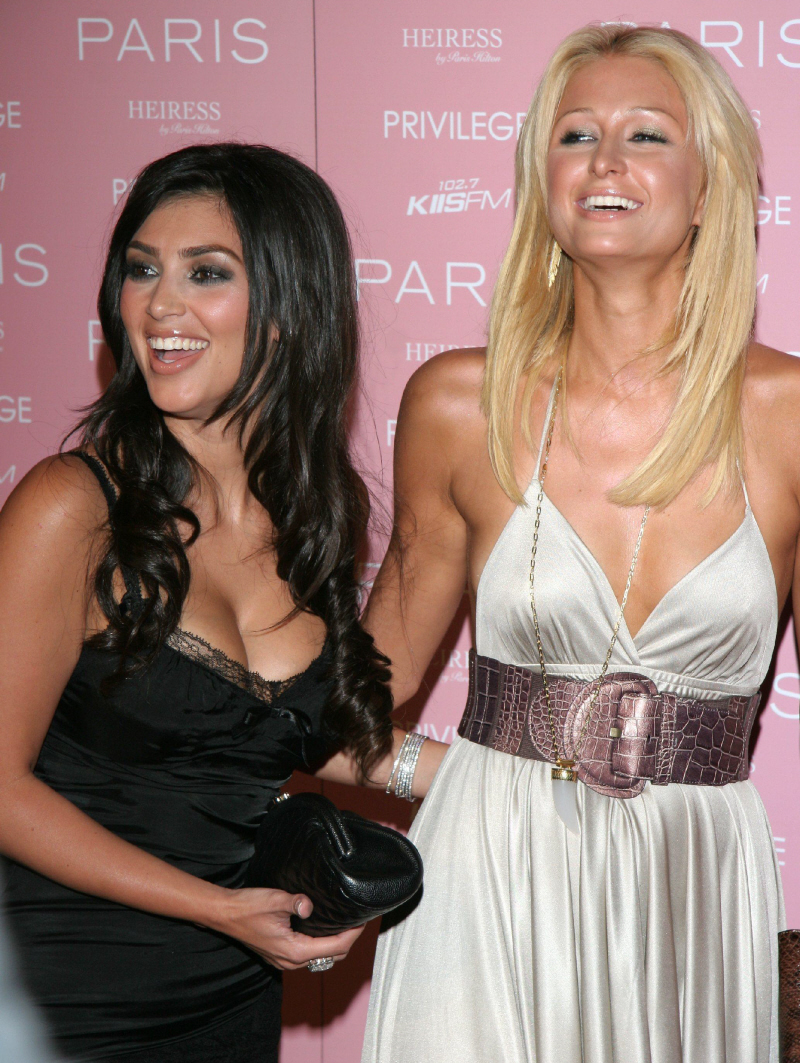 Kim Kardashian and Paris Hilton have a tortured history. At first they were friends, back when Kim had a normalish looking face, circa 2006. No one really knew who Kim was, but then she hooked up with Nick Lachey (remember that?) and started clubbing with Paris Hilton. Then Kim made a sex tape and then Kim became "famous" in her own right and she didn't need Paris Hilton's ricochet fame anymore. And the two became enemies… sort of. They just basically started acting like they didn't give a sh-t about each other, but every now and then a tabloid story would come out about how they were really bitchy to each other at this or that club. The latest stories have been about Kim being nasty to a drunken, drugged Paris, and how Paris is jealous that Kim gets all of the good appearance bookings, and how Kim is basically the bigger whore now.
In most worlds, getting arrested for the third time would be considered tragic and impossibly tacky. Not for Paris, though, and not for a lot of "celebrities" who are jealous of the attention Paris is getting with her current cocaine scandal. So when Kim was asked about her wonk-eyed nemesis on Jay Leno last night, Kim was kind of, you know, like, totally, like, you know, a BITCH. And it was funny:
Kim Kardashian's frenemy Paris Hilton was arrested over the weekend for felony cocaine possession — her third link to drugs this summer. How has Kardashian, 30, managed to stay out of trouble?

"I've never been a drinker, I've never gotten into drugs," she said on The Tonight Show With Jay Leno Tuesday. "You know, I think I have such a close family. I think, you know, at a young age. I think you know my sisters do enough drinking to kind of fill up the whole family.

"From a young age, my dad made it very clear that, 'OK, you're the responsible one and you have to watch your sister, and (he) taught me how to drive when I was 14 in case my sister or her friends were going to be drinking and I always had permission to drive," continued Kardashian (whose younger sister Khloe was arrested for DUI in 2007). "You know, I had to call him from the destination and the final place. I always felt this sense of pride that he had in me that I was the responsible one so I always wanted to make him proud. And I hate the taste of alcohol."

She does, however, indulge in a White Russian occasionally.

"I said at 30 I'm gonna at least have a drink to lighten-up 'cause my sisters say I'm so boring," she told Leno. "So I tried a White Russian a few months ago. If I have one, it tastes like chocolate milk and it's kind of amazing. So every once and a while, but I'm 30 so it's OK."
[From Us Weekly]
YOU KNOW. Ugh, Kim stop saying that. I have conversational crutches too, but you said "you know" about twenty times in the span of five minutes. You know? That sucks. Anyway, I like how Kim is basically saying that Paris is a cokehead because her family is f-cked up. And I will give Kim credit for not being a cokehead, crackhead or a drunk – good on her. But Kim has other addictions. CoughcoughKatFaceplasticsurgerycough.
Oh, and I love White Russians too but I had to stop drinking them because nothing will put on the weight like a White Russian. It sucks, because they are so, so good.
By the way, here's Kim "not drinking" when she used to hang out with Paris: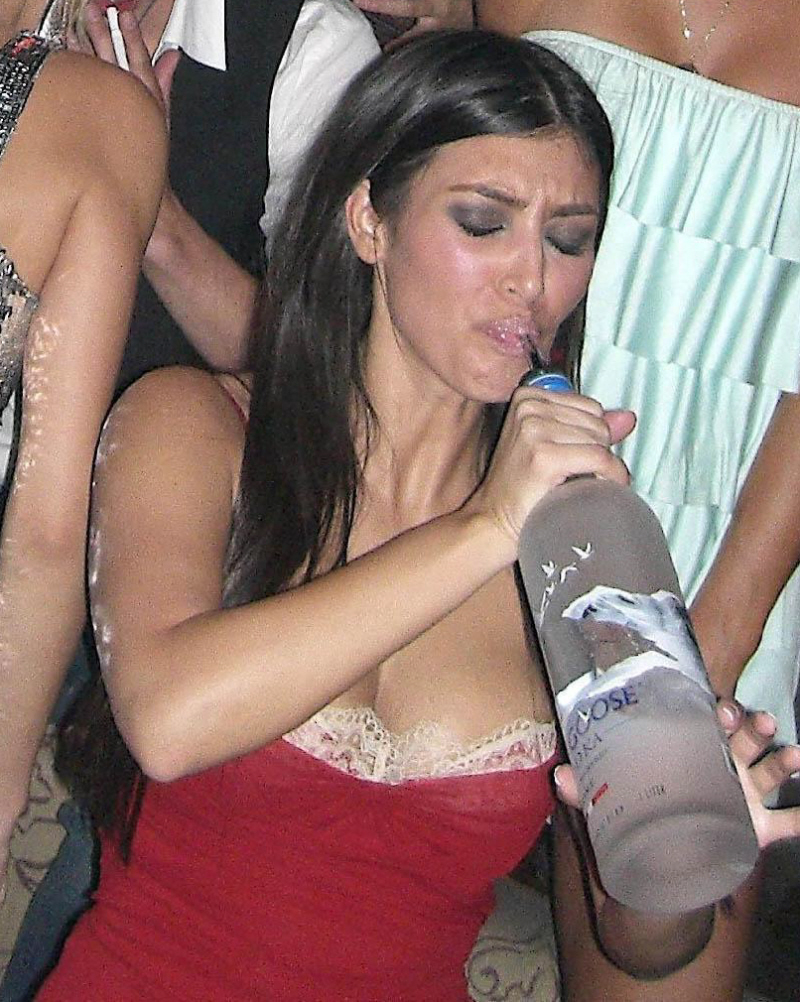 And here's the current Kat-Face Kardashian who is addiction free, YOU KNOW:
Kim and Paris in 2006. Credit: WENN.