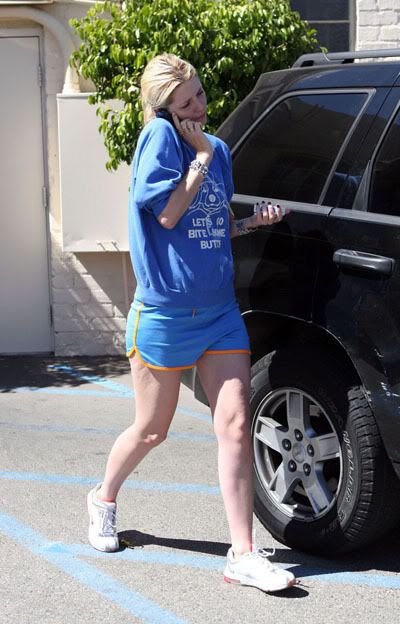 Mischa Barton on 3/28/08, credit: Splash. The photos in question can be found on the Daily Mail's website
Mischa Barton may have gained a scant few pounds since her character met a fateful end on The O.C., but she doesn't have a bunch of cellulite rippling down her legs like some recent pictures show. (And the girl is gorgeous on the rare occasion when she's dressed properly.) Mischa says through her rep that recent bikini photos of her that show dimpling cellulite are photoshopped and altered to make it out to be much worse than it is. What's more is that the guy who took the photos has a vendetta against her, and is the paparazzo who was given a restraining order for harassing Nicole Kidman. He sounds like a real creep in these quotes from the NY Daily News:
"Those photos are doctored," Barton's rep, Lisa Perkins, tells us. "I'm not saying she's perfect, nobody is. But they've given a 22-year-old woman the legs and bottom of an 80-year-old."

"Look at the shots that were taken shortly before on a beach in L.A. Did she develop all that cellulite in a couple of weeks? There's a lot you can do with Photoshopping…"

Barton's publicist contends that Aussie photographer Jamie Fawcett – whom she calls a "parasite" – is out to make the former "O.C." star look bad because "she called him out for taking the topless shots."

Fawcett argues, "I wouldn't seek to publicly embarrass her with nudity or health issues or body image issues.

"It is a shame that publications tend to highlight an issue that is not fair to a young girl. … However, sometimes these are the things that sell pictures."

The snapper says he gave Barton fair warning that he was gunning for her when they met while she was on vacation in Australia.

"We spoke to each other on [Henning Island], and that's when I showed her my camera," he said. "I did warn her it was a public place, and if she wanted privacy she shouldn't be there."

Fawcett denied Barton's claim that he's some kind of pervert. "I'm not a perv, and I didn't intentionally mean to embarrass her. I don't just set out and start my day thinking I want to get any celebrity topless.

"I once saw Keanu Reeves dancing in the nude on a balcony with a girl and decided not to shoot them."
[From The NY Daily News]
The paparazzi take those type of pictures because they're worth more money. When you add a bunch of cellulite they're even more worthwhile to a crappy rag like the Daily Mail, who makes it their business to make asinine remarks about some celebrity's body just about every day. Barton should be able to step out onto her balcony though without being photographed. The photographer himself told her he would get her on the beach – not at her hotel.
If only Mischa would stop dressing herself and let someone else do it for her, she could highlight her natural beauty properly. It's a shame that the one time she's half-dressed and isn't wearing an outfit that makes you scratch your head, someone makes her butt and thighs bigger and adds a bunch of cellulite. It's like she's doomed to be fug no matter what.