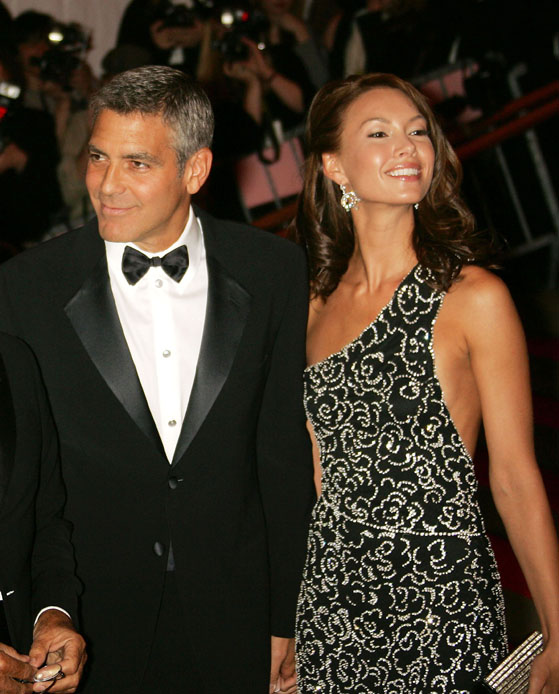 I guess the answer to the question "who did Sarah Larson screw to get on the cover declared an "it" girl by Harpers Bazaar?" is obvious. George Clooney's girlfriend and event arm candy, a 29 year-old former cocktail waitress and Fear Factor winner, appears on the cover of the June edition of the magazine. She wears a brown gown with a tulle underskirt peeking out as she sits on a motorcyle. It is perhaps a reference to the way that she melted Clooney's bachelor heart by breaking her toe in an accident they sustained on his motorbike.
Larson didn't accompany Clooney on the European leg of his Leatherheads promotional tour, and I know that I was hoping she was out of the picture, but it wasn't so. The petite brunette with the perma-grin was seen out with Clooney at the Costume Institute Gala on Monday night.
There's a definite slow-down to the gossip as many of us get spring fever throughout the world and start to enjoy the sunshine again. Since there's not as much to fabricate lately, why not focus on Clooney's girlfriend and her deep thoughts? That's probably what motivated Bazaar to feature her on the cover, although they're likely to have a reason for wanting to suck up to Clooney too.
Larson dished in the accompanying interview on such riveting subjects as George's "funny and sweet" personality and she seemed to half-admit that she's with him for his celebrity status:
"If George had been on a reality show, I don't think I'd have talked to him," Larson says in the June issue of Harper's Bazaar. "It would have been like, 'That's nice.'"

Good thing it didn't deter him, though. "He still wants to date me, and I ate a scorpion [on Fear Factor]" she says.

"I see him as a normal person, like anyone else," she says. "He just happens to have a well-known face." Still, she cautions, "You realize who is good for you and who's not pretty quickly."

And while the story of their meeting in Las Vegas – where Larson was a waitress – is well-known, she tells Harper's Bazaar that she and Clooney struck up a text message relationship after meeting again in June 2007. "We just started talking. George is funny and sweet, and he's good to be around," she says.

"I think getting him a pair of True Religion jeans would be a good joke," she says of her boyfriend's no-frills taste. Jokes Larson: "I really want you to wear this, and please put your hair in a fauxhawk.'"
[From People.com]
It all sounds so lame to me, but I guess I can't judge until I have a chance to read the whole interview. Surely Larson can come up with a better practical joke than to try and get George Clooney to look like a fool. He's already doing that by dating a young former cocktail waitress and having her talk to the press.
Update: I was fooled by the photo of Larson with "Harper's Bazaar" written over it. Nicole Richie is on the cover of next months' issue, and Sarah Larson is featured in an interview. [Thanks Eloise!]