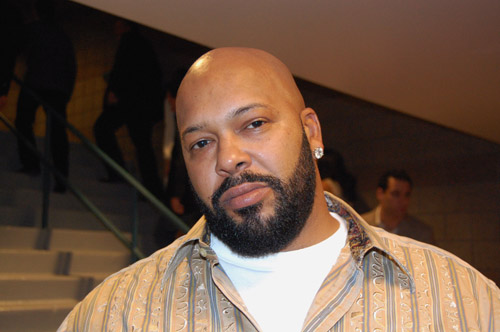 Rap producer, co-founder and former CEO of Death Row Records, Suge Knight, likes to flex his muscles and pick fights with people. When I say "flex his muscles," I really mean that he gets to stand there flexing his muscles while his bodyguards to do all his fighting for him- which was the case this weekend. Knight is probably famous for dangling Vanilla Ice off a 20-foot balcony to persuade him to surrender royalty rights to Suge for his hit "Ice Ice Baby." Knight likes to pass himself off as a tough guy, but it turns out he can't take a punch- even after his bodyguards have beaten on the guy first.
Suge was at Shag nightclub when he began arguing with a man he had been talking with. Our spy overheard Suge say, "I want my money!" Suge and his peeps beat the guy to the ground, but the man landed a right hook on Suge's face, knocking him out for around three minutes.

Law enforcement sources tell TMZ after Suge Knight was knocked out at a club last night, he refused to deal with cops.

We're told after Suge was taken into a nearby SUV, a woman got in the driver's seat, pulled forward and hit a car, then put it in reverse and hit another car. She was taken from the car by security, and someone else drove Suge away from the scene.

Suge was taken to a hospital, and LAPD officers arrived shortly thereafter, but Suge was uncooperative and refused to file a police report.

Wonder if it had to do with the "money deal" that apparently triggered the fight.
TMZ has photos of Suge in the moments after the punch landed. He does not look well – he is disoriented and his head is bleeding. It must have been some punch! And then, to make matters worse, the woman driving him to the hospital hits another car. If Suge Knight wasn't such a jerk, I might feel a little sorry for him on that one. But since he's a macho shithead, I have one thing to say: HA!
Note by Celebitchy: Knight filed for bankruptcy protection in May, 2006, claiming he had only $11 to his name. That might explain why he's getting into fights over money.
One thing that bothers me in the comments for the DMX post is that people are using the word "rapper" as a derogatory term. While I don't think anyone's comments or our post about that animal abuser were racist as one commenter charged, it is not fair to use "rapper" as something negative. There are incredibly talented rap artists who aren't getting into trouble and it's not fair to paint everyone with a wide brush because some people are idiots. That's like using "actress" as a negative term because of Lindsay Lohan's behavior.
Suge Knight is shown on 12/11/07 after the Mayweather vs. Ricky Hatton boxing match, thanks to Splash News.