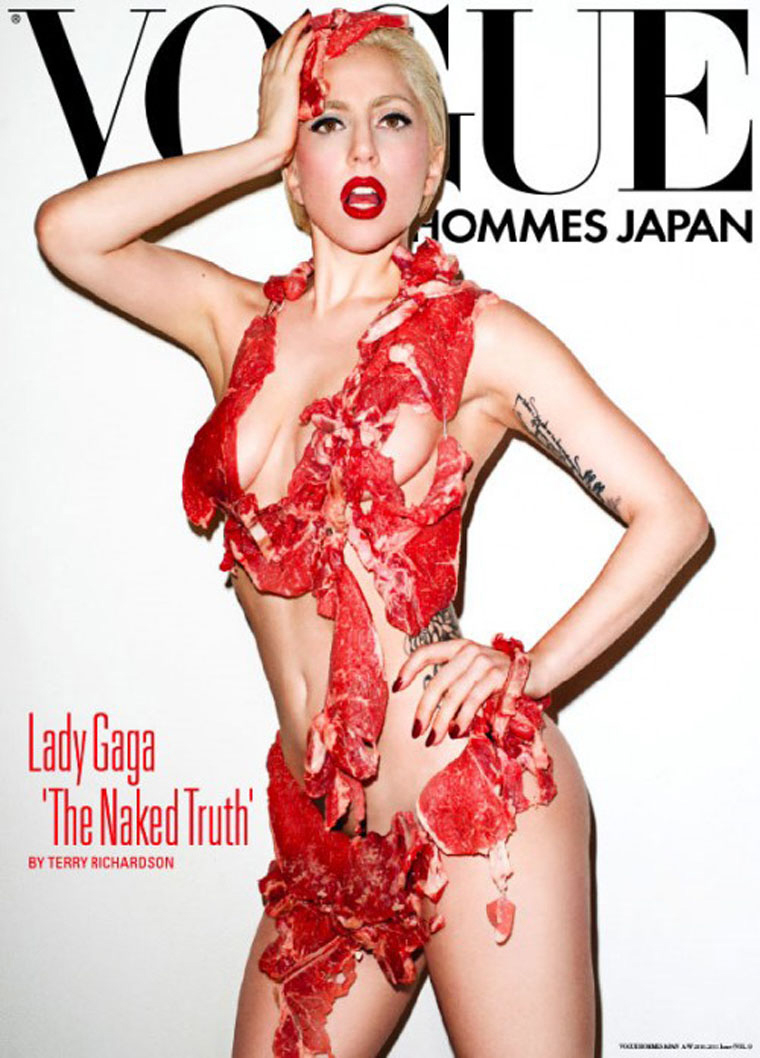 This is Lady Gaga's cover (?) for the new issue of Vogue Hommes Japan. Very… meaty. Honestly, it does kind of make me think about how I'd love a steak, but in my defense, I'm hungry and I've been craving a steak for about a week now. Blame the Applebee's commercials! Anyway, shock of shocks, PETA isn't pissed about it. PETA's president told the NYDN, "Oh, Lady Gaga's job is to do outlandish things, and this certainly qualifies as outlandish because meat is something you want to avoid putting on or in your body." Gaga is so powerful not even PETA wants to f-ck with her.
In other Gaga news, OK! Magazine claims that she wants to become a minister so she can perform gay weddings.
Lady Gaga plans to become an ordained minister and marry gay fans on stage, a source tells OK. If the Supreme Court decides that California's Proposition 8 should be overturned, Gaga wants to be ready to celebrate.

"Gaga has already taken an online course and is poised to file the paperwork to become an ordained minister," says the source. "She looks at this as repaying the love she's received from her fans over the last couple of years."
[From OK! Magazine, print edition]
Well, that would be something. It would be like having your wedding ordained by Cher or Streisand for some of these people. Certainly very memorable. Honestly, though… if she starts doing that, she'll have more requests than she'll know what to do with. She'll spend so much time marrying people. And we'll have to wait even longer for a new album.
Lady Gaga meat cover courtesy of The Superficial.