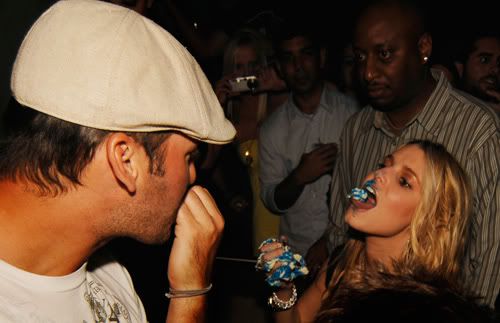 Jessica Simpson and Tony Romo share cake at his birthday party last month
The rumor mill is fast at work again, this time saying that Tony Romo has (finally) broken up with Jessica Simpson. At this point it's technically wishful thinking, until we get some sort of confirmation from a publicist. Which should read like this:
"Dear World:
Tony Romo has come to his senses. Thanks.
Peace Out,
Tony's Publicist."
Unfortunately we'll probably get some crap about how their busy careers keep them apart for too long, they're still best friends, and wish each other nothing but love and happiness and kittens.
Tony Romo had a bachelor-style hard partying weekend in the Windy City these past couple of days and now we know why. We exclusively have learned that Romo and girlfriend Jessica Simpson have broken up! Romo partied with several of his college buddies from his alma mater Eastern Illinois over the weekend and he told them on Saturday night that him and Simpson were on the outs. "They're broken up," according to a pal of the Dallas Cowboys quarterback. "He told us they broke up and that was that. We're guys so we didn't talk about it much."

"He was surrounded by girls," according to an eyewitness. "We had to restrain some who forcibly tried to make their way to his table." Apparently, the girls at da club weren't enough for Romo and his friends. They sent the nightclub's bus to pick up more girls from the Hard Rock Hotel where Romo and his friends were crashing.

Romo's night entailed a bevy of beauties, including one blonde in particular he spent a lot of time talking to, and an "impressive" amount of alcohol. "He zeroed in on one blonde all night," a source said. "That blonde wasn't Jessica Simpson." We've placed a call to Simpson's rep and are waiting to hear back.
[From These Boots are Made for Stalking]
The next day Tony threw out the first pitch at the Chicago Cubs game, and then serenaded the audience with a truly horrendous version of Take Me Out to the Ball Game. While everyone's mocking his singing, I just listened to Jessica Simpson's A Public Affair (I'm not going to bother trying to explain why) and I can still guarandamntee you that a hung over, recently broken-up-with-a-girl Tony Romo still sounds better than all the audio technicians in the world can make Jessica Simpson sound. For the sake of both their careers, let's hope they really have broken up for real. Tony has some football to kick ass at. And Jessica has some… well… I'm sure she'll come up with something to bide her time.
Note by Celebitchy: since this rumor originated with a blog we've never heard of until now, I doubt it's true. I kind of hope it works out for them, though, because they seem really happy and oblivious.