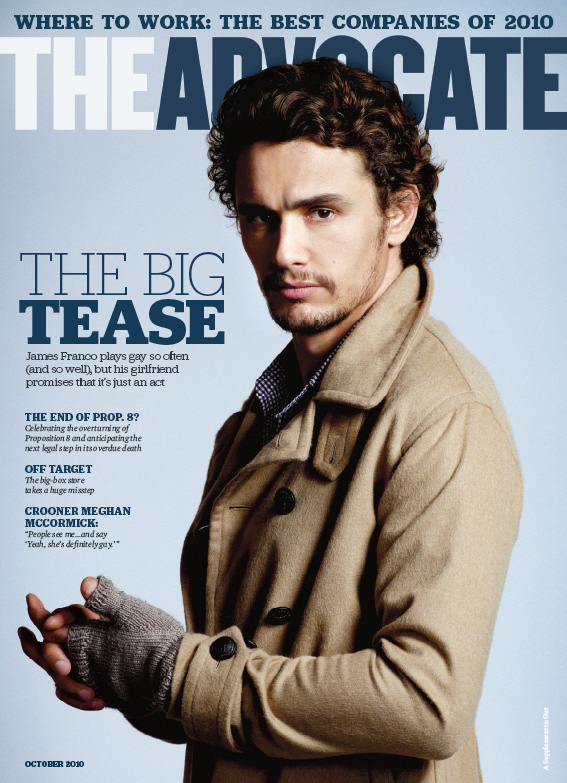 James Franco covers the October issue of The Advocate. The interview isn't as joyous as Daniel Radcliffe's Out Magazine just one month ago, but for Franco, it's good. Better than that piece of sh-t performance art piece that was his Esquire profile. Franco talks in depth about his history playing gay or gay-friendly roles, and goes in depth with his discussion for his role as Allen Ginsberg in the upcoming Howl (costarring The Hamm!). The full Advocate piece is here (it's long… and HARD), and these are the highlights:
The Advocate on Franco's "gay cred": In addition to the two gay-themed poems he adapted for student films (Frank Bidart's "Herbert White" being the other), Franco portrayed a 17-year-old swimmer dating an older man in the gay indie film Blind Spot and Harvey Milk's lover in Milk. He also French-kissed Will Forte on Saturday Night Live, took a queer studies course at NYU, and created performance art pieces about gender and sexual confusion. And then there's Franco's first solo art show this past summer in New York City; it featured video monologues with lines like "We're all gender-f-cked—we're all something in between, floating like angels." And now, just in case Franco hasn't confounded us enough (and blown the lid off the conventional thinking about how many gay projects an A-list actor can tackle without imploding), he's taking on arguably his most challenging role yet: iconic gay poet Allen Ginsberg, a man who discovered within himself "mountains of homosexuality."

Why does Franco take so many gay roles? "In this history of cinema, there are so many heterosexual love stories," he whispers. "It's so hammered, so done. It's just not that interesting to me. It's more interesting to me to play roles and relationships that haven't been portrayed as often."

Franco on whether he would tell people if he was bisexual: "Sure, I'd tell you if I was," he says. "I guess the reason I wouldn't is because I'd be worried that it would hurt my career. I suppose that's the reason one wouldn't do that, right? But no, that wouldn't be something that would deter me. I'm going to do projects that I want to do. Everyone thinks I'm a stoner, and some people think I'm gay because I've played these gay roles. That's what people think, but it's not true. I don't smoke pot. I'm not gay. But on another level, there's something in me that is able to play roles like that in a way that's convincing."

On his favorite film, My Own Private Idaho: "I've loved that movie since before I was an actor, when I was in high school," he says. "I suppose the aesthetics struck me. I loved the makeshift family, the idea that people could come together and survive. I loved the clothes. And I am sure the performances were what I was mostly drawn to, especially River's. He's vulnerable, quirky, cool, and clownish. He's like James Dean and Charlie Chaplin. I am sure I was drawn to his character's quirkiness and desire to be loved."

On how he was raised: Though Franco didn't know any openly gay people in his San Francisco Bay area high school ("It was not considered a good thing to be gay," he says), he doesn't remember ever having negative feelings about homosexuality. "My friends and I read the Beats, so we were familiar with gay characters," he says. He also grew up in a liberal household—his mother is a poet and author—where he says it was OK to be unique and artistic.

His people are cool with the roles he takes: "You want to know what my agents did try to talk me out of?" he says. "General Hospital. They didn't think me acting in a soap opera was the greatest idea. But they know that I've always wanted to do a movie about the Beats, so no one tried to stop me from playing Allen Ginsberg."

On the poem "Howl": "I don't think I understood most of 'Howl' when I first read it," Franco says. "I didn't catch all the autobiographical and biographical references, and I certainly didn't know what he was doing with tempo and lineation and syntax."

The early years in Hollywood: "I used to approach acting with a very antagonistic [attitude]," he says. "I was very hard to get along with, and it made working in film very unpleasant. It also hurt my performances. Now I think about acting differently. I feel a little detached from acting, actually. I still work really hard, but for my own sanity—and everyone else's—I've had to surrender the results."

On criticisms of his writing: "I don't want to sound defensive at all," he says, sounding defensive, "but if websites like Gawker.com or PerezHilton.com don't like my writing, I can live with that. There is this crazy phenomenon in the blogosphere that is so hostile to anyone being creative, and if I incur that hostility from people who've probably read five short stories in the last 10 years, it doesn't really bother me. I applied to 15 creative writing Ph.D. programs. I got into 14. Some of them only accepted one fiction writer. I know there's this idea that I'm getting a lot of opportunities because I'm a celebrity, and there certainly is truth to that, but it's not like I'm coasting. I'm working all the time. Short of writing under an alias, I'm doing everything I can to treat this as seriously as I can."
[From The Advocate]
See? He comes across really nice here. Yes, he's artsy-fartsy. But at least he's not trying so hard to seem like this intense, brooding artist. Plus, the pictures are pretty! I'll admit, I'm looking forward to seeing Howl – Ginsberg was one of the great American writers and poets, and I think Franco will do a solid job playing him. Plus, you know, The Hamm. Of course.
Oh, and I've read tons of short stories in the past decade – I'm a short story person. I love short story authors like Capote, Fitzgerald, Joyce Carol Oates, Graham Greene, Rick Moody, Elizabeth George, Jhumpa Lahiri and many, many more – and Franco isn't up to snuff. If he wants to keep at it, of course he should, and maybe in another five years he'll be a solid short story writer. But that sh-t in Esquire was hideous.
Here's the behind-the-scenes Advocate video:
Photos courtesy of The Advocate.