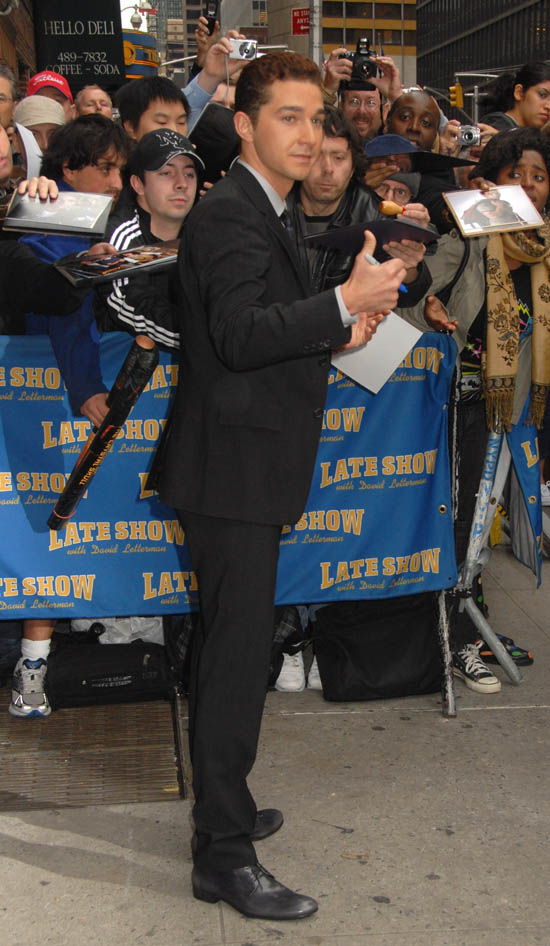 21 year-old Transformers star Shia LaBeouf was on David Letterman on Monday night and he explained his drunken Walgreen's arrest. It was an hysterical story involving three visits to the drug store, two outfit changes, zit cream and cigarettes he forgot to buy after the first two visits in which the security guard made fun of him and distracted him. The video of the interview is below but in case you can't watch it here's the recap and a transcript.
The story goes that Shia was drunk and went to the drug store near his hotel to get some cigarettes. On the way down in the elevator he felt a zit forming on his forehead and decided to get some cream for it. When he was in the cosmetics aisle picking up the Clearasil, the security guard started laughing at him and he got pissed off and forgot his cigarettes. He decided to change his outfit and went back and got mocked again by the same guy. He again forgot the cigarettes and just came away with some gummi bears in his messed up state. The third time, in another outfit, is when he got into a mild confrontation with the guy, and got tackled by another security guard and arrested:
"So I go to Walgreen's and I go to the cosmetic aisle," LaBeouf recalled, "and I see the security guard and he's looking at me, four in the morning, pretty disheveled, pretty messed up on the special magic sauce. And I get the pimple cream, and he's looking at me, he's kinda giggling to himself, and now I'm starting to feel like, `What? It's really not that funny, guy, you know?'"

A bashful LaBeouf went back to his hotel and realized he'd forgotten to buy the smokes. The actor says he returned to Walgreen's wearing different clothes: "I'm going, `Well, now the guy saw me, now what am I gonna do?' So I do an outfit change."

LaBeouf said the security guard noticed and said, "Hey, nice outfit," to which he retorted: "Yeah, nice outfit to you, too."

LaBeouf said he accidentally backed into the candy aisle, but tried to play it off like he did it on purpose. "So I grabbed these gummy bears, and I'm like, `yeah, THESE,'" he recalled.

He said he purchased the sweets _ and, once again, left without buying cigarettes. So he threw on a hooded sweatshirt and returned to the store a third time.

"I go back down, I got the hoodie on, he goes, `Really? Really? Really?' And I'm like, `Yeah, really!' He goes, `Well, what are you doing here?' And I'm like, `Well buddy, it's your worst nightmare,'" LaBeouf said.

He said at that point, another security guard put him in plastic handcuffs and took him to the ground, said LaBeouf, calling himself a "moron."

LaBeouf was charged with misdemeanor criminal trespassing; the next day, Labeouf's smiling mug shot splashed across Internet.

"It was a photo shoot, (the officer's) like, 'Let me take like 14 mug shots,'" LaBeouf said.

Prosecutors later dropped charges because Walgreen Co. and a security company indicated they didn't want to continue the case.
[From The Huffington Post]
That was stupid, but LaBeouf owed up to it and he was damn funny on Letterman. Watch the video below if you're able to, because you'll be laughing out loud. He's a young guy and has this geeky voice that sounds like he just passed puberty and is still fighting with it, but he has a great sense of humor and can sure tell a story.
Shia LaBeouf will next appear in Indiana Jones and The Crystal Skull with Harrison Ford. It is out in the US on May 22.
Thanks to E! Online for the video below, and to WENN for these photos of Shia yesterday outside Letterman.