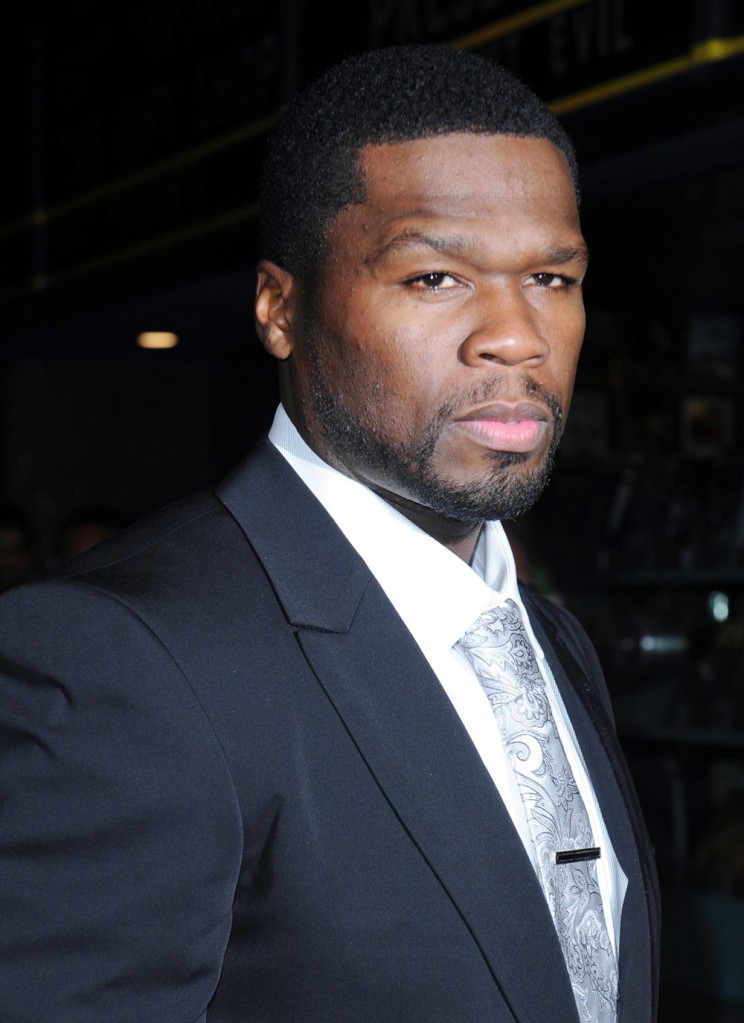 50 Cent and Perez Hilton were involved in some kind of Twitter flamewar, with 50 posting a really obnoxious tweet against gay people. I checked 50 Cent's official Twitter and he's since deleted the tweet that GLAAD called him out on. He has a bunch of other tweets in defense of his friend, boxer Floyd Mayweather, who is accused of domestic violence against one of his children's mothers. It's complicated and hard to decipher but 50 is basically calling the woman a liar and is also calling her fat while pointing out how hot Mayweather's new girlfriend/fiance is. Classy.
Getting back to the other issue, 50 posted a photo featuring two men in suits running away from a mob and tweeted "Perez Hilton calld me douchebag so I had my homie shoot up a gay wedding. wasnt his but still made me feel better." In response, GLAAD issued a statement asking for an apology from 50, whose publicist refrained from commenting.
The Gay & Lesbian Alliance Against Defamation (GLAAD) is mounting a campaign against 50 Cent after the rapper tweeted threatening comments to blogger Perez Hilton last week, including a violent photo of two men in suits running from a mob.

"Perez Hilton calld me douchebag so I had my homie shoot up a gay wedding. wasnt his but still made me feel better," read the tweet with the photo attached.
Fitty also Tweeted Hilton: "stop being so sensitive its a joke. Your acting like a big baby" and, "my next song will make your sweet ass dance lol chill out."

"It's wrong to make jokes and promote violence against the gay community," said GLAAD spokesman Rich Ferraro. "Taking down the post is not enough. We wanted him to tell his Twitter followers that what he did was wrong."

A rep for 50 Cent had no comment. But it wasn't the first time Fitty's run afoul of the gay community. He told Playboy in a 2004 interview, "I ain't into faggots. I don't like gay people around me, because I'm not comfortable with what their thoughts are . . . I'd rather hang out with a straight dude. But women who like women, that's cool."

His recent Twitter posts have also taken aim at unborn children and pregnant women: "I wanna do something that impact kids in a positive way, thats why im opening an abortion clinic. Ima call it 50/50 chance," one of them read.

On Friday, Fitty used nearly a dozen tweets to defend his friend, boxer Floyd Mayweather, who was arrested on charges of theft relating to a domestic-abuse complaint by his former girlfriend Josie Harris, the mother of three of his children.

"Another case of angry baby mama wanting money," he wrote.
[From The NY Post]
This is why impulsive celebrities need to have managers and publicists handle the press while they stay away from blogs and Twitter. At least then they'll only say bigoted stupid things in interviews when they're not supervised properly. Speaking of that, John Mayer deleted his Twitter account recently, as did Amanda Bynes. Both of them have a propensity to say dumb sh*t, on Twitter and off. 50 isn't going to delete his Twitter account, though. This isn't a one-off for him. Like LeAnn Rimes, he seems to be on a roll.
50 Cent is shown on 7/28 and 3/10/10. Perez is shown at the Get Him To The Greek premiere on 5/25. Credit: Fame Pictures