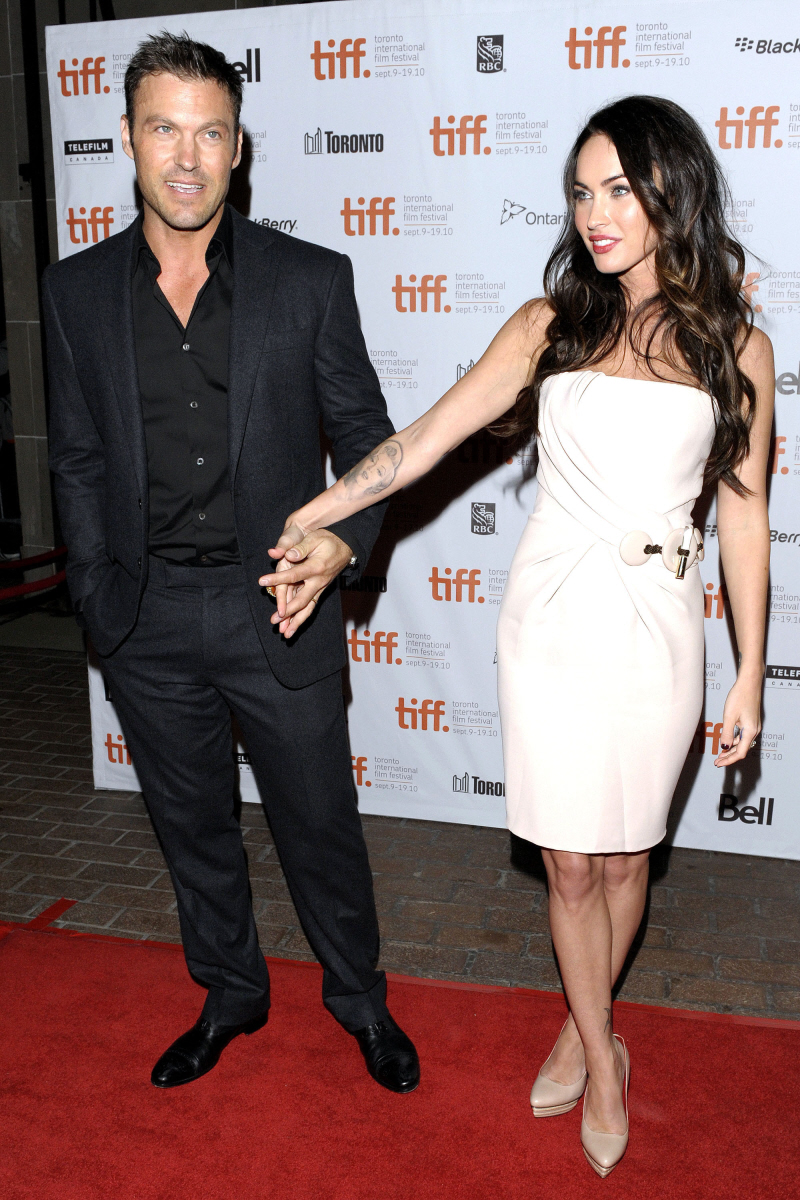 It seems that now Megan Fox is a Sadie, Sadie, Married Lady, that's all she can talk about. She already farted out something to Elle about how people "roll their eyes" at her because she got married so, so young (she's 24 years old). Now Megan tells People Magazine that marriage to Brian Austin Green is so, so fulfilling – and BAG even talks about her too! This is a new era in their relationship – they rarely walk red carpets together, and BAG rarely, if ever, discusses Megan. Maybe she's just trying to sell her movie, but I find this all interesting. And of course I'm rolling my eyes.
Months after their romantic sunset ceremony on the beach in Hawaii, Megan Fox and Brian Austin Green are still reveling in married bliss.

"Getting married was the best thing I've ever done," Fox tells PEOPLE at the Toronto International Film Festival premiere of Passion Play on Friday. "I married my best friend. I'm so lucky to get to be with him every day, and he's my protector. I feel so safe and happy and completed."

For his part, Green, 37, knows that Fox, 24, was the person he was meant to marry – even if it took a while.

"[Marriage is] the one thing that I was really specific in waiting for until I was with somebody that I knew that I would be right with and she's the one," he tells PEOPLE. "She makes me happy and a better person. She's everything."

After dating on-and-off for years, why did they decide to tie the knot in June? "We've been together for six years and it was just time," says Green, who will be guest starring on Desperate Housewives this fall. "We were like, 'Let's just make it official.' "

"There's nice stability that comes with getting married," he says. "It's a nice thing to know that I'll come home to her and she'll come home to me. It's not the paper so much – it's saying the vows and meaning it."

As for raising the actor's 8-year-old son Kassius, Green says Fox has been playing that role for years.

"She's a great mom," he says. "She's helped me raise him since he was two. He loves her to death and she loves him to death. They have a great relationship. That's all I can ask for."

Fox thinks parenthood suits her, too. "I've been a stepmother for six years and it's amazing," she says. "I really enjoy it. It's a lot of work but I like it. It grounds me. I like being domestic."

Could there be another child on the way? "I would love to be a biological mommy some day," Fox says. "That would make me very happy."
[From People]
I think we're witnessing Megan's newest transformation. She's left The Early Years Angelina Jolie and now Megan is trying to transform herself into Jennifer Garner or something. Alba, maybe? Megan is now the actress who talks about her man and how she's a great step-mom. There will be no more interviews where Megan tries to pretend that she's bisexual, and that she just wanders around, covered in oil all day. Honestly, I'm looking forward to seeing how this transformation plays out – I think Megan's fanboys have already pretty much left her, so she's looking for a new fan base – women. But if she's really trying to appeal to women, she should stop with the Botox and with the porn star kissy-face. She looks rough. Also – is it just me, or is BAG looking damn good?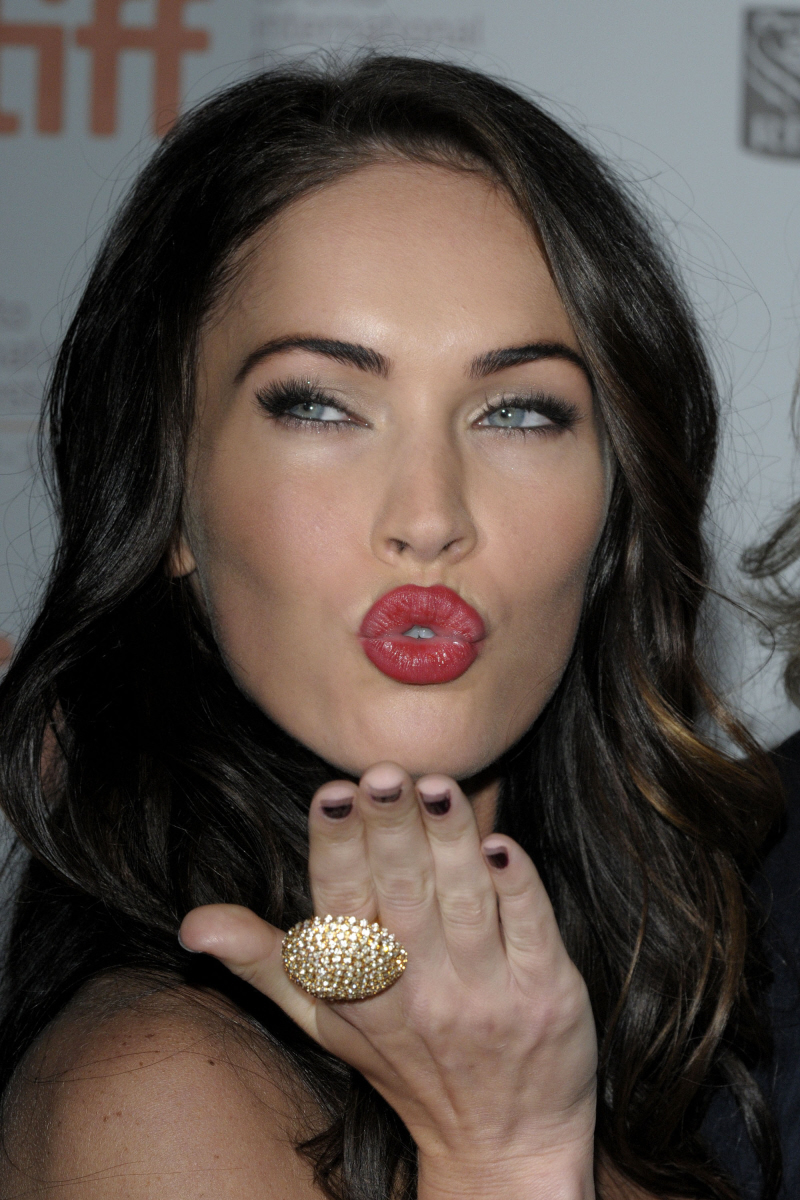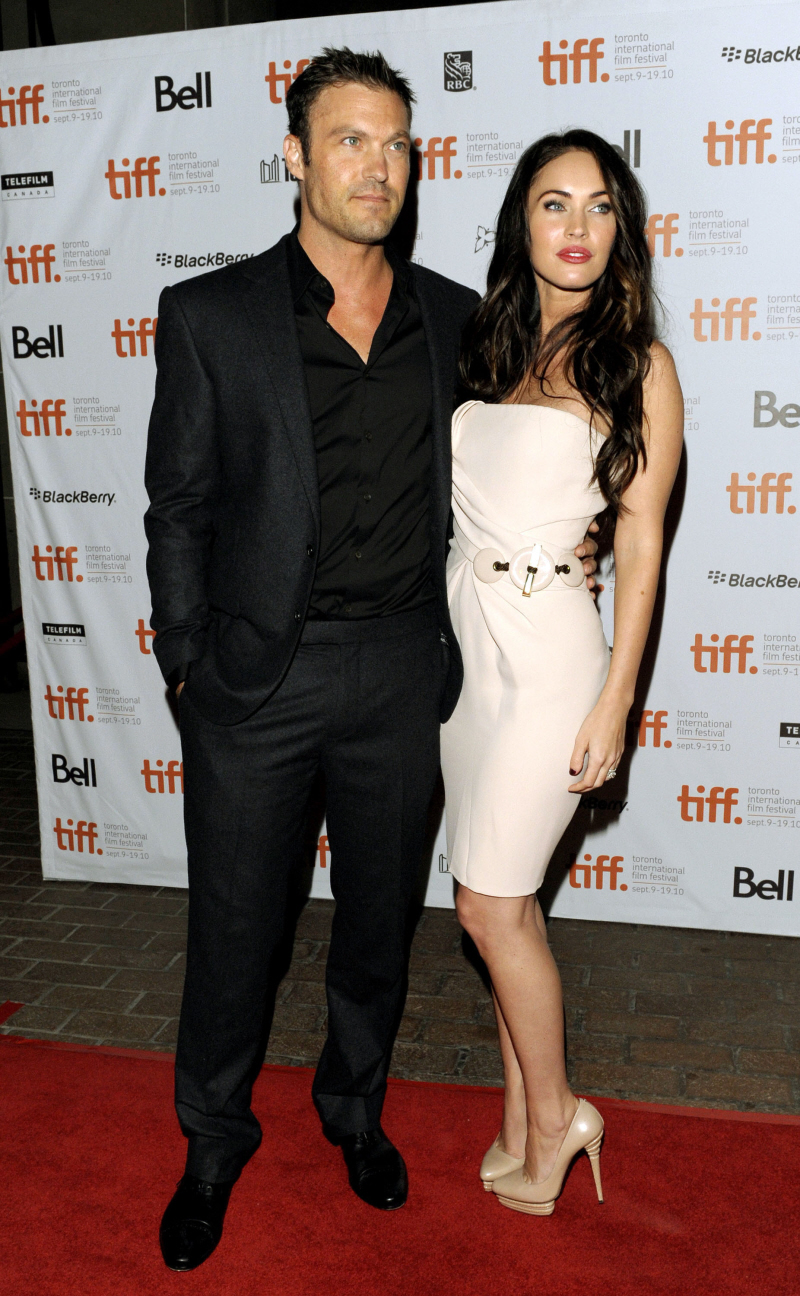 Megan and BAG in Toronto on Sept. 10, 2010. Credit: WENN.