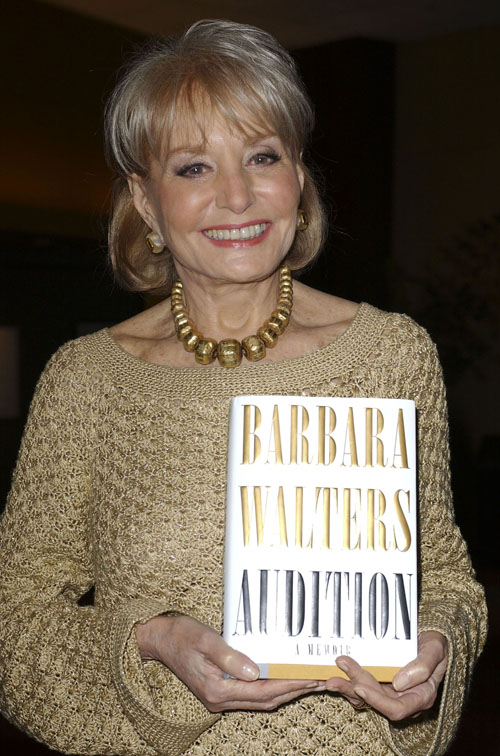 Barbara Walters was on Ellen today, and the first part of the segment was interesting enough, but after the break she conducted the interview like one of her own, talking in her boring low-tone voice about her book and droning on about her life while Ellen sat there looking a bit uncomfortable. At one point Barbara made a reference to a section of the book that she seemed to know Ellen had not read yet and said something like "once you get past Fidel Castro…"
At the end of interview, Ellen tried to make a nice comment about Walters' NY apartment, saying it was filled with photos of her with all the amazing people she'd interviewed. Ellen then said the book was fascinating, and Barbara concluded in a condescending way:
"Can I say that I love you whether you ever read my book or not. You've always been so good to me. I think you're so cute."
Ellen answered graciously "Well thank you, I have read it, and I love you too. Thank you so much."
It just seemed rude and arrogant for Barbara to point out that Ellen hadn't read the book yet, as if she has to read the entire book of every single author that comes on her show before she can conduct an interview. It was like she was establishing that she's the seasoned interviewer and Ellen needed to be taken to task for not doing enough preparation. Ellen couldn't get a word in edgewise anyway.
Maybe Barbara reads every book of every one of her interview subjects cover to cover, but Ellen has less time to prepare and she has to interview handfuls of people every week. She has a different type of show which usually relies on humor and jokes to keep it fun, something that Barbara was almost completely unable to adapt to.
Barbara Walter's autobiography, Audition, has been out for a week and is now number one on the USA Today bestseller's list.
Header image is from 5/13/08, thanks to WENN.
Barbara Walters on Ellen, Part 1. Says she doesn't know how to drive.

Barbara Walters on Ellen, Part 2, the "I love you whether you ever read my book" starts at around 4:30 in.