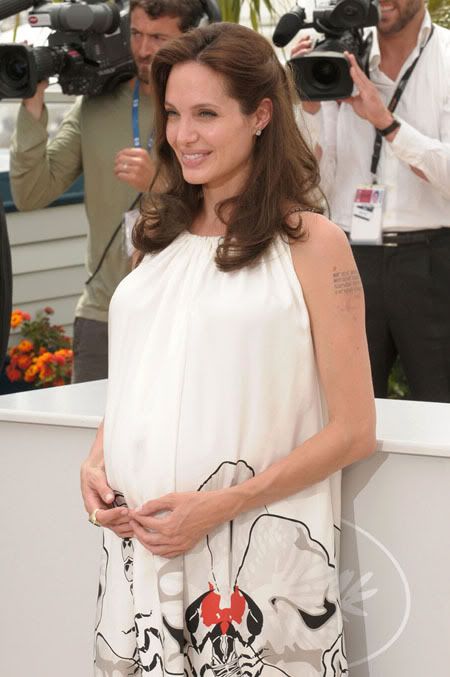 Angelina Jolie is doing press in Cannes for her upcoming animated film Kung Fu Panda. Somehow all of her co-stars are leaking the details of her pregnancy. Yesterday Jack Black let it slip in an interview that Angelina and Brad "would have as many as Brady Bunch when you have these" and Angelina laughed, got a little embarrassed and first said "we've confirmed it already [twins]," which may have been an attempt to make Jack Black feel better because he got all wide-mouthed after he realized it was news to the reporter. Then she added, smiling "well, Jack's just confirmed it actually."
Angelina said that all of her kids have seen Kung Fu Panda except her "little one, because she wouldn't sit still" and that they loved it. It is out in theaters on June 6th.
The interviewer, Natalie Morales from The Today Show, mentioned to Matt Lauer that "we were told in a separate interview with Dustin Hoffman that she is due on August 19."
Jack Black is expecting his second child any day now. Morales also said that Angelina told Black that "a good way to introduce their siblings to the newborn is to throw them all a sibling celebration to make sure that the whole family feels involved."
If I was Angelina I would be pissed that my due date was out in the open like that. It's hard enough when you have friends and family waiting for your baby to arrive and bugging you about it. I can't imagine having the entire world interested and getting all eager for pictures and details. Brad and Angelina never even confirmed the pregnancy and were probably hoping to have at least some mystery about it. When she was pregnant with Shiloh she went all the way to Namibia, rented an entire hotel, had a big tent erected outside, and had her bodyguards threatening photographers hanging around. Now she's in France where she's frequently photographed, and we all know supposedly when she's due along with the fact that she's having twins. Look for Brad and Angelina to move on again in the next few weeks in order to get some privacy before she has the babies.
Thanks to WENN for these photos from the photocall of Kung Fu Panda at Cannes today and to People for this video and story.