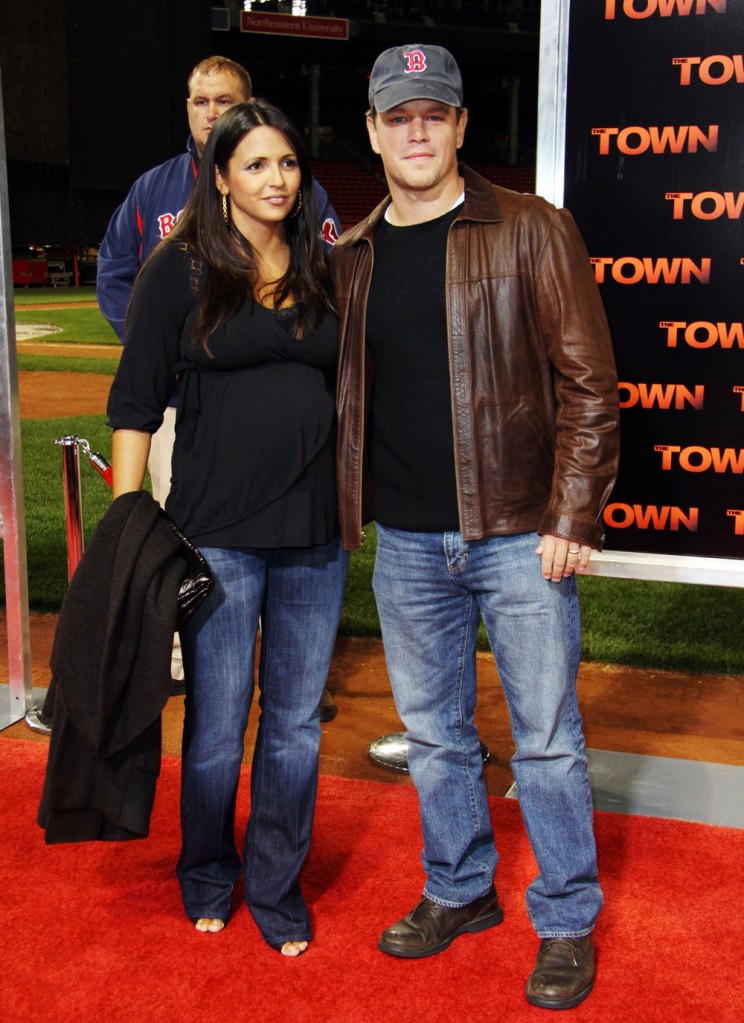 Ideally Kaiser should be doing this post on the Boston premiere of The Town since two of her men are in this film: The Hamm and Jeremy Renner. She graciously offered it to me, though, as my all time favorite, Matt Damon, was there with his pregnant wife, Luciana. I get dibs when Damon is involved. Damon and Luciana were dressed casually in jeans and black t-shirts and both looked adorable. We don't know how far along Luciana is exactly with her fourth child, but Damon told People that she's in her last trimester and joked that he's been dodging punches from her. He also said Luciana "looks amazing" and added "she's been pregnant basically for more than half of the last five years and she's been nursing the other half so I've definitely asked about as much as I can from my wife."
Affleck's better half, Jennifer Garner, wasn't at the premiere last night. She's been working in New York City filming Arthur, and may have had other commitments. Damon spoke to the AP and had high praise for Affleck's directing skill. He compared his friend's career to Clint Eastwood's in that Eastwood also starred in a few clunkers before he became a renowned director:
Even as Affleck delivered hits such as "The Sum of All Fears" and "Paycheck," critics perpetually knocked his performances as stiff and leaden.
The lowpoint was "Gigli," the 2003 bomb he made with Jennifer Lopez amid the maelstrom of gossip over their romance, before he settled down and had a family with Jennifer Garner.

Then came "Hollywoodland," which earned Affleck a Golden Globe nomination. He followed with his acclaimed directing debut on "Gone Baby Gone."
Now Affleck returns with "The Town," a genre-bending bank-heist thriller that is loaded with action but also heavy on gritty working-class drama and sweet romance. He directs and stars, delivering what Damon called the "best performance I've seen in a long time."

"This one is really, I think, the one where people are just going to remember who he is and let all of the other stuff go," said Damon, who shared a screenplay Academy Award with Affleck for "Good Will Hunting." "He's just a monumentally talented guy. In a lot of ways, I always think of Clint, because Clint was doing orangutan movies, and people weren't taking him as seriously. And look at the second half of his career. He's an icon. And I really feel like that's the kind of career Ben's going to have."

Damon has starred in two films directed by Eastwood, last year's "Invictus" and the upcoming "Hereafter." So he's in a good position to compare and contrast his pal Affleck and grand old master Eastwood.

Hearing of Damon's high praise, Affleck smiled.

"Who needs a publicist when you've got a friend like Matt?" Affleck said in an interview at the Toronto International Film Festival, where "The Town" played in advance of its theatrical release on Friday. "I've got to pay this guy."
[From AP via Yahoo! News]
Damon could be right – The Town looks incredible and could go a long way in resurrecting Affleck's career. As for how Affleck handled the dual roles of directing and acting, his costar Rebecca Hall said it seemed effortless and was impressive to watch. "I couldn't get my head around the idea that someone could think about the whole story and that [his character] at the same time, because in a way, they're sort of mutually exclusive. But he's so incredibly smart. His sharpness and intelligence just pervade everything he does." I'm excited for this film. It's out in the US on September 17, and in Germany where I live on September 23. That's excellent news as we often have to wait over a month to see new movies. I bet it's going to earn some great reviews and it should be well remembered during awards season.
Here are photos from the premiere featuring Matt, Ben, Jeremy Renner looking cute, Jon Hamm dapper in a twill cap, Rebecca Hall in yet another fashion failure, Blake Lively playing peek-a-boob, and Chris Cooper. I love him!
Photo credit: Fame Pictures and WENN.com