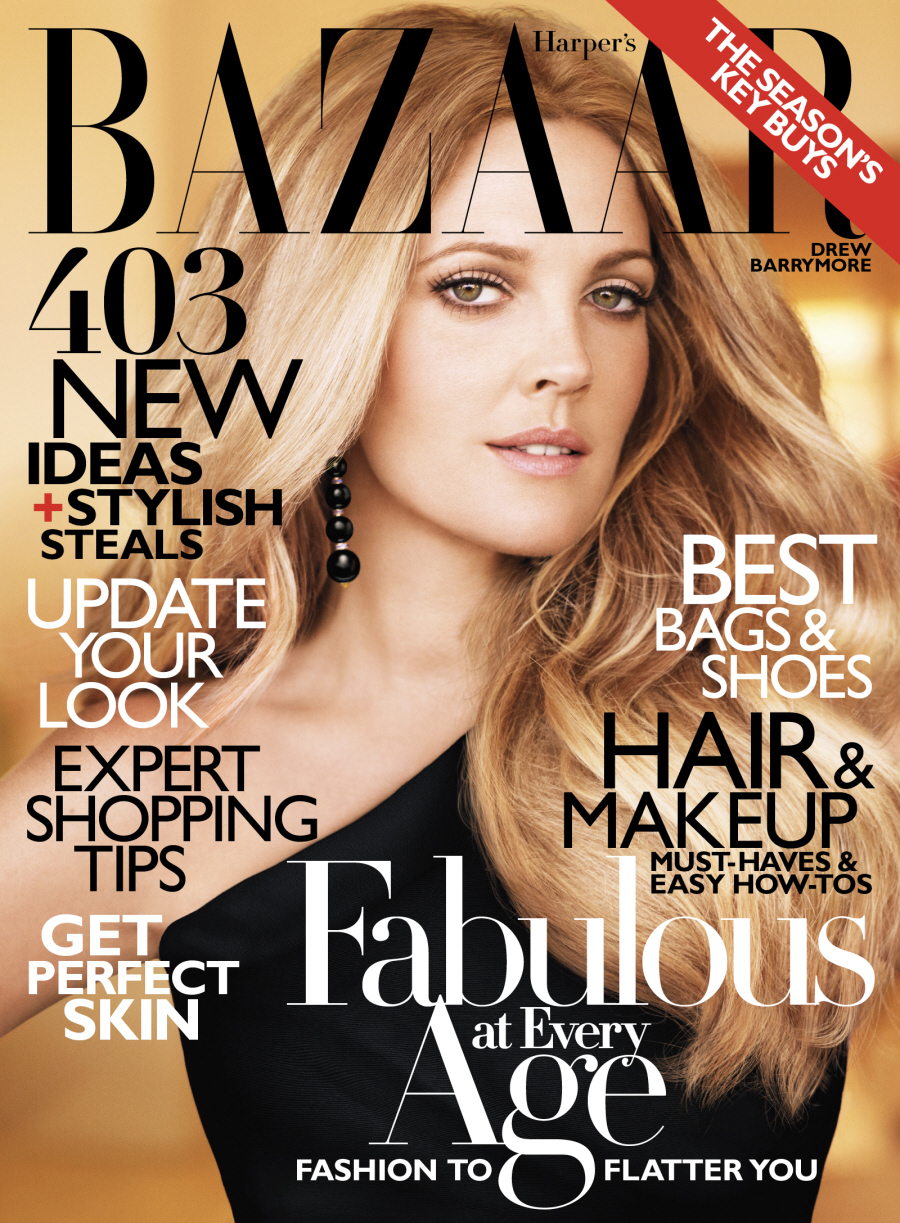 Drew Barrymore is the cover girl for the October issue of Harper's Bazaar. They Photoshopped the hell out of her face for the cover, right? And yet the rest of the photo shoot is rather lovely – apparently, Drew had the concept of doing it all like a Playboy photo shoot from the 1960s, with a little Sharon Tate thrown in. This look kind of works for Drew, I have to admit. Anyway, I guess Drew is the cover interview because she's promoting Going the Distance. Meh. Since I don't care about that or about her whatever relationship with Justin Long, you can read the full piece at Bazaar if you'd like – I'm just going to do the highlights I'm interested in. The gist of the interview is that they're doing it like an eHarmony questionnaire.
On losing her "baby fat": Even though she's in sweats, Drew looks pretty dreamy. She is lightly tanned from a solo trip to India, and her bone structure has popped. "I feel like some of my baby fat is going away," she observes, "and that's not just physically, it's psychologically. I think that your body is in tune with your mind and your spirituality and your heart. If things are going better, I just think you look better."

Describe yourself: warm, clever, dominant, ambitious, outgoing, agreeable, modest, submissive, lazy, introverted, aloof, quarrelsome, cold, gregarious, arrogant.
Drew Barrymore: "Not ambitious, arrogant, or cold. Lazy? No, I'm not lazy enough. Dominant—more so than people would think. I'm a total control freak and love to participate in the design of every single aspect of life."

Impulsive, stable, energetic, spiritual, adventuresome, frugal, predictable, affectionate, organized, intelligent, compassionate, attractive, loyal, witty, neat.
DB: "All of the above, apart from frugal. I can be frivolous more than frugal."

On being alone: "I was good in my early teens, and then I got really bad at being alone for like 10 years. And then for the last decade I've developed such a love of my independence that I have to go, Okay, you've had dinner by yourself three nights in a row, now you have to see your friends." Howard Hughes rising? "Oh, yes. I'll be peeing in jars momentarily."

On healing herself: "Oh, I would love to be a motivational speaker," she says. "I have pulled myself out of a million potholes, and I can see the potholes ahead of me. That doesn't mean that I could always do that so perfectly for my own life. I totally fall in potholes. Sometimes I fall so goddamn deep, I've got broken legs and I have to mend myself in the well and crawl back out." That would be especially tough if it was a hole full of pot. She chuckles and says, "Well, I like those holes."

I enjoy work for work's sake.
DB: "No, I enjoy work because I am a fanatic about it."

I enjoy mingling with people at social occasions.
DB: "Less and less."

I am satisfied with my level of emotional development.
DB: "At this current moment? Yes. I have not been proud in the past, and I assume I won't be proud in the future, but right now, goddamn it, yes."

I like to spend my spare time being physically active.
DB: "I actually really love to lie in bed, watch TV, be a total sloth, and eat my favorite food: Kraft macaroni and cheese. Last night I was watching The Next Food Network Star, eating mac and cheese, and feeling grand. And that was after I wore a sequined Givenchy gown with giant holes cut out of it."

On exercise and body image: Drew's "two or three hours of exercise" a week is paying off. "But," she cautions, "there is some lighting where I absolutely resemble Shamu. People have to know that you pick the best pictures where the lighting is beautiful and the angles are right and the body positions are gorgeous. And then, guess what, you turn, sit, hit the wrong light, and your belly flaps over and we all look human again." Drew won't be giving Jillian Michaels a run for her money anytime soon, though. "I can apply myself at my job 20 hours a day, seven days a week. But I can't apply myself to my body more than a couple hours a week. I have no passion for fanaticism. The psychology when you just forgive yourself and enjoy what nature gave you is so liberating."

On being 35 years old: "For me, it's very magical," she says. "It's funny, because whenever they parody me on Saturday Night Live, they always say the word magical. But 35 is an incredible year for me. It's just a very auspicious time."
[From Harper's Bazaar]
Yes, she's very cute, in a cloying hippie-dippy way, but still, I can't really bash her. I still can't believe Drew is 35 years old – in my mind, she's still in her early 20s. That's the way she still acts, honestly. But I buy Drew's girlish act, because I really do think she's that bubbly and vivacious and silly, although she definitely has a strong work ethic. Now I just want her to make better movies, you know? Going the Distance looks like a turd of a rom-com.
Also – I totally think Drew is right about "losing her baby fat" – look at those cheekbones! Her face doesn't look tweaked, it's just aging and losing weight and stuff. She looks lovely.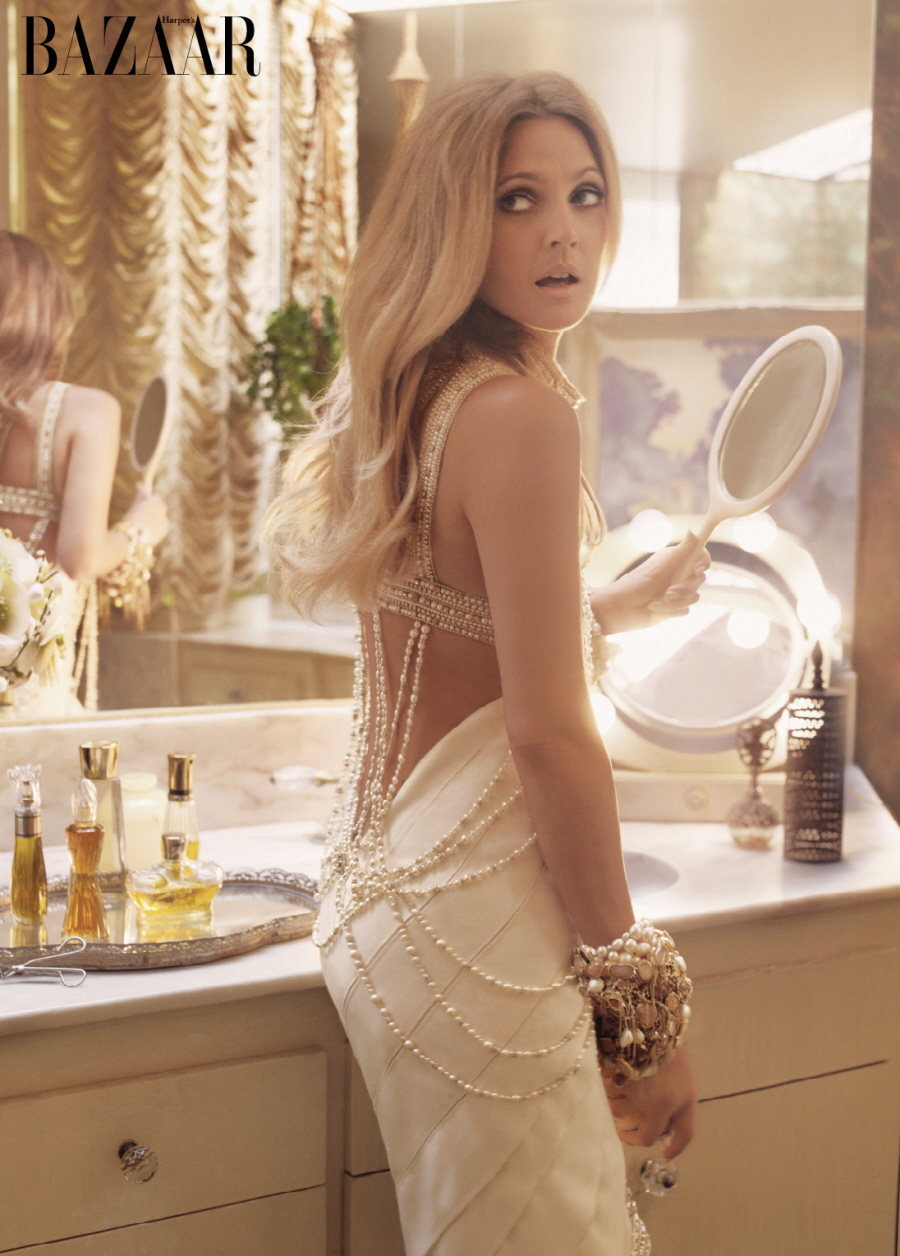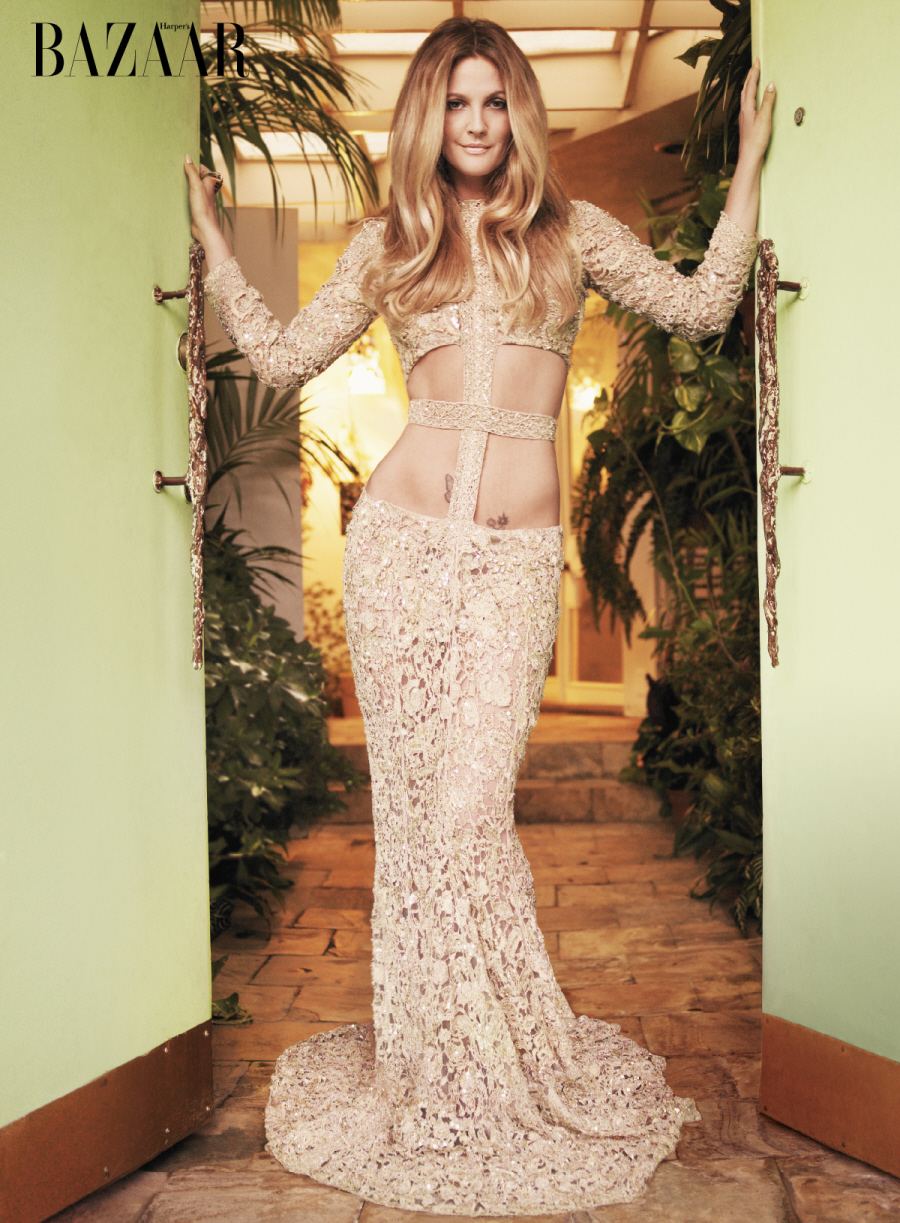 Bazaar photos (by Mark Seliger) courtesy of Bazaar's slideshow.