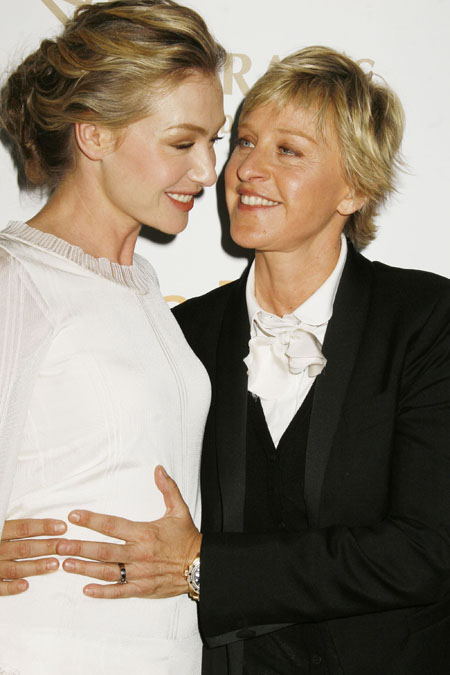 Yesterday California's supreme court overturned the ban on sex sex marriage, which makes it the second state after Massachusetts to allow same sex partners full marriage rights. California governor Arnold Schwarzenegger said he would uphold the decision by his state's Supreme Court, having twice vetoed past bills by the Legislature legalizing same-sex marriage. His reasoning for rejecting the bills was a referendum in 2000 which banned gay marriage and was approved by 60% of California voters. Now Schwarzenegger says that he respects the court's decision and will not overturn this ruling.
Same sex couples should be able to marry in a month or so, according to the Associated Press. Conservatives want to block the measure with an amedment to the state Constitution barring same-sex marriage, but Schwarzenegger has already stated that he would not support it and will abide by the court's ruling.
Ellen Degeneres, 50, announced that she would marry her same sex partner of three and a half years, Australian actress Portia de Rossi, 35, as a result of the legalization of same sex marriage in their state. She is said to have told her studio audience in an episode to air today that they will make their union legal.
Both People and US Weekly quote Ellen's interview with the Advocate, in which she called Portia her "perfect fit," and said "She's taught me lessons about myself, and I feel like I've taught her. We've both changed and grown, and we just feel like, 'Oh, ok, this is completion.'"
Congratulations to Ellen and Portia and best wishes for a lifetime of happiness together.
Ellen and Portia are shown at the GLAAD media awards on 4/26/08, thanks to WENN.