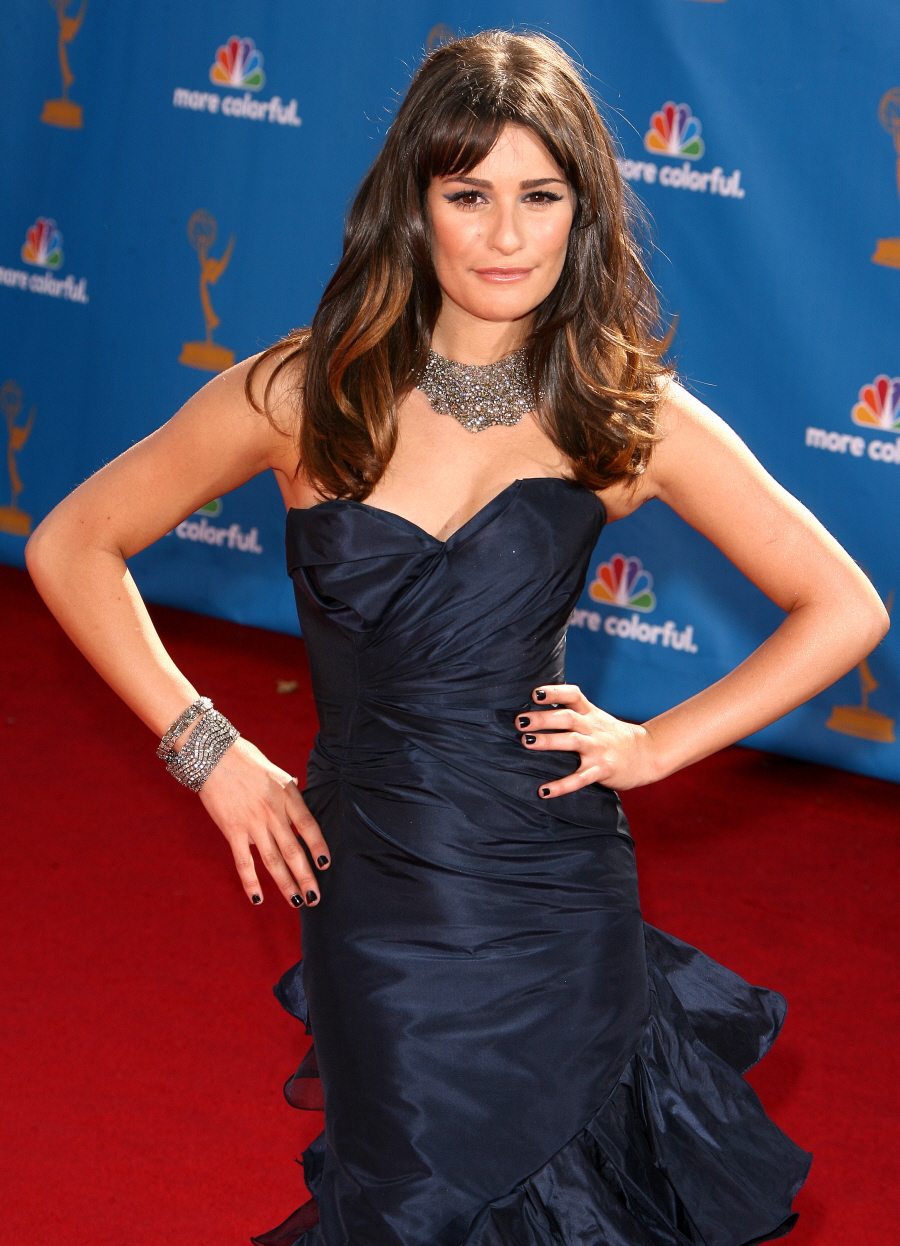 Back when I finally put the name "Lea Michele" to a face – which was probably about six months ago – I did think Lea was cute in a pageant girl sort of way. She's the kind of girl who manages a big fake smile while her eyes say "I'm a STAR and I will shank you if refuse to acknowledge that." She tended to dress like a pageant girl too, which is to say, OLD. She's all of 24 years old, and I'm sure she would look it if you got the girl into a pair of jeans and wiped all of that makeup off of her, but unfortunately, she seems to take style tips largely from Ivana Trump. All of this to say, Lea needs an image reboot, and according to In Touch Weekly, Lea is considering a reboot in the form of a Playboy pictorial, all to show off her new dramatically thin vegan body:
A slimmed down Lea Michele could go from glee club to the Grotto! The Glee star recently lost weight on a vegan diet. And according to a friend, she's been offered more than $500,000 to show off her new body in Playboy, although her rep denies the story.

"Lea looks gorgeous, and obviously, Playboy noticed," the friend says. "She loves her new look, and she might do it if she thought it would boost her career."

Lea has had plenty of experience with nudity – she did a topless scene live for more than a year in Spring Awakening on Broadway – "It's not uncomfortable for me at all," she said.
[From In Touch Weekly, print edition]
Yeah, her rep denies the story. But if Lea truly doesn't have a problem with nudity in general, a Playboy shoot could be the way that she breaks from the Glee herd for the kind of mainstream name-recognition she already thinks she has. However, I do think her body looked so much cuter before, whenever it was, six months ago. I don't buy that going vegan in a healthy way makes you lose so much weight so fast. She either did it in an unhealthy way, or "vegan" is code for "eating disorder."
Header: Lea at the Emmys. Credit: Fame.