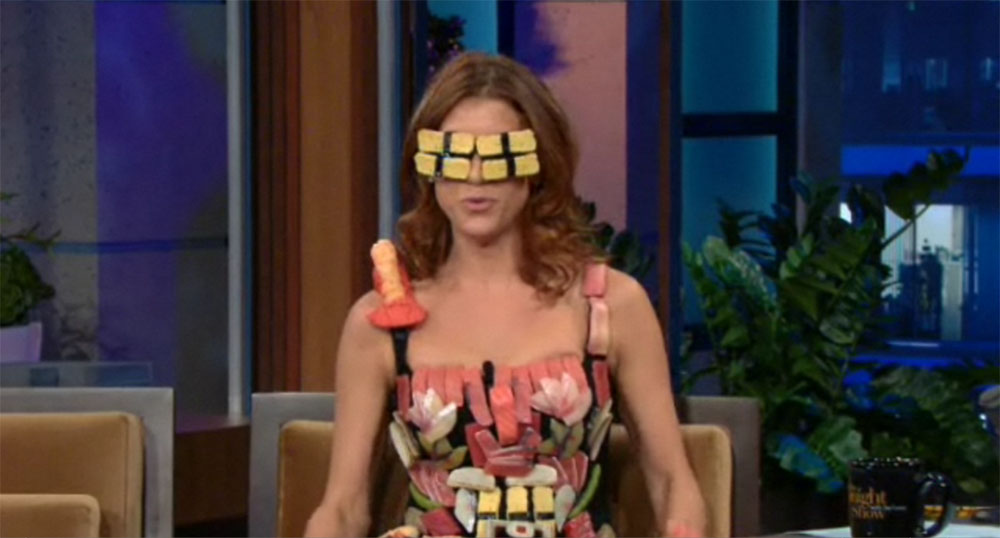 Private Practice and Grey's Anatomy star Kate Walsh wore a dress adorned with sushi and sashimi on The Tonight Show on Friday. Walsh said it was in homage to Lady Gaga, some of whose fans went after her on twitter for making a comment about the meat dress that Gaga wore to the VMAs. On Twitter Walsh wrote "Just saw the meat dress…dunno. Love her, but her argument for wearing it is lame and doesn't track…" which is an accurate assessment but of course Gaga's "monsters" went after her. That doesn't jibe with how she explained the Twitter controversy to Leno, as she made it sound like she just joked that it looked like prosciutto that she could eat with some melon. Walsh says that she also wore the dress to bring awareness to the Oceana organization. Unlike Gaga's real (but cheap!) meat dress, Walsh's sushi was all fake, as she later admitted to on Twitter.
'Private Practice' star Kate Walsh paid tribute to Lady Gaga's meat dress with an alternative for seafood lovers everywhere. "It's a sushi and sashimi dress," the "Private Practice" star told host Jay Leno on Thursday.

Walsh's dress included a lobster-tail shoulder piece and was packed to the gills with maki rolls, bits of yellowtail, tuna, salmon, and edamame, and was accessorized with a maki-roll ring and sunglasses, and peep-toe Louis Vuitton heels with a prawn across the toes.

"It's an homage, if you will, to Lady Gaga," Walsh explained of her outfit. "I was inspired by her meat dress." The actress added, however, that she and the superstar singer recently hit a rough patch.

"I was on a plane during the VMAs and one of my Twitter fans said, 'What did you think of Lady Gaga's meat dress?'" said Walsh, who hadn't yet seen the show since she was in transit.

"They sent me a link, I opened it up, and I was like, 'Oh!' The first thought I had was, like, 'A nice plate of prosciutto with melon,' thinking that's kind of witty," she told Leno. "But oh no, no, no, no! It set off the Little Monsters [Gaga's fans]. It opened up a whole can of whoop-ass."

The pair have since patched things up, and Walsh decided to pay tribute to the "Alejandro" singer with her ensemble and also raise awareness for her favorite charity, Oceana, which aims to protect our planet and its waters.

"I'm a huge fan of Lady Gaga. Whatever her statement was with her meat dress, I thought, Why not give a shout out to one of my charities," Walsh explained.

"These are all totally sustainable fish, by the way," she noted of her dress. "There's no bluefin on here. You want to stay away from that."
[From Popeater]
You can watch the full interview on NBC.com and there's a segment below, thanks to AOL's popeater. Of course that old perv Leno made some dumb jokes about the sushi and said "this is the first time I thought I [would] really enjoy having some sushi."
Walsh got flirty and asked "you feel like going fishing?"
"Yeah I don't mind going fishing. Actually, I like deep sea fishing."
Walsh said that Amy Brenneman got her into tweeting, and that she resisted at first thinking "No, that might be the end of Western civilization." She said she's really into it now and enjoys interacting with her fans. "There's no other way to kind of do that. [Talk to fans] I love my fans."
She seems nice enough and the sushi dress was kind of funny. It's clear she doesn't take herself seriously, and you have to admire that. She's not above using the same tactics as Gaga to get some press, but at least she'll tell you where she got her inspiration and not make up some muddled excuse.