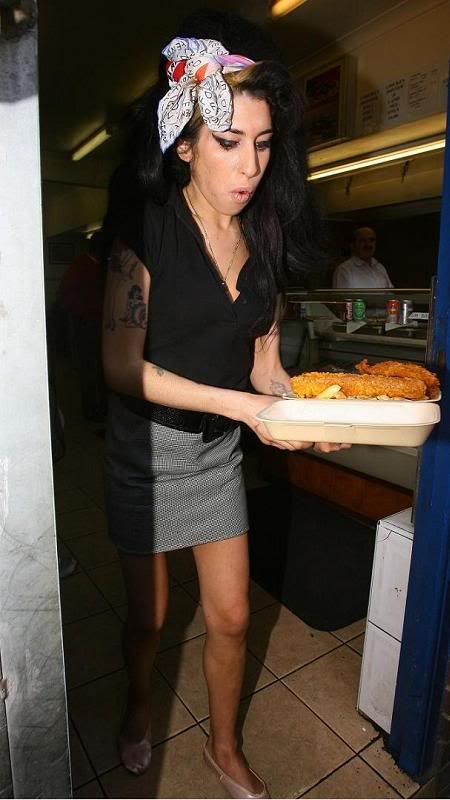 To me, nothing says romance quite like fish and chips. But I'm from the Pacific Northwest, and we have a different way of viewing the goodness of the ocean. I'm assuming that to the rest of the world, battered and fried cod doesn't make hearts flutter. However Amy Winehouse seems to think fish and chips is pretty much the perfect meal to celebrate her first wedding anniversary. Unfortunately, it was takeout. For one. Eaten alone. I don't need any other short sentences to prove my pathetic point here do I?
Amy Winehouse and Blake Fielder-Civil celebrated one year of wedding bliss on Sunday. Though it's really more like a six month anniversary… since Blake's been in jail for over half the amount of time they've been married. I know, stop fanning yourselves at their romance.
Troubled singer Amy Winehouse marked her first wedding anniversary to Blake Fielder-Civil with a lonely fish and chip supper after visiting her husband in prison. The couple spent their anniversary apart on Sunday after Amy chose to join troubled rocker Pete Doherty at a charity football tournament in south east London.

After missing a prison visit on Friday due to the traffic, Amy abandoned her usual scruffy clothes and dressed up in a pencil skirt and v-neck black top as she dropped by Pentonville Prison for a belated anniversary meeting. Amy usually visits Blake in a pair of high-heels, but opted for her signature ballet bumps for the afternoon trip.

The troubled singer, 24, paid tribute to her husband by placing a cushioned heart with the name Blake splashed across it in her famous beehive. After marking their first year as husband and wife in the visiting room of Pentonville in north London, Amy left the prison beaming to photographers.

She stopped off at a local fish and chip for a greasy supper-for-one, which she sadly wasn't able to share with her husband.
[From the Daily Mail]
Nothing says love like fish grease. And from the last time I had fish and chips in London, the ratio of grease to fish was 3:2. Both the Daily Mail and People reported that Amy appeared to be in very good spirits, especially after returning from visiting Blake on Monday. He must have seen the YouTube video she made with Pete Doherty and some baby mice, asking him not to divorce her. Such a romantic gesture was bound to touch even the emptiest of hearts.
Who knew that would be so effective? I wish I could go back in time to my own parents' divorce and have one of them talk to the other through baby rodents. I hope marriage counselors adopt this most successful tactic. Or just keep both parties on drugs, since I'm guessing that's the real reason for most of Amy's behavior the last few days. Happy Anniversary, Amy and Blake! May you have many more filled with baby mice and Pete Doherty's scabby face!
Here are pics of Amy's busy day visiting the hubby in jail and grabbing her fish and chip dinner yesterday. Images thanks to WENN.