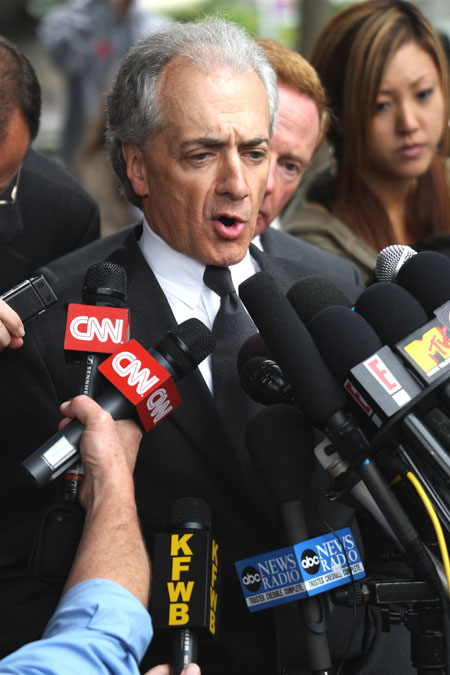 There are a million jokes going around about what scum lawyers are, which generally isn't fair as I'm sure most lawyers are good people. Kevin Federline's lawyer, Mark Vincent Kaplan, shows that he probably isn't one of the good people.
Kaplan sat down with the Associated Press, and told them how pleased he was at the media scrutiny his case has been getting.
He doesn't grumble about the television trucks and news reporters swarming the courthouse every time there's a hearing, or the paparazzi who hound the pop princess every moment there isn't. And he's certainly not opposed to the TV reports, tabloids and Web sites that have documented every shred of the case that has consumed him for the past 18 months.

After all, the attention has saved his side some major cash.

"If I had to hire an investigator or investigators to provide me with the intelligence about what's going on, where they are, how are they doing," said Mark Vincent Kaplan, "it would be north of half a million to a million dollars … as opposed to buying People magazine for $3.95 on Thursday morning or going on TMZ."
Are People and TMZ reliable sources? Will they be legitimate to use in court? I don't think so. I don't think any person who is looking to profit from pictures of Britney being crazy is going to be a good source to decide the future of her children.
As far Kevin Federline being the good guy in this whole case, the way that Kaplan explains it, it was a carefully engineered public relations exercise.
"I think when the media saw that here's a guy who stepped up to the plate, not just because he had to but because he wanted to … I think they gained a respect for him and that really turned them around a lot," Kaplan said. "The mission involved — wanting to change the wrongful impression that was generally perceived for my client — without the media being a willing participant, it would have been impossible."
But just in case you think Kaplan might be some kind of bottom feeder, using Britney's money (she's paying most of the legal bills) and fame to drum up a notoriety that will lead to bog, profitable cases, don't worry. He's got sight of the big picture.
"The bottom line is you've got two kids … who don't know and don't care and should never have to care about who their parents are," he said. "They just want to be safe and secure, nurtured and bonded with their parents just like any other kids. … That's really what's at the core of this just like any other case."
It is in the end about who is best equipped to care for those two little boys, and even if Britney is the least competent person in America, her children still deserve to have a relationship with her. Even though Britney's changing of legal teams and mental issues have slowed down this court case, I still get the general impression that Kaplan is dragging out the proceedings as long as possible.
Kaplan is obviously pretty pleased with himself and his career in the future as a result of this case. He tells that AP that 'everyone's coming and wanting to hire me' and describes representing K-Fed as being an 'opportunity'. He also adds that it's made it easier to get a reservation at a restaurant.
Kaplan's next big case is representing Robin Williams' wife in their divorce.