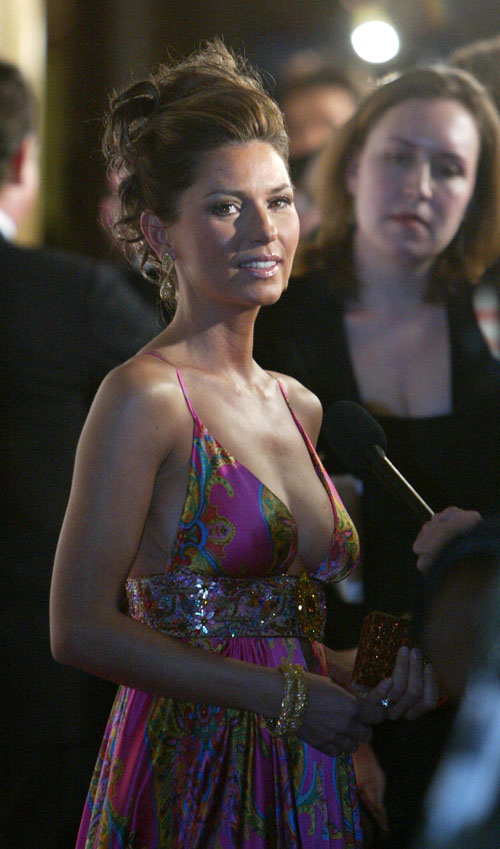 When I heard that Shania Twain and her husband split after 14 years of marriage, I assumed it was one of those things where they grew apart. Shania, 42, and her producer husband Robert "Mutt" Lange, 59, announced their split last week. Shania is a country music crossover superstar, and has spent much of the last eight years living in Switzerland away from the media spotlight.
People Magazine reports that, like many divorces, it wasn't just an issue of the two of them not relating to each other or not getting along – "Mutt" was cheating with his married Swiss secretary!
Reached by PEOPLE after the separation was announced in a statement, Lange called the split "an unfortunate thing." He added, "It's literally just a growing apart, that's all."

But sources close to the situation say a third party was involved: Marie Ann Thiébaud, a longtime secretary and manager of the couple's chateau in Switzerland. "Mutt and Marie Ann left their spouses for each other and are still in a relationship," says one source.

Lange denies the claims. "It's absolutely not the reason [for the separation]," the famously reclusive producer told PEOPLE when asked about the alleged affair. He also denied that he was in a romantic relationship with Thiébaud: "I'm not, no," he said. "It's not true." (Thiébaud could not be reached for comment.)
[From People.com]
The only thing I can imagine that would be worse than having your husband cheat on you with a co-worker you also knew and trusted would be to have him cheat with your best friend. I'm sure there are even more heart-wrenching scenarios, but it all comes down to a massive betrayal that's gone on behind your back. Shania's husband denies it, and it's possible he's telling the truth and that Shania's camp leaked the news in order to garner sympathy for her. This is People, though, so it's probably directly from Shania's rep if they're printing it. She has a perfume and an album coming out this year and could definitely use the publicity, but she doesn't seem like the type to seek it out with such negative news.
The cynical side of me was waiting to see her at the Academy of Country Music Awards, where she showed up for a rare appearance last year. It seemed like she was announcing her split right before the event in order to make a big impact. She wasn't there, which makes it seem as if she could be the jilted wife this story makes her out to be.
Shania and her aptly-named estranged husband, Mutt Lange, have one child together, a six year old son, Eja D'Angelo.
Shania Twain is shown at the Kennedy Center honors on 12/3/06, thanks to WENN.