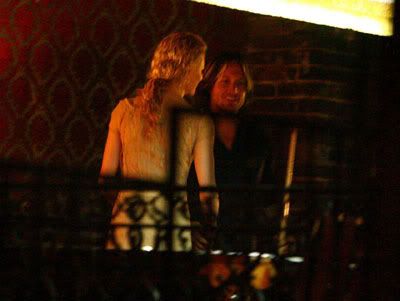 No one placed a bid on the package of memorabilia from the Nicole Kidman-Keith Urban wedding last weekend. The Australian seller wanted over $3,700 USD for the items, which look fancy but not too exciting:
A once only special offer of mementos from the Nicole Kidman-Keith Urban wedding on Sunday 25th June, 2006.
On offer are:
1. Engraved Tiffany travelling clock
2. Book of Ceremonies
3. Menu
4. Boxed slice of wedding cake
With no more than 100 of these presented to guests at the wedding, this is a very special and rare offering, sure to increase in value over the years.
The auction ended July 3rd with 0 bids, but that may just be due to the fact that it hasn't been publicized yet. Someone is surely stupid or crazed enough to pay almost 4k for that stuff.
The seller has a positive feedback rating of 14, and has only bought, not sold, items in the past. In the past 30 days they've bid on L'oreal lipgloss and bought a Thomas the Tank engine print, so they're likely a mom that could use the cash. I would guess it's someone who worked at the reception.
If you'd like a piece of the Kidman-Urban wedding you still have a chance. The wedding booklet is up for auction by another less-reputable seller at a more reasonable starting bid of $260 USD. The auction ends in about a week.
Here are the pictures of the stuff from eBay as well as some candids of Nicole and Keith celebrating the 4th of July. [via]